The smartphone market is an arms race, which, like all arms races, has no end in sight. Better, better still, and better still ad infinitum – that's the only ethos that the various players abide by, or can abide by, if they want to stay in pole position. The titans are few – Apple, Samsung, Xiaomi, OPPO, vivo – but they're locked in a war (of attrition) over control of a market size whose worth is projected to grow from USD$484.81 billion in 2022 to $792.51 billion by 2029.
It's in this beyond-high stakes battlefield that Nothing Technology Limited announced its play, seemingly unbothered by the monumentality of the competition. Its weapon: The NOTHING Phone (1), which, amongst a host of defining features, totes its proprietary Glyph interface, "a perfected OS and exceptional 50MP dual camera", all of which is "startlingly fast".
The implications of Nothing and NOTHING's existence are several. In a market now premised on disruption, primarily because the smartphone is the most disruptive lifestyle-altering-and-defining product to enter the consumer electronics sphere in the last two decades, Nothing is emphatically public about holistically disrupting the disruptors. In an official release, the London-headquartered company revealed that its overarching mission was to "remove barriers between people and technology to create a seamless digital future."
Every product that bears its brand is an actualisation of that founding philosophy, an extension of the firm's course-correcting ethos. Every product carries a lot on its back.
Phone (1)'s July release was accompanied by company founder Carl Pei's hope that it would "mark the start of change in a stagnant industry". There is no subtext: Pei is drawing a line in the stand.
Like its predecessor, Nothing's maiden product, the ear (1), Phone (1) is markedly more affordable than most of the products on competing lineups. Its 8GB RAM + 256GB model retails for  S$869, making it a mid-ranger with a strongly defined USP. It value price on its side: You get more than a reverberating bang for your buck.
But as great as a particular brand's self-conception is, and as convincing a metric as price is, there is one truism that makes or breaks whether or not one pulls the proverbial trigger: Your brand is only as strong as the product that it puts it out. Dress something up how you want; it must be able to subsequently do more than look the part.
As a layman (Apple) user, I'd like to add two further philosophical qualifiers that decide the merit of a brand and its products: You like something for:
1)The reasons you want to like it for
2)How it performs for what you want to use it for
I had a week to assess how Phone (1) fared when it squared up against all that, as well as my (sub)conscious biases as longtime fan(atic) of the Apple ecosystem. Here's a semi-diaristic account of how it did.
THE LIGHT SHOW
Make no mistake: Phone (1) is a thing of beauty. One of its most potent veneers is how it looks. More than anything else, it's a design-driven execution of transforming philosophy (intangibility) into product (tangibility).
Whether you choose the black or white variants, you're guaranteed a visual showstopper. If you like nice things, you'd have a tough time not looking at your Phone (1). I was loaned a black one, and it seemed like a more robust and muscular version of the iPhone 12. In fact, its 6.27 x 2.98 x 0.33 in measurements make it look very much like an iPhone. Its squared-off shape and transparent backing that exposes camera bumps, wireless charging coil (the lights on which can be used as a ring light for taking photos), screws, bolts, lights, sensors and electrical components testifies to a design language that affirms Nothing's emphasis on "design that goes beyond the surface", design that affirms the fundamental essence of creation, down to the literal nitty gritty, which is part of a lager system composed of 400 components, housed in a fully recycled aluminium frame.
Being transparent means you have nothing to hide. Of course, a lot is still hidden in Phone (1) but there's enough transparency for its main difference-maker to assert itself: The Glyphs.
The clean, clear presentation is the staging around of its loudest feature, the Glyph interface, which connects 900 LEDs set into disparate strips to particular functions and affordances. Arrayed along the back of the phone, within Gorilla Glass, these lights are a head-turning, presence-announcing notification system that flashes in a range of colours you can chose from, and are accompanied by differentiated patterns of vibrations. In the week that I had to experience it, it never got old. At home, work, and in the wild, it never failed to crane necks. It instantly set itself apart from the competition and belongs to the class of distinctly identifiable features that serve as an advertisement for the company that conceived them.
Customisation is possible but only within the parameters allowed by the presets – which makes the light show feel a little static. Currently, you can adjust brightness and turn certain light settings on or off. Based on the given presets, you won't know what app notifications are coming in, and you can't set a certain glyph pattern to signify notifications from specific apps. At most, you can assign specific ringtones to contacts – but they only get activated on calls, not texts. But it seems that this limitation is temporary: Nothing has stated that the the Glyph interface will be more customisable in future.
Remarkably, though, as vibrant as the lights are, they're not a drain on the battery. In fact, their impact on battery life is infinitesimal. Left on for an hour, they sapped only 2% of battery life. That is legitimately impressive.
ANDROID FOR A WEEK
After using iOS for more than a decade, acclimatising to Android took a little time. But by the second day, I was able to navigate it with a fair level of seamlessness. What's striking about Phone (1) being powered by Android is that it didn't even challenge my longstanding – unquestioned – allegiance to Apple. I actually, at various points over those seven days, considered switching over – IF it meant using it on Phone (1).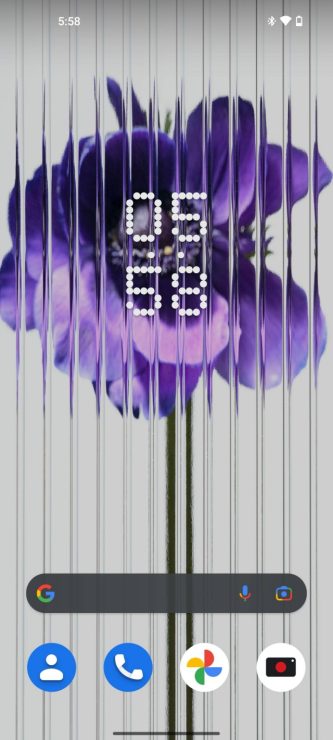 That, too, surprised me in a good way. Some pressing questions were asked and answered: Is it that good? (Yes. In the overall, day-to-day sense) Am I a sucker for hype? (Maybe) Would I buy it at some point down the line? (Maybe)
DAY AFTER DAY
I'm the everyman user who isn't concerned about tech specs that don't hit with tangible immediacy. So whether, Phone (1) is slightly faster or slower than my current weapon of choice, the iPhone 11, that difference didn't register and therefore, matter. That's why rattling off all the easily available facts about its components doesn't serve much point. I got used to  its gestures, navigation, brightness and camera very quickly.
Each disparate feature did what it had to do well. Well enough for me to not pick up that any one aspect was sub-optimal when measure against my daily requirements.
If you're not the sort of person who goes out of their way to dislike/critique something for the sake of it, or the sort of person who goes out of their way to not like something period, there's very little about Phone (1) that won't win you over.
VERDICT 
I'll buy it – if I'm in the market for a new phone that does what my current one does, but with a little bit more fire and spice.
Did it walk the talk: Did it "remove barriers between people and technology to create a seamless digital future?" It's too early to tell.
Nothing has promised the world something undeniably intoxicating and universal. Pure tech, sincere tech that looks fantastic and performs brilliantly. That's a future I'm personally invested in.
Both Phone (1) Black and White are currently available for purchase at Limited Edition.