I feel the need to say this: I have not watched a single episode of RuPaul's Drag Race or any of its spin-offs. There's no particular reason why I haven't felt the need to be invested in the series because I do appreciate the hours that go behind the craft.
Yes, being a drag queen is a craft.
There's the make-up, the wig, the outfit, the song choice, etc. It's a long, non-exhaustive list.
Take note: this video is almost 30 minutes long.
It's a testament to Drag Race's immense popularity that what was once a novelty act is now part of mainstream popular culture; somewhat accepted by society, if you will. We've adopted the animated vernacular ('tea', 'shade', 'fierce') in our communications with one another, whether intentional or not. We appreciate our queens' snappy comebacks. But most importantly, we laud their confidence and bravery. Being a drag queen is a personal choice, but it definitely isn't easy.
As much as we're obsessed with drag queens, we feel the same way towards men who push social conventions and dress in typically feminine fashion. Being in drag and wearing women's clothing are by no means the same, of course. Yet, the latter has seen increased visibility in tandem with our fascination with drag queens.
We've been obsessed with men in feminine clothing for decades now. Think about it, some of our most celebrated men took on stage personas in outlandish, and usually feminine, outfits. David Bowie's electrifying presence was punctuated by a gender-defying style during his Ziggy Stardust era, and Prince embraced typically feminine details ranging from see-through lace, lamé jumpsuits and healthy doses of sequins.
Fast-forward to 2019 and we're still pretty much in awe of men pushing style boundaries. Ezra Miller's red carpet appearances while promoting Fantastic Beasts: The Crimes of Grindelwald made headlines and were applauded. In two separate instances, Miller had turned up in a black Pierpaolo Piccioli-Moncler ensemble that was reminiscent of the Harry Potter universe's soul-sucking creature, and wore a feathered Givenchy Couture top. Both looks were part of womenswear collections and were topped off with equally dramatic make-up.
While it is evident that we're in an age where we're more open- minded and our voices are louder when it comes to advocating for equality and self-expression, this obsession with men embracing feminine looks is not new. It's gotten stronger.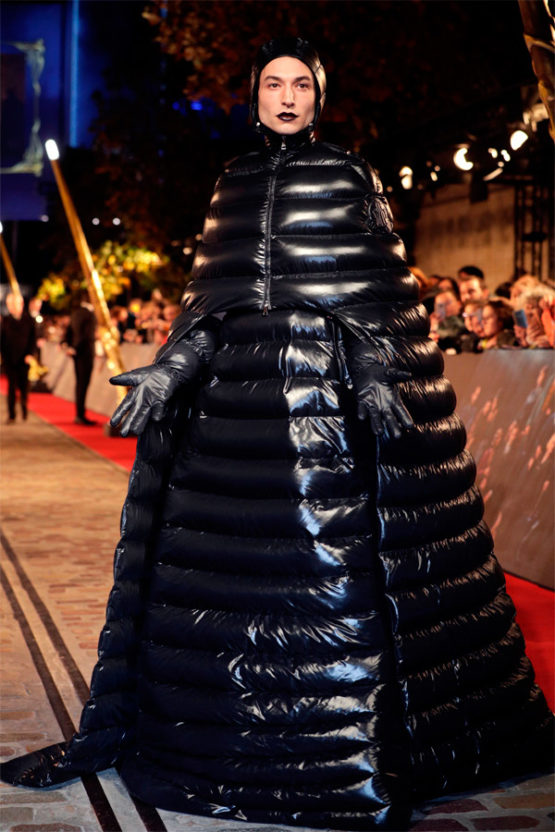 American Horror Story's Cody Fern took to the 2019 Golden Globes red carpet in a semi-sheer Maison Margiela look. Musician Troye Sivan has occasionally worn womenswear to appearances, including a custom tuxedo from Valentino's autumn/winter 2018 couture collection to the 2018 NGV Gala in Melbourne. And how could we forget Billy Porter's dramatic Victorian tuxedo gown at the recent Oscars?
We've been so caught up in our own mundanity that we fail to think creatively when it comes to style.
I hate to be the one to point this out, but men have, historically, been vainer than women. Take wigs for example. The ancient Egyptians—both men and women—used them to protect their shaved heads from the sun, centuries before it made its way into Western nobility during the 17th century. And heels? Let us not forget that they were first worn by men. Then, somewhere along the way, we became socially conditioned to associate heels and wigs with femininity. And we've restricted our 'traditionally approved' options in the process.
When men take chances (even the slightest) stylistically, there's this collective gasp, like a revelation that we can actually not restrict the way we dress. We've been so caught up in our own mundanity that we fail to think creatively when it comes to style. We used to hole up our sense of expression to suits and tailoring, and felt that a jolt of print and colour (gasp!) on a suit was a step too far.
Now that men have slowly inched away from suits, it's as if we're grappling to find an identity. So we equate tastefully adopting typically feminine styles as 'brave'. In the same way that we likened the first known instances of 'dad bod' to a celebrity being brave, the same goes with how we generally feel about stars such as Miller, Fern and Potter.
We're obsessed because they dare to be different. We're obsessed because we admire their courage to experiment. We're obsessed because they make us uncomfortable, and that is a good thing. Part of the reason why we're so comfortable with women wearing menswear—besides the fact that they can pull off just about anything— is because we're so accustomed to it.
I'm definitely not advocating for every man to be dressing in women's clothes; that's a purely personal choice. But I hope that for every gasp and applause we give to a male celebrity who's decided to challenge social dress norms, we take a mental note to change our perception towards what is 'normal' in today's context.
If we can accept men portraying women for entertainment as the norm, why not men in women's clothing in daily life?
For more stories like this, subscribe to Esquire Singapore.