It was Andy Warhol who once said, "Fashion is more art than art is." And just in case you're unfamiliar, he's the same Andy Warhol that's highly regarded as the champion of the Pop Art movement and a cultural icon whose personal identity is as famed as his artworks.
There's tension, and perhaps hesitance, on the part of art purists to regard fashion as art that has been going on for decades at the very least. Some argue that unlike art's boundless and seemingly non-existent parameters, fashion does tend to rely on specific techniques and has certain limitations. Others simply base it on the fact that while both do carry with them aesthetic values and are products of skill, time and dedicated tools, they're inherently different—fashion has a clear, practical purpose, which art doesn't.
Yet that hasn't stopped both from being interconnected. One instance was the continued partnership between Italian couturier Elsa Schiaparelli and Surrealist artist Salvador Dalí. The former's designs were heavily inspired by the art movement, often incorporating incongruent and unexpected elements that were atypical of fashion, and especially haute couture. Dalí's first involvement in fashion resulted in the now-famed lobster dress of 1937—an off-white silk organza Schiaparelli dress that featured a lobster print hand-drawn by the artist pointing towards the hem. Like any good collaboration, the lobster dress combined the very best of both worlds. The construction and design challenged the idea of haute couture of the period, while the artwork and its placement invoked discussions as people wondered its meaning. What could a lobster, presented in such a way, represent? Was it a kind of sexual innuendo?
If streetwear's more casual and by-the-people approach has helped to democratise fashion from just being for the elites, collaborations between fashion brands and the art world have opened up the latter to new audiences, those that may not necessarily have the interest of spending tens of thousands of dollars (at the minimum) for a Warhol original. In fact, works by Warhol and his two younger contemporaries, Keith Haring and Jean-Michel Basquiat, have been the most-used imagery in the art-fashion collision and they still continue to be so decades after their deaths.
View this post on Instagram
When Belgian designer Raf Simons was handed the keys as creative director to American brand Calvin Klein in 2016, Warhol became central to the aesthetic reset. The brand managed to secure a deal with the Andy Warhol Foundation (the entity that manages licensing agreements for the artist's works), but one that was unique in its terms. Instead of the usual one-off use for a collection, the deal allowed Simons access to the Warhol archive for three years.
Although his turn as Calvin Klein's creative director was cut short (it ended in December 2018), Simons then started reworking Warhol's prints into the brand, beginning with the spring/summer 2018 collection. In Simons's own words as recorded in an interview in The New York Times: "I liked the idea of connecting an American major brand to an American major artist, whose body of work spoke about things very relevant to Calvin Klein."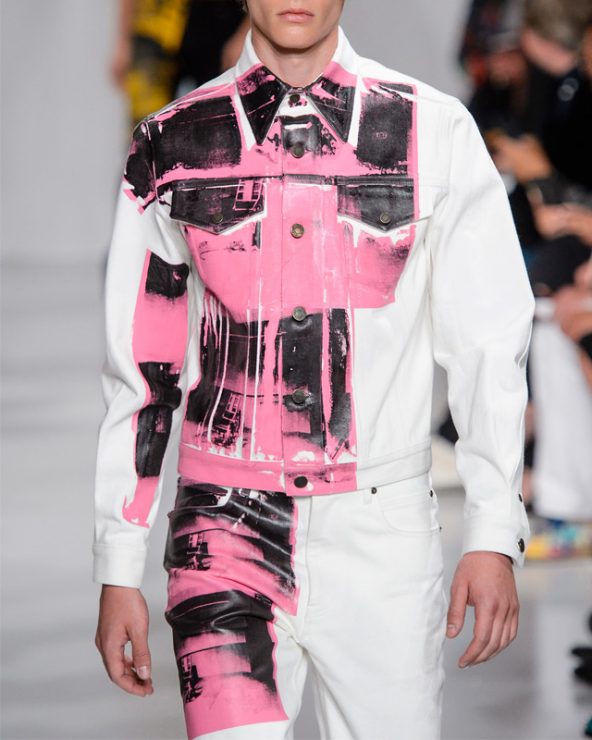 Haring's instantly recognisable graffiti art has become a fixture in the fashion world. Defined by his use of strong, bold lines, Haring's works have graced clothes and accessories by brands belonging to every segment in the fashion spectrum. Japanese fast fashion brand Uniqlo had adopted various iterations of Haring's works as part of its UT collections, while sportswear brand Lacoste dropped a capsule collection in 2019 of ready-to-wear that featured heavily some of Haring's more iconic works, including 'Barking Dog' and his faceless human figures. And most recently, Parisian label Études released a second successive collaboration with the Keith Haring Foundation for spring/summer 2020. Vibrant and energetic, the collaboration was Haring through and through.
The latest of the art trio to have dropped a fashion collaboration is Basquiat. The late American artist of Haitian and Puerto Rican descent was part of Coach's autumn/ winter 2020 collection. Not only was some of Haring's most distinctive works emblazoned on pieces such as leather trench coats, blanket-sized wool scarves and comfy knitwear as well as the brand's curiously shaped leather accessories, his niece was part of the runway line-up which also saw Haring's gatekeepers, sisters Jeanine and Lisane Basquiat, in the audience. Coach's creative director, Stuart Vevers (who's also been inspired by Haring's works), said in a press statement about the collection, "Basquiat is one of my heroes. He embodied the creative, inclusive spirit of New York and was a force for change in his community. I am proud to celebrate his work and values and help bring them to a new generation."
After 2018's Keith Haring-tribute collection, Coach continues paying homage to New York's finest artists with a Jean-Michel Basquiat one for autumn/winter 2020.
After 2018's Keith Haring-tribute collection, Coach continues paying homage to New York's finest artists with a Jean-Michel Basquiat one for autumn/winter 2020.
After 2018's Keith Haring-tribute collection, Coach continues paying homage to New York's finest artists with a Jean-Michel Basquiat one for autumn/winter 2020.
It's a sentiment that's echoed by David Stark, founder and president of global licensing agency Artestar. The agency helps in facilitating such collaborations with artists and estates under its care, two of which include Haring and Basquiat. In a 2016 interview with Highsnobiety, Stark explained that Haring was one of the artists who acknowledged being part of the every day—as opposed to focusing on his own medium—was "a way to communicate on a grand scale". If it wasn't already apparent from Haring's public nature of his medium of choice, he was without a doubt a champion of the democratisation of art.
It comes as no surprise then that Warhol, Haring and Basquiat remain the three most-celebrated artists in fashion. Besides being actual friends, all three understood the interwoven connection between fashion and art, and even in their lifetimes, dabbled in the former.
Before Warhol became a Pop Art icon, he started out as an illustrator for Harper's Bazaar in the '50s. His role required him to produce drawings of fashion items and collages of beauty products—a stark contrast to his later, more prominent works that celebrated the mundane and every day.
Haring's start in anything resembling fashion was his creative partnership with Grace Jones. It was Warhol who introduced the two to each other in the '80s. Treating Jones's body as a canvas, Haring painted on the same bold lines that he's known for for an Interview photo shoot. This then spurred further collaborations between the two, including for her role in the 1986 film Vamp.
For Basquiat, fashion was a medium in his early art career. His ascension into the fine art scene saw Basquiat first taking to the streets as a graffiti artist in the '70s. Basquiat then created a line of hand-painted clothing under the label Man Made that was named for a tag he often used in his graffiti at the time. But instead of developing the clothes from scratch, Basquiat's garments were upcycled from found materials and then turned into fashionable canvases.
It's a full circle moment of sorts. The trio that has, in their own separate ways, become such integral parts of today's cultural lexicon, is still relevant and continues to be celebrated for their individual contributions, and in an avenue that they're no strangers to. And especially one that they've never regarded as less than the world they've ascended to.
Fashion may never reach the kind of elitist notoriety that's often associated with art, and it shouldn't. It hardly makes sense for a piece or garment—haute couture or not—to be valued at millions of dollars when the very nature of fashion is to be worn and not just for display on a wall. Yet, it is with fashion's more democratic nature that the works of artists past and present can live on and be appreciated by a larger audience. Is fashion art? Probably not, and that's perfectly fine.
View this post on Instagram
"Fashion is more art than art is." Knowing how Warhol has a penchant for making something out of the norm, the quote could probably be his personal notion of how art should be for everyone. Fashion's purposeful essence would then make sense as a more Warhol-definition of art. But one can only interpret what he actually meant—now that, perhaps, is art in itself.
For more stories like this, subscribe to Esquire Singapore.