The way we see it, 2021 is at least looking to be more positive than the uncertain realities of the previous year. We're getting vaccinated, travel bubbles are in the process of happening the world over, and there are concrete plans on opening up economies once again. 
The fashion industry may be in a bit of a disarray—fashion houses began internally restructuring their business models during the height of the pandemic—but one thing that remains consistent is in the way fashion often reflects our lived realities. While it may be easy to create collections that speak to a rather bleak future, fashion has always championed positivity. And we definitely could do with some. 
It's not that designers are out of touch with reality, but rather, they'd sooner choose to create solutions to our new lifestyles than focus on the negatives. Which is why, the pre-autumn 2021 collections are rife with new-normal realities but seen through a touch of rose-tinted glasses—it's the now but hopeful.
Make it mono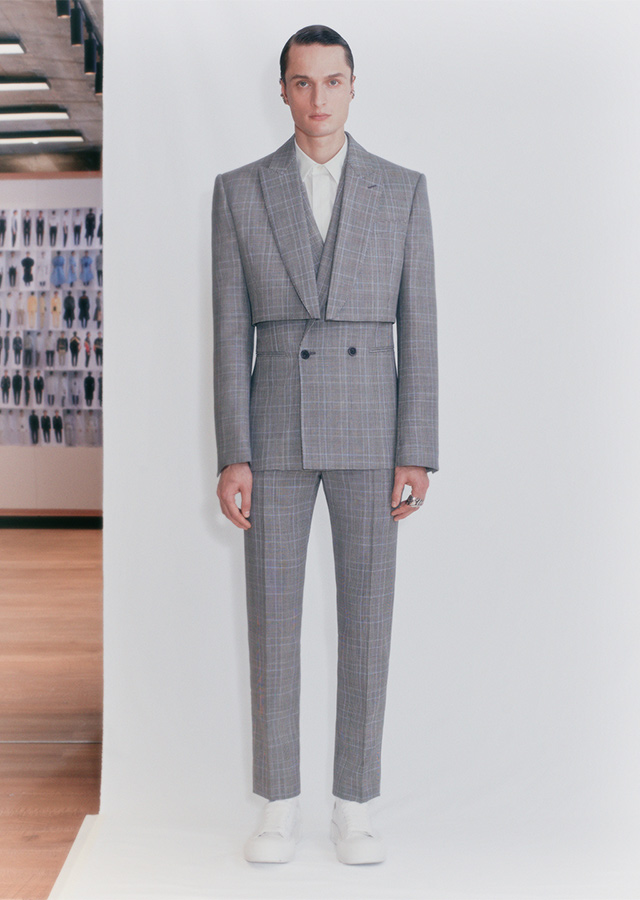 Alexander McQueen pre-autumn 2021.
Alexander McQueen pre-autumn 2021.
Tod's pre-autumn 2021.
Burberry pre-autumn 2021.
Burberry pre-autumn 2021.
There are more things in life that occupy our minds and time now. Fashion and style may be the last things on our agenda but that's because they can be complicated at times. For pre-autumn 2021, the rule of thumb is simple: pick just one and go.
Monochromatic looks have always been an ultra-chic way of appearing put-together. But in actual fact, they comparatively require minimal effort to execute. Opt for a super clean layered outfit like Tod's—a colour-matched combination of a jacket, a shirt and a pair of trousers for a fuss-free three-piece. Or take a stab at focusing on subtle details that enhance a monochromatic look as per Givenchy and Alexander McQueen, where striking hardware and smart constructions create dimension and depth.
At the other end of the spectrum, Burberry kicks things into high gear with mono-patterned combinations. They're definitely more ostentatious than going monochromatic but hardly easy to fail at. A bold pattern is amplified by ensuring that every other piece in the look—down to the bag in Burberry's case—carries the same pattern with some slight variations to them. Undoubtedly a tad unconventional but think of all the patterned separates you've now got a hold of to pair with simple basics post-pandemic.
Locked and loaded
Dior Men ups the ante with a classically handsome accessory this season. Kim Jones may be known for creating some of the freshest combinations of streetwear-meets-luxury for the fashion house, but here, the Lock bag proves that he's able to deliver timeless sophistication just as well.
The Dior Lock bag reminds us of old-timey briefcases and their locking mechanisms that elicit a rather satisfying click when locked and unlocked. In a way, the Lock bag could be seen as a modern interpretation of those hard-cased briefcases. The rigidity and structure remains but it's reimagined in leather or hardy Dior Oblique canvas with the locking mechanism fixed front and centre. And to emphasise its namesake, the unique metallic clasp is beautifully engraved with the Dior logo. Sublime.
The main Dior Lock bag is a roomy crossbody bag measuring 19cm by 14cm by 4cm. But for more space, there's a camera bag version designed with multiple compartments. Or go even smaller with two variations of nano-sized accessories.
Return to the old
Italian fashion house Gucci is but one out of a list of fashion houses that have decided to remove themselves from the constraints of the traditional fashion calendar. That effort has sprouted Gucci Ouverture, a collection that runs from May to October and designed to be season-less.
Apart from the non-traditional approach, creative director Alessandro Michele has also decided on bringing back past favourites conceptualised since he took over creative reins. The idea is that nothing is ever disposable at Gucci and that designs past and present should be intermixed to create new style stories. Because if you've already spent a good chunk of money on a Gucci pussy bow shirt, that piece should ideally get a lot more than just a season of wear.
The best thing about Michele's designs for Gucci is that they're fairly consistent in being non-consistent. The constant mishmash of ideas and influences means that it's difficult to pinpoint the collection that each piece belongs to anyway, so it's only right that they live on and are constantly being revisited.
So white and so right
White sneakers make a return to the season's slate of luxury sneakers. They're naturally white but reworked in fresh and new ways that differentiate them from the usual. For Salvatore Ferragamo, that means adding metallic silver accents. On a pair of sleek white sneakers that's emblazoned with the house's signature Gancini motif, the heel is interpreted in silver; while on a sportier silhouette, silver accents take the form of panel trims and an SF buckle.
Brands like Valentino and Givenchy opt for simpler iterations. The former splashes its Atelier Valentino Garavani print right smack at the sides in contrasting red on basketball-inspired silhouettes. Givenchy, on the other hand, took a focus on the soles of its sneakers with a translucent design element that elevates the inherently sporty slant.
Givenchy.
Salvatore Ferragamo.
Valentino Garavani.
Valentino Garavani.
Balenciaga.
But none exudes a more athletic-inspired sneaker than Balenciaga's. The Runner is a deconstructed and then reconstructed sneaker that's composed of a web of athletic stripes and panels. It looks like it was built for speed and could do some damage on the track—the perfect sneaker to run away from troubles.
Whichever you choose to indulge in, know that these white sneakers work with just about anything and everything. All those sweats you've accumulated during the pandemic? A no-brainer pairing. Tailored separates? Good to go as well.
A trippy capsule collection 
Fendi FF Vertigo.
Fendi FF Vertigo.
Fendi FF Vertigo.
Fendi FF Vertigo.
Not many things call back to a time where indiscretions and free-spiritedness ran rampant like psychedelic prints. Fendi worked together with New York-based visual artist Sarah Coleman to come up with FF Vertigo—a capsule collection that twists and contorts the house's iconic FF pattern. Inspired by the psychedelic '70s, the FF Vertigo motif is essentially a simple wave-like filter to the FF pattern but one that's visually effective in adding a sense of fun to the entire collection. FF Vertigo is kept fresh and light for the season in bright hues of blue and yellow, with a more maniacally colourful iteration involving a quintet of different colours. 
If the thought of wearing a pair of swim shorts and bowling shirts in FF Vertigo is bound to give you, well, vertigo, the capsule collection's line of accessories are more subtle options. Use one as a statement piece to accessorise any dull outfit for a jolt of irreverent fun. Like we said before, positivity is the way forward. 
Get on your feet and start moving
If Fendi's FF Vertigo was a '70s throwback, Bottega Veneta's latest footwear is peak '80s. It perhaps is a bit bonkers to wrap around but part of Bottega Veneta's Wardrobe 02 collection is a pair of high-top leather sneakers affixed to a roller-skate base.
To be completely honest, we don't exactly know why anyone would need a pair of sneaker-roller skates hybrid to add to their footwear collection. But stranger things have been happening lately (like a lifestyle-altering pandemic) and this may just be one that's not too far-off to even imagine during this time. One thing's for certain, this is definitely a stark departure from the minimalist approach creative director Daniel Lee has set for the brand.
Real-world applications aside, the footwear is quite stunning. The sneaker uppers are colour-matched with the wheels of the skates with an outsole that clearly demarcates where the sneaker ends and the roller skates begin. In conclusion, we say, why not?