If you—like many of us reading this—find it hard to be even the least bit positive about entering 2021, know that you're not alone. And it's completely okay. It's a valid feeling after the year we've all experienced in our own individual ways. Heck, feel free to shout it from the rooftops. 
Here at Esquire Singapore, we never discount the power of fashion and its undeniable ability to uplift spirits. It's that powerful feeling of wearing a suit, making one stand a little taller; the dependable bag that has seen one through multiple job changes and is the mark of a full transition to adulthood; popping on fun socks with staid office-appropriate attire as a personal reminder that one is more than the daily grind. And of late, making the effort to put on proper trousers even though one is working from home, just to have some semblance of normalcy. 
The year 2020 may have cemented into our consciousness that fashion is in no way essential. But then again, what is life without a sprinkling of non-essential luxuries that are within one's means? We could all do with one—even if that means investing (it's the only way to responsibly approach purchasing fashion, to be honest) in an item that speaks to how 2021 could be. 
We're taking a dive into the resort 2021 collections and dissecting the trends, pieces and overall vibe that'll shed some much-needed positivity to the start of the year. Let this be a guide to what to invest in. And perhaps, inspire a sartorial update to brave the uncertainties.
A prep in your step 
Italian brand Tod's crafts some of the best footwear out there. And while the brand is known for its signature pebbled Gomminos, one can hardly go wrong with its footwear offerings. There's no doubt that a pair of Tod's is well made and comfortable. 
The season's colour-blocked penny loafer is that all-round dependable pair that's sure to be an invaluable asset. If the silhouette was made mainstream by the prep community in the post-war late '50s, this time its easy-to-wear appeal is the kind of vibe that we deserve without skimping on style. 
Wear this Tod's pair with anything from denim jeans to chinos to shorts, with calf-high socks or totally without. Make this your new go-to 'white sneaker' but one that elevates both casual and slightly more formal outfits. 
From sweatpants to shorts that are actually short
We need to finally part ways with the sweatpants that have been our constant companions since working from home began. There's no denying that they're comfortable for lounging in while getting work done from every other corner of the house, but they're not exactly the kind of carpe diem-attitude we're striving for 2021. 
Kim Jones's Dior Men spring 2021 collection is based on the concept of home. Among the elevated lounge-appropriate looks in the collection, we're gravitating towards the proposal of printed thigh-grazing shorts that are coordinated with equally printed shirts—tailored pyjamas you'd have no problem wearing out in public. 
While we've been comfortably staying home, it's time to bring that same level of comfort to the items we wear out. Impeccably tailored short shorts (make sure that they're cut with enough give around the hem) not only will be perfect for this side of the equator, but superficially allow for those gams to get some much-needed colour too.
One bag to throw it all in
How does one prepare for the unknown? Well, when it comes to arming oneself with the necessary equipment, a small crossbody bag won't cut it anymore. They may be the perfect accessories during a time when we didn't need to be holding on to much, but that has since changed with newly minted essentials—hand sanitisers, face masks, antibacterial wipes et al—that we're now getting accustomed to carrying around. 
The era of the tote bag is making a comeback. Roomy enough to fit all that's required and so much more, the resort 2021's array of tote bags is imbued with as much personality as they are functional. 
Salvatore Ferragamo's Tornabuoni 1927 tote is crafted in hardy canvas, printed with the brand's logo and trimmed in leather. The Valentino Garavani tote is fashioned in a similar way but designed in a wider silhouette and tastefully embellished with its iconic studs. And Balenciaga does what artistic director Demna Gvasalia does best: a trompe l'œil reworking of a tote that looks like it's made of paper, but in reality, a more weather-resistant polyethylene. Bottega Veneta, on the other hand, is probably the most versatile, only because in addition to a rubber construction, the tote is designed with adjustable straps to adapt to its load.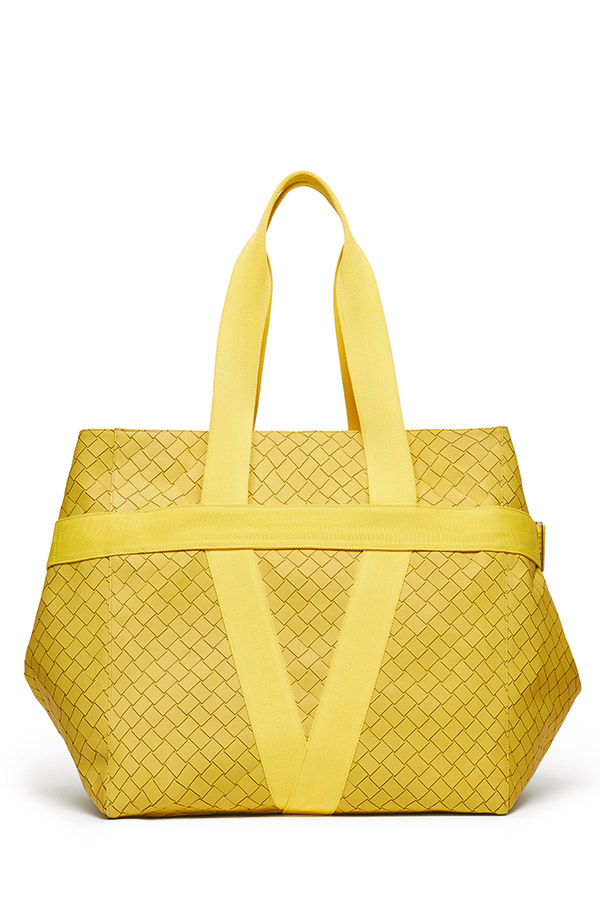 Rubber tote bag, by Bottega Veneta (SGD1,770).
Canvas tote bag, by Valentino Garavani.
Polyethylene tote bag, by Balenciaga.
In essence, a tote bag is the very embodiment of 2021—no one knows what the year will be like, so let's just be ready for anything. Dump all your personal protective equipment, everyday essentials and a collapsible umbrella for good measure.
The need to dress up 
It goes without saying that we're championing for the return of dressing up. And not just for one-off occasions, but for the every day. It may be idealistic to expect that we're more inclined to dress up after a period of mostly being contained within the four walls of our homes, but such is the transformative power of fashion. We may not be able to travel just yet; dressing up is the next best itch to scratch.
At Louis Vuitton, artistic director Virgil Abloh is noticeably making the switch from streetwear-leaning to more tailoring for resort 2021. Abloh is fully embracing tailoring, albeit in his own way, and by referencing the culture that he's been brought up in. 
There's the allusion to workwear with classic workwear motifs incorporated throughout the collection, while still retaining the formality of each look. There's nary anything that resembles loungewear or anything remotely casual. It's necktie, suits and proper tailoring, but at the same time, it's easy to see one pulling off each look on the daily. 
They say you should dress for the job you want. It's 2021 and we say you should dress for the year you want. And in this case, it's stylish, confident, and a year that we can gain some control over. 
A childhood throwback
Canvas backpack, by Gucci x Disney.
Canvas backpack, by Gucci x Disney.
Canvas tote bag, by Gucci x Disney.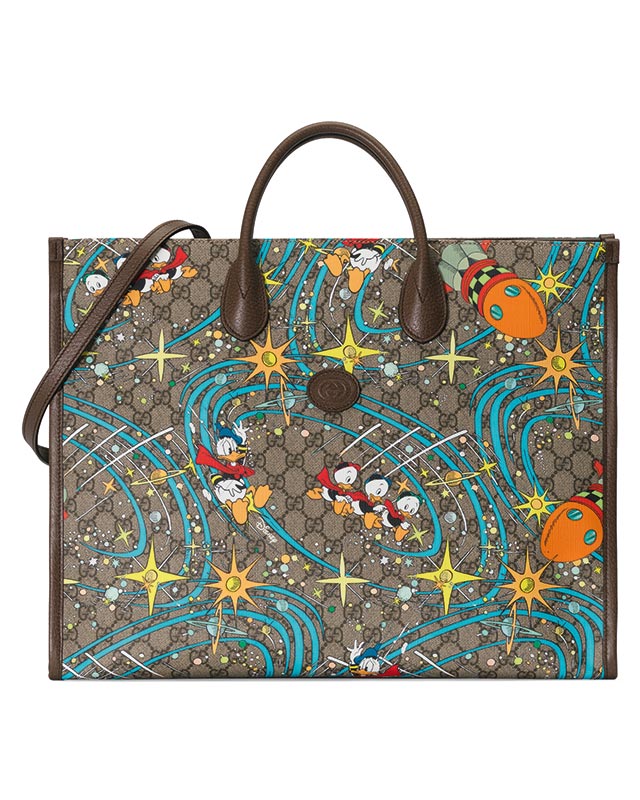 Canvas tote bag, by Gucci x Disney.
Canvas duffel bag, by Gucci x Disney.
Canvas luggage, by Gucci x Disney.
Canvas zipped pouch, by Gucci x Disney.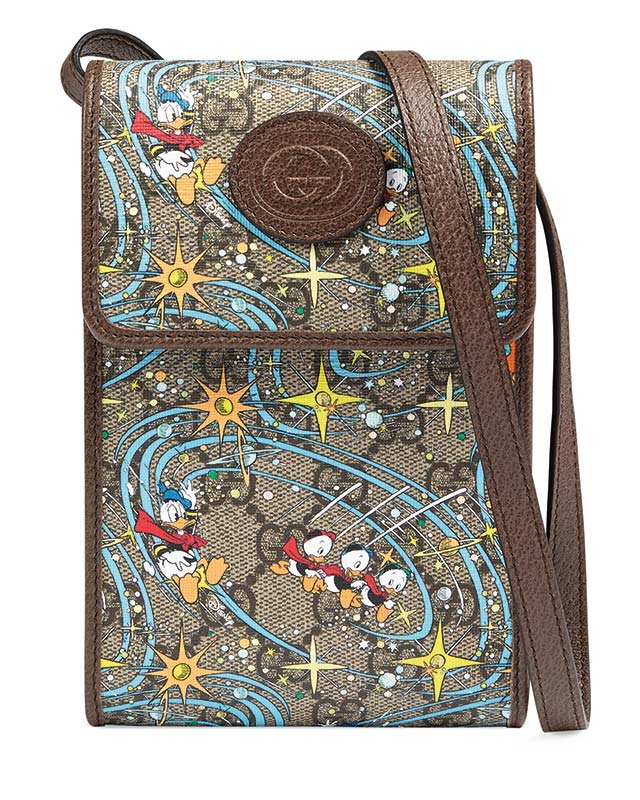 Canvas mini bag, by Gucci x Disney.
Canvas belt bag, by Gucci x Disney.
Silk scarf, by Gucci x Disney.
Silk scarf, by Gucci x Disney.
Canvas fedora, by Gucci x Disney.
Tennis 1977 sneakers, by Gucci x Disney.
Ace sneakers, by Gucci x Disney.
Rhyton sneakers, by Gucci x Disney.
Gucci is back with another Donald Duck-centric collaboration. This latest iteration introduces the famed character's trio of nephews: Huey, Dewey and Louie. The quartet is seen making their way through a star-filled galaxy, set against the house's GG motif across a selection of ready-to-wear and accessories. 
It's nice to be reminded of innocent, carefree times—sit in front of the television watching Saturday morning cartoons while digging into a bowl of sugared cereal. Gucci's been quite adept at crafting collaborations that lend a throwback narrative in a contemporary context. And it's always a plus when they're ageless icons. 
Be safe, always
Nothing else in the resort 2021 collections speaks more to the times that we're living in than Versace's socially responsible combination of a bucket hat, safety goggles-inspired eyewear and a Medusa-branded face mask. 
There's no need to buy into the idea of a luxury-branded face mask; a normal washable face mask does the same job without turning one into a walking billboard. But it's a reminder that wearing one means protecting yourself and others.
If anything, it's the amped-up pair of safety goggles that's set to mark a new turn in pandemic-era accessories. Take it as a broken-up face shield if you will —an additional layer of protection against droplets should you feel the need to be extra cautious. It may be a tad excessive, but who's to judge?