Early '80s
Josh Franklin watches the trains.
He takes the train to school; the independence of travel, par for the course for a New York City kid. Waiting for the subway with the masses, he'd see the indecipherable calligraphy on the cars' exterior: the drips, the wildstyles that are thick in lines, bright in hues and crazy in form; an energy emanates from the art.
Most people subscribed that the letterings were the handiwork by vandals. It is an anonymous affair but Franklin sees it as advertising. Personal branding. Tags and handstyles that finger the identity of the writer. An OG of New York's graffiti scene, Skeme, remarked that "graffiti culture was a secret among writers, and writers knew each other's work". It is a secret language hidden in plain sight.
Like a passing meteoroid caught in a planet's pull, Franklin is inevitably drawn towards this clandestine graffiti scene. It wasn't so much as escapism as it was in the way you would join a sporting club. Franklin inquired about this covert fraternity. Someone knew somebody in the scene and he was inducted into the lifestyle, running with people like ZEPHYR, Duster and Futura ("I knew Lenny from being a New Yorker. Same neighbourhoods, same galleries, same cool. I'm a lot younger but we remain friends since the mid-'80s.") Franklin describes himself as the 'baby of the bunch', learning at the feet of the masters.
There's a wistfulness in his account. Back then, the graffiti crowd was a close-knit group. Knowledge from the older generation was easily dispensed to the neophytes. Now the world is a different place, where it's every person for him or herself. Franklin can pinpoint the moment of that shift: when the graffiti scene was commodified. "Before it became commercialised, passion drove us," Franklin explains. "Nobody paid us to go paint subway cars. Nobody paid you to risk dying or arrest when you're spray painting. As graffiti started getting celebrated, people realised that they can do what we do."
8 December 2019
It is the final day of Culture Cartel, a three-day convention dedicated to street culture and the like. Held at the Singapore F1 Pit Building, hypebeasts, bedecked in their trendiest threads, peacock about with an air of nonchalance and an unspoken need to be noticed.
Yet in the crowd, Franklin stands out. He is recognisable in his signature cap and t-shirt that drapes his stocky frame; a similar ensemble that he wore back when he was 18. Despite the resting glower, the man opens himself up to meet with fans. He loves the interaction, is humbled by it even. To be appreciated for his work is one of Franklin's highs. Sipping his drink, Franklin nods to me as I approach and we make our way to a quiet corner next to a G-Shock booth.
Decades of being in the scene have left Franklin as somewhat of a hoarder. There are things that he bought and the things that he had made. It had gotten to a point where he couldn't keep paying for storage, so he gave most of it away. "I still have a lot of stuff though but most of them are now in my archives." The archive contains 20 years of t-shirt designs, cut-and-sew, 15 different sneakers… these are going into a book that Franklin is putting together and will come out this year.
"People only know me for graffiti, and for the collaboration sneakers with Nike. But they don't know that I designed the Burton Analog logo; they don't know that I did all this work over here. It's gonna be pretty cool once they see all the other stuff that I did in this book."
This is Franklin's fourth trip to Singapore in the last two years. He loves to travel. This very human quality of moving is a big part of what he does. And while one might appreciate the opportunity to have your travel and lodgings comped, this is hardly a holiday. "I haven't had the luxury of a vacation," he explains. "A proper one where I don't think about work. It's only when I get an opportunity to, if someone were to invite me to Rome for a job for three days, I'll ask my wife if she wants to go to Rome with me. My vacations are just free days added to a work trip."
March 2020
The world is in the grip of a pandemic. It is given a regal name, this virus. Up-close under an electron microscope, these virions resemble the arches of a crown. Like beams of light shooting from the head. The great and terrible corona radiata, seen on Helios the sun-god; the Colossus of Rhodes, the coronavirus endures as a symbol of power over its subjugation of man.
The hospitals swell with patients, breathless and frail, and the earth opens to receive the mounting dead. Commerce slows as the world retreats into hibernation; once-populous streets now stand empty; business establishments are shuttered.
Franklin had a scheduled gallery show but it was called off due to the pandemic. So he took his seven paintings and put them up for sale on the Internet. All the proceeds were donated to NYC Health + Hospitals, an organisation that operates the public hospitals and clinics in New York.
A sum of USD10,210 was ultimately raised and went into the purchase of personal protective equipment, meals and other resources for doctors, nurses and other essential staff.
1984
At 17, Franklin has his work put up alongside Keith Haring and Jean- Michel Basquiat at a Christmas show at FUN Gallery. This in fact will be repeated often years from now and while it is correct, it is also far from the truth. Franklin sets the record straight: "Yeah, you know that story. There were 30 other artists in that show, but everybody only sees those two."
According to Franklin, there were many artists at the Christmas show organised by Patti Astor, the owner of FUN Gallery. "Futura was probably in the show, ZEPHYR, Revolt… all the artists that were at the FUN Gallery and people focus in on the two most popular names—Jean-Michel and Haring—and forget about the rest."
Still, the acceptance of graffiti as an art form is a validation. After years of being seen as a subculture ("It's not even a culture, it's below it, 'sub'."). All the pushbacks from art galleries were replaced with an opportunity to reach the youth market.
"Listen, we were branding ourselves before the terminology 'branding' even came to be. We're making a name for ourselves, trying to bring value when no one would give it to us." The graffiti movement would ripple out to reach a larger and appreciative audience. It would be validation on a mass scale.
1970s
There's no real big revelation on the name, Stash. As kids, we find things that we are attracted to and in Franklin's case, it was the way the letter 'S' looks to him.
There's something about the geometry of the almost-lemniscate that appeals to Franklin as he practises drawing names and seeing how certain letters look good together.
The word 'Stash' was something that Franklin heard back when he shared a room with his older brother in a small apartment. Because of the lack of space, privacy is a commodity. Anything precious that Franklin owned he'd have to squirrel them away from the eyes of his brother.
"I would hide stuff from my brother… and then I'd forget where I put it but I'd accuse him anyway of stealing my shit. I remember him saying to stop stashing my stuff and blaming him when I forget where it is.
"There's no real glorified story to my name."
"I knew Lenny from being a New Yorker. Same neighbourhoods, same galleries, same cool. I'm a lot younger but we remain friends since the mid-'80s."
November 2001
Franklin opens Nort 235, located in the Lower East Side of 235 Eldridge Street. This is his foray into the sneaker retail business. He would move to a bigger space on Lafayette between Bleecker and Bond, next to Futura's shop, Recon. Rebranding as Nort/Recon, the establishment not only sells sneakers, it has expanded to "limited-edition clothing, snowboards, New Era caps, vinyl toys".
"I don't necessarily think I fell off the grid," Franklin says. "I got two kids, I got divorced… life gets in the way. I just refocused my energies towards retail. T-shirts are really easy to make and I was selling a lot of them." Sales of the t-shirts helped with the payment of his studio.
Nort/Recon was hit by flooding from a burst pipe. About USD35,000 worth of products were ruined. While Nort/ Recon relocated to Brooklyn in 2009, the flooding incident dampened whatever enthusiasm Franklin had left for retail.
"It wasn't soul-breaking, it was ego-shattering. I went in pretty hard, I had built this whole thing and then it crashed. That was interesting to figure out that I'm not a retailer, I'm an artist. Retail took much away from what I am and what I need to be doing." Nort/ Recon would soon shutter after that.
1970s
He got interested in photography growing up. Franklin's father was a professional photographer, a graduate from Pratt Institute and his grandfather developed his own films in a darkroom. It'd seem natural for Franklin to pick up photography and document his life. You'll find moments of his life on Instagram: works that he had done; places he had been to. His 'greatest collaboration'—his children, Ariel and Ezra—are subjects for his photographs.
"My kids are all over the Web, they're mad smart." Franklin starts effusively. "My kids know everything so I'm always handing over my phone to them, telling them to fix this or update an app."
Franklin does reveal a love-hate relationship with the Internet. On one hand, it is amazing that he can immediately share information to a large swathe of people all over the world; on the other hand, there are the trolls. "People can write mean things about other people and not own it, they hide behind the keyboard and the Internet. That's where we get 'hater'. That's an Internet term."
Franklin isn't a fan of people who don't go out into the world enough. Why rely on Google when you have the outside world to experience firsthand? "That's why we should sit and talk to each other, rather than you emailing me questions and I'm replying with answers."
His kids are aware of what he does: the collaboration sneakers, the fashion streetwear; the graffiti. They grew up with it. After Franklin worked with A Bathing Ape 15 years ago, his brood still possesses 'some of the vintage Bape'.
"It's so weird that the things that I was involved with are just so huge around them. They are pretty cool about it. They know what's up." Franklin allows the rare sight of a smile.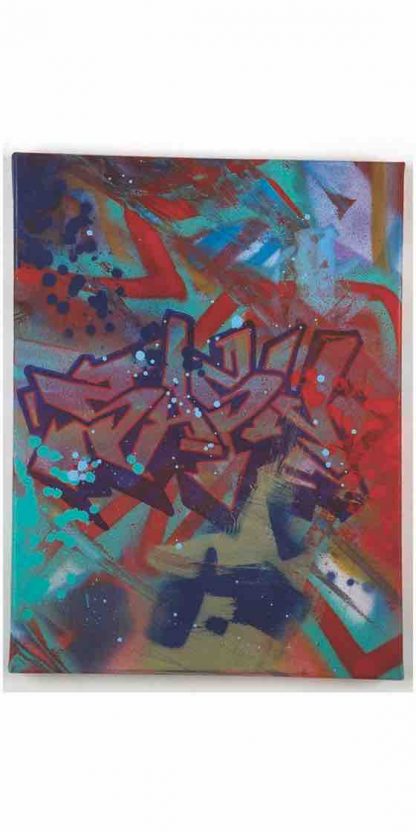 8 December
Graffiti gangs are real. "Well, they wouldn't even be so much like a gang," Franklin tells me. "It could just be a couple of guys who live overlooking the layup (side tracks where trains are parked overnight) and they are not letting anybody into their spot. Because if everybody goes there, then that area will soon become theirs."
This part is the most fun for him: sneaking into a layup; the constant looking over the shoulder, spray cans misting in the night. A nervous energy builds. "It's kind of crazy what we did. When I look at old photos and paintings on the train, I can almost remember the circumstances of where I was."
Looking at Franklin's painting, you're reminded of Gerhard Richter's work. Franklin's earlier pieces use a lot of red and yellow. But later, blue starts to seep in and became his colour of choice when he started designing. He can't explain the affinity for it. He just likes the colour. It kinda reminds him of wide-open spaces, "not the ocean because I'm a city kid. Definitely like the blue sky."
When graffiti gangs clash, it can get violent. There were instances of stabbings and people getting beat up. Paints can get racked (slang for the theft of art supplies). All these in the bid to write over a previous tag.
There's a term, damnatio memoriae. It's when a person who is seen as a traitor to the state, that person is erased from all historical context. Names will be redacted, images scratched out. Coins bearing the visages of emperors deemed an enemy of the state are recalled. To be forgotten in a fate far, far worse than death.
For the graff artist, that fate is to have your tag over the previous guy's.
He was never arrested. A record clean enough you can eat from but Franklin didn't see this as a point of pride. "It's just how it is back then," he says. "And, in complete honesty, I wasn't arrested because I was white. You think racism is crazy today, you can imagine 30 years ago when I got yelled at but I was let go. Had I been of colour or Latino, the cops would have took me in."
"It wasn't soul-breaking, it was ego-shattering. I went in pretty hard, I had built this whole thing and then it crashed.
It is 18 January 1915 and the world turns with the panicked anticipation of punch.
The first World War had not reached its apex with the Russians repelling an Ottoman attack and the Germans drawing first blood in the Battle of Jassin. Japan issues the Twenty-One Demands to China that will extend control of Manchuria and the Chinese economy. The British submarine, the HMS E10, is lost at sea. At that moment, on 18 January 1915, Virginia Woolf would write in her journal that "the future is dark, which is the best thing the future can be". And then, casting uncertainty to her own assertion, Woolf added, "I think".
It is 18 January 1915 and Woolf is several days shy of 33.
Studies into the mind have shown that when a subject imagines their future self, the medial prefrontal cortex part of the brain shows less activation. The brain acts as a separate entity from its future self, as though it sees it as a stranger, dark and uncertain. And perhaps that's what Franklin experiences when we asked him about his end goal. "Yeah. Dying," delivered in a deadpan.
That's where he differs from Futura. Where Futura, like his namesake, sees the future as a shape of things to come—shining, inviting, a realm of possibilities. In Franklin's own words, "[Futura] is a visionary." The present, on the other hand, is all that matters to him. If he can see it, feel it, that is real to him. "Time is the only thing we don't get back. I'm trying to be better at it."
A significant factor is ageing. Franklin possesses the boundless energy of someone who can work a wall non-stop. When he hit 52 last year, he started doing the math. He tallies up his peers who have scratched another year into their lives. ("Futura's 64. Crash is 58.") "Life catches up. The music slows, the party's over…" Franklin waits for a beat, which is a second more than he could spare, "Just like that," Franklin snaps his fingers.
The past is a foreign country and Franklin has moved on since. He can reminisce over war stories, over the many photos that are touchstones of his history but he won't dwell on past glories. "Living in the now doesn't mean erasing my history. I'm proud of what I've built up and I'm ecstatic to even have the idea of a legacy."
So, he enjoys the moments. If he makes a point to see people, he'll go out of his way to do so. He savours the New York air, the company of his family and friends. He continues to build on his estate. Each day, he sequesters himself in his studio and paints. Even when there isn't a show or a gig lined up, Franklin still pores over his acrylics and canvases. "I like to think that there's life after you die," he adds. "Because I'm not done. I need to return to keep working."
1970s
Little Josh Franklin is giving his brother the third-degree. Where did he hide it? Give it back. The older brother rolls his eyes. This isn't the first instance that Josh has blamed him for not remembering where he hid his item.
He shoves Josh. Not forceful enough to cause any injury but just enough to impress on him that this 'interrogation' is over. "Stop stashing your stuff and blaming me when you forget where it is," he says, menace wrapped around his statement as he leaves.
Alone, Little Josh Franklin, crumbles to the ground. The smell of his sweat lingers in the oppressive heat of the summer. He stares, dead-eyed around his room, slowly collecting his thoughts and remembers.
He scrambles over to the loose floorboard or the space behind the poster. Or the nook behind the opened door. He pulls out his cache, his hands carefully cupped around it.
We don't know what it is. But it is precious, it is a light under a bushel. Small and fragile but with enough nurturing, it will grow into something lasting, worth remembering.