---
At a glance:
---
Last year Harriet Mcfeely became the oldest woman to date to hike Bluff Creek in Nebraska. It's a fact she's rather proud of. After all, it was here that the Patterson-Gimlin film was shot in 1967. That may not be as well- known a piece of amateur footage as, say, the Zapruder film of Kennedy's assassination, but in these parts it's a big deal.
The film captures what purports to be Sasquatch loping across the creek, at one point turning to look directly at the camera. Sasquatch— known colloquially as Bigfoot—is a figure that has fascinated McFeely since she was eight, when she first read about Edmund Hillary seeing giant footprints on Mount Everest.
"Even then I thought no person in their right mind would be barefooted three-quarters of the way up that mountain. And, really, the subject of Bigfoot has been one of the loves of my life ever since," she says. She isn't kidding. She recently opened her own Bigfoot museum, the Nebraska Bigfoot Crossroads of America.
"All my life people have said I'm weird for believing Bigfoot exists, but I see it as a compliment. It's important to be open-minded. There are hundreds of new species discovered every year, so I don't understand why there's not an acceptance of Bigfoot." Acceptance, of course, is easier if you've actually seen one.
And McFeely says she's seen four, all at the same time. She was hiking with a group in central Colorado when they spotted a family group near the top of an incline. The largest of the group had, she recalls, "red eyes the size of tennis balls… Seeing them was just the weirdest feeling—us looking at them, them looking at us," she says. "It was hard to process. But there they were."
It would be easy to dismiss McFeely's claim, of course. Rightly, in such matters—and perhaps especially with anything that challenges our received understanding of the world and the way it works—we expect high standards of evidence, even if more recent years have seen the waters muddied, not only by hoaxers having a means to publish their videos, but access to the kind of technology that makes highly convincing fakery all the more simple too.
It's all too easy to lump the possible—that there is a bipedal, ape-like, mammalian creature as yet unknown to science—in with beliefs held in defiance of all evidence—that Earth is flat, for example. But McFeely is far from being alone.
Has Bigfoot actually been seen?
Scratch the surface of more remote communities and, while it may not be publicly spoken about without some trepidation—much as airline pilots fear discussing their sightings of UFOs—there's often an acceptance of at least the possibility that something is out there.
Take, for example, a series of incidents in 2000, which drew crowds to the tiny community of Honobia in Oklahoma. Deer meat was being stolen from a freezer outside a cabin by, it was said, a Bigfoot. The cabin's owner and his family reported being repeatedly harassed. A hunting party set out and fired at shapes in the dark.
Later that night a driver saw two Bigfoots—one apparently injured—crossing a remote road. And, five years later, Honobia established one of the leading Bigfoot conference festivals, drawing people from all over the world.
"Of course you have your UFO chasers and ghost hunters but Bigfoot is, if you're determined enough, a phenomenon you can actually go to try and see," says Troy Hudson, co-founder of the festival. What's more, Hudson is of Native American descent—"and so the idea of Bigfoot is second nature to me. That said, it hits home when you actually see one. It's exciting. And also emotional because you know you're seeing something that a lot of people says doesn't exist."
These people, he says, are almost exclusively city-dwellers. "If you spend any time in the backwoods of North America you'll have had some kind of experience of something you can't explain."
Is he scared of Bigfoot? No, says Hudson. Bigfoot is, after all, the alpha male of the great outdoors. "If Bigfoot is around, then you know you're not under any threat from, say, bears or mountain lions," he argues. But that's not to say there aren't other "creatures out of nature folklore—the dog-man, shape-shifters—that have also been seen", he adds. "And I wouldn't let my guard down around them."
Hudson says as much with sincerity—matter-of-factly, as though referring to dangers common in any place where powerful, sharp- clawed wild creatures live—even if his comments push the credulity envelope further still; even if it's the intellectually easier route to dismiss Footers—as Sasquatch believers call themselves—as mistaken or deluded, fantasists, jokers, liars or just eccentric oddballs.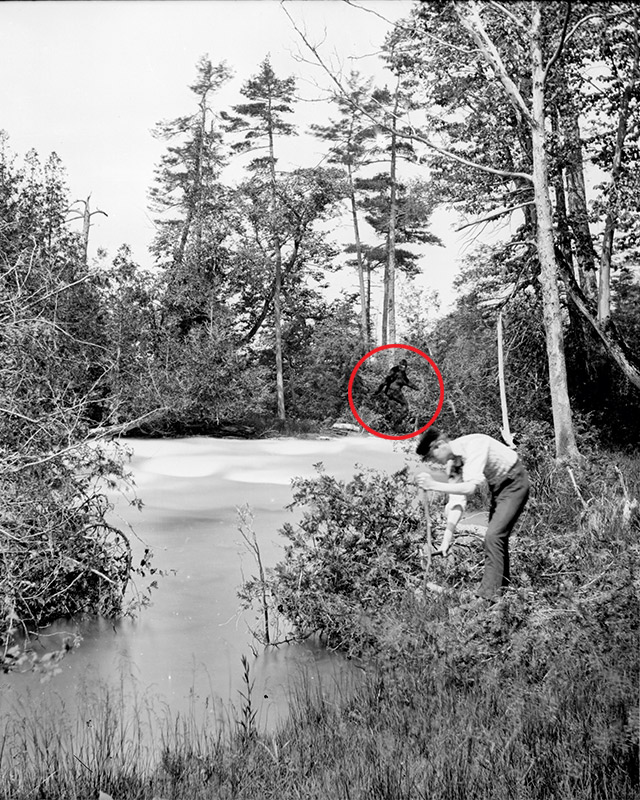 Sasquatch origin and theories
Yet Sasquatch is not an idea that came into being simply with the advent of the portable stills or video camera. Versions of the primate 'wild man'—the yeti or Almas—have been part of folklore going back millennia, and around the world, from the Himalayas to Siberia, the western United States to, most prevalently, north-western Canada.
The first set of alleged Sasquatch footprints to have been recorded date to 1811, when the British explorer and fur trader David Thompson announced his 'discovery'. Tales of the hominid's rather offensive odour and eerie high-pitched yelp have flourished around campfires ever since.
Theories that Sasquatch is a surviving ancestor of Neanderthals have been proposed. But then most scientists simply don't recognise the creature's existence. Meanwhile the figure has become a staple of popular culture. Last year saw the release of Smallfoot, just the latest movie to riff on the idea.
Hudson at least has the sympathy of Todd Standing, who hears these stories all the time. But then Standing has made it his life's work to win general acceptance that Sasquatch exists. Indeed, if others are shy about the subject, Standing—a tracker and one of the world's most active Bigfoot researchers—positively proclaims it.
He's directed Discovering Bigfoot, a documentary recounting his Bigfoot experiences. Last year he even filed a lawsuit claiming that British Columbia had failed in its duty to recognise Bigfoot, such, he claims, is the weight of evidence now. It inspired a further, similar lawsuit to be filed in California.
"There was a time when I was a complete sceptic. I just couldn't see how a large primate could exist undiscovered in our ecology," concedes Standing. "I just assumed it was some kind of mythos. In fact, I set out to prove that. And I was proven wrong when I saw one. And what I saw completely changed my paradigm. It took me a year before I could even talk about it. You just keep finding ways to convince yourself it can't be real.
"It's really a miracle Sasquatch exist but they exist precisely because they've managed to evade us," he adds. "People who have lived on cement all their lives make the assumption that tech can prove anything now, but it's not so simple. Besides, the evidence is there and there's already so much of it: prints with dermal ridges [only primates have fingerprints], hair and scat, structures they've built, recordings, photos, videos, witness statements. But what really convinces people? Getting out in the field and showing them one."
Lawsuits and challenges
Indeed, Standing has videoed multiple encounters himself and claims to have periodic contact with one troupe of Sasquatch near Radium, British Columbia, while wisely choosing to avoid another, hostile troupe in the Bugaboos, a mountain range within the Purcell Mountains. And, with adults standing at 2.7m tall and weighing in at around 181kg, this is just as well.
"It's not easy to see a Sasquatch. They're incredibly still when they need to be and blend into the terrain," says Standing, who regularly guides hikers, including other investigators, on Sasquatch expeditions, a third of which result in a sighting, he says. "But when Sasquatch move it's impressive. These are big animals. They're animals that can kick a bear's ass and chase down an elk".
So, impressive as they are, why isn't the evidence conclusive? And why do we take as possible the existence of, for example, dark matter, the placebo effect or cold fusion with comparatively less evidence or even in the awareness that they make no sense—and never mind beliefs in ghosts, the afterlife, gods and, of course, extraterrestrials—but demand a prime-time interview with Sasquatch before accepting its existence?
Could it be that we're in denial about anything quite so scarily close to home as Sasquatch, and especially the idea of something outside of our ken existing in a world we wrongly take to now being fully documented, recorded and categorised?
Standing points out that it was only in 2017 that a new species of gibbon— also previously unrecognised by science—was discovered in south-west China's rainforests, while last year saw the discovery of a new species of orangutan. No wonder some have called for Bigfoot expeditions to be something closer to hunts in order to bring back a body.
"Do I want to murder a Sasquatch? No. That doesn't seem like the right or necessary way to prove their existence," argues Standing. "The Sasquatch is probably the most advanced hominid on the planet. They're an incredibly advanced wilderness version of us. And it's only a matter of time before the species is recognised."
Last September the court dismissed his lawsuit as lacking "reasonable cause", adding that its decision "in no way infringes upon [Standing's] ability to espouse his beliefs regarding Sasquatch existenceThey're an incredibly advanced wilderness version of us" and leaving him with the province's legal bill. Standing's lawyers had told him that it was unlikely that the Canadian state would let the issue get to trial, at which he was ready, he says, to present DNA evidence and forensic track analysis as well as testimony from police and wildlife officers, among others.
He cites powerful logging and mining interests whose businesses would be threatened if the habitat of a newly discovered species had to be protected. 
"And I know that sounds like conspiracy thinking," adds Standing, who's now preparing lawsuits to be presented in other provinces, "but it's hard not to think that way when every agency [that has an interest in the land and its management in British Columbia] opts for plausible deniability [as their response to the issue]. Confirming Sasquatch's existence would make a big difference in so many ways. It would be the discovery of the millennium, changing our attitude to the environment, to the wilderness. I'm crazy passionate about it."
'Crazy' may not be the best word for Standing to use. Naysayers will say Standing is just that. Certainly—given that the Bigfoot 'community' is undoubtedly as replete with perpetrators of chicanery as true believers—he is not without his debunkers.
They claim that, like the Bigfoot museums and festivals, he makes money from his expeditions; that the legal action is good publicity; that, much as the Patterson-Gimlin film has been analysed and (albeit not conclusively) dismissed, so Standing's own videos have been critiqued for their shortcomings; some have spoken of puppets, of how Standing himself, with the right prosthetics of digital manipulation, looks remarkably like the Sasquatch he's photographed.
"It's pretty pathetic," Standing counters. "The idea I've made money from this? Studying Sasquatch costs money. I've sold my house to do this. [As for me dressing up], you'd have to scale my head up multiple times to even be a close size match. Of course it's good that any evidence goes through a process of assessment. But there are haters and then there are sceptics, which I welcome.
Fourth-dimensional travel. Alien visitors. There are things I'm sceptical about even [after] having seen some evidence in that direction. I've never seen evidence of dog men. I find the term 'believer' a little pejorative. I'm not a believer, just convinced Sasquatch exist on the weight of evidence. I 100 percent know they exist."
Even some believers in Bigfoot argue that Standing's efforts give them a bad name. It's one troupe of Homo sapiens that's surely divided. And yet perhaps those same sceptics would be much less likely to question the likes of John Kirk.
He's a cryptozoological investigator—cryptozoology is a subculture applying scientific, and sometimes pseudo-scientific, standards of evidence to the study of the potential existence of mythic animals—with the British Columbia Scientific Cryptozoology Club. Their work is all about infrared scanners, DNA testing, photographic analysis and the like.
"That's why we're not always so popular with the so-called fans of phenomena like Bigfoot," says Kirk. "We may work in a niche unfulfilled by orthodox science, but we still need to understand these things by the scientific method if any of this is to be taken seriously. The mental patients are never going to advance matters."
And, indeed, he says he has documented countless Sasquatch encounters—"putting witnesses through the mill"—even if it wasn't until last year, however, that he finally had his own. "It was standing between two trees and was so huge its shoulders didn't show between them," recalls Kirk, who has a background in law enforcement and who, over his years in cryptozoology, also claims to have seen 18m-long snake-like amphibians in Canada's 250sqkm Harrison Lake.
"I'm 6'5" and it was at least two feet taller than me. I'd describe it as a humanoid ape-like creature. Let's just say that there's no way it could have been some bloke in a suit."
"There's a whole load of animal mysteries out there that need addressing in the right way," Kirk adds. "As a society we're open to the idea that the oceans are largely unknown territory, but not the land, even though natives have recorded encounters galore for generations and treated them as a very normal aspect of the flora and fauna.
Then there's the problem of sensationalist media coverage, which means most scientists won't touch these questions with a 10-foot pole. We need biological evidence of Sasquatch, an actual specimen in an ideal world. But actually seeing one is the final nail in evidence terms, as far as I'm concerned. And, frankly, the evidence in favour of the existence of some kind of ape-like creature is already alarmingly strong. Put it this way—if this was a crime, you'd be convicted."