"There's this idea that if you have a bunch of men in a room they must be up to no good," says Christopher Hodapp, exasperatedly. "But, really, they're not. Thinking about them that way is really just a convenient way of wrapping up all the world's problems and assuming that surely there must be some eminence, some club, behind the scenes that makes it all happen. But there isn't.
"Take Freemasonry," he adds. "It's just a form of fraternalism, albeit with some quaint or quirky ritualistic undertones. But in various parts of the world there's this notion that it's some kind of alternative religion, that's its wrapped up in elitism, star chamber politics and 'dodgy handshakes'. That idea always comes up. It's as though you can't write about freemasonry without also mentioning 'dodgy handshakes'."
Hodapp is the author of Conspiracy Theories & Secret Societies for Dummies, a crash course in the history of, well, groups of men in rooms up to no good—or, at least, of how they have been perceived as such. He also happens to be a 33a level Freemason—that's about as high up the ladder as it goes. And, he insists, he is not plotting the new world order.
"There was just this explosion of interest in Freemasonry and the idea of secret societies during what I'd call Dan Brown Mania [Brown being the author of the phenomenally-successful 'Da Vinci Code' series of books] and films like National Treasure," he says. "It was a fascinating phenomenon. Now the Internet allows a lot of crazy ideas to be circulated widely and quickly. But also a tidal wave of people answering people's concerns by telling them they're talking bullshit."
Indeed, dip even the most tentative toe into Google and it's apparent that our sense of intrigue with secret societies—a sub-section of our interest, if not always belief, in conspiracy theories— still runs deep. In part this is because, much as conspiracies do happen, likewise there are secret societies: much as the Sicarii, Assassins and Thugs were the criminal secret societies of many centuries ago, so now the mafia is today—criminal activity arguably demands secrecy; revolutionary and terrorist groups, from the Fenian Brotherhood to Al-Qaeda, were or are effectively secret societies too.
At top-ranked US colleges, fraternal groups have been active for centuries, with, most famously, Yale's Skulls and Bones—just one of several of the university's secret societies—most often cited by those who purvey wild speculation as to its purpose, if not simply a boyish delight in silliness and belonging. Suspicion hasn't been allayed by the fact that the founding members of the CIA were Bonesmen, or that, when asked bluntly about his membership a few years ago, then Democrat presidential candidate John Kerry said "it's a secret" and changed the subject.
But today—given a perfect storm of societal and political uncertainty, constant global information flow and, perhaps, unchecked paranoia—belief in the idea that secret societies are now formed of private banks, business elites and shadowy committees that pull all official governmental strings in order to manage the ignorant plebeians only seems to be increasing. Now, some say, the Illuminati—in some more 20th- or 21st- century form or other—runs amok again.
The claim is not entirely without some truth to it though, for those who look for it: Cecil Rhodes, founder of De Beers diamonds—left instructions in one of his many wills that the money should be used "for the establishment, promotion and development of a secret society, the true aim and object whereof shall be for… the bringing of the whole uncivilised world under British rule… for the making of the Anglo-Saxon race but one Empire". For good measure, Rhodes was a Freemason—but one all too disappointed with Freemasonry's failure to pursue global control in favour of, as he put it, wasting its time on "the most ridiculous and absurd rites with no object, with no end".
[Freemasonry is]… just a form of fraternalism, albeit with some quaint or quirky ritualistic undertones. But in various parts of the world there's this notion that it's some kind of alternative religion, that's its wrapped up in elitism, star chamber politics and 'dodgy handshakes'.
Some say Rhodes did in fact create his secret society. And, according to some, he would not have been alone. Others have claimed the power now really lies with the Council on Foreign Relations (CFR), the financier-dominated think tank established in 1921 that likely did influence much of post-WWII policy, including the Marshall Plan, NATO and Cold War response to the USSR. Between 1945 and 1972, more than 500 senior US government officials were members of the CFR; half of all US presidents since 1945 have been members. Former secretary of state Colin Powell is a member, so too former chairman of the Federal Reserve Alan Greenspan, the investor George Soros and, well, Angelina Jolie. But then you can find out all about its aims, membership and history on its not-so-secret website…
Then there's the Bilderberg Group, since 1954 that ever- so-private annual meeting of the small world comprised of government, economic and business leaders, the one that allegedly maps out society's future, rather than using its combined expertise to freely discuss all manner of global problems without fear of every word being scutinised. Transcripts are available, but the names of who said what are redacted. Suspicious or what?
"Bilderberg is a meeting, a conference. Period. It's not ongoing. It's not a club," sighs Xander Heijnen, who's headed communications for Bilderberg for the last six years. "It's been described as 'summer school for the influential' and, of course, it may look like a club because it's by invitation only, not many people are involved and, even in the Internet age, it's not so visible. But you wouldn't believe the number of nonsensical queries we get on this account: that it's all some big conspiracy. Some want to say Bilderberg's lack of transparency can't be justified in this day and age, and to challenge us on that is fine. We generally respond to every query we receive via the website. But if the email has too many words all in capital letters or too many exclamation marks it doesn't get much of a response…"
That might once have been the case via parchment and scrolls. After all, secret societies are ancient, albeit that many of them have been founded on the 'truths' uncovered in less- than-reliable documents or by individuals with fair-weather values and no clear intent. Certainly many had exotic names and equally exotic beliefs: the Ancient and Mystical Order Rosae Crucis; the Hermetic Order of the Golden Dawn, which attracted the likes of WB Yeats, Bram Stoker and Edvard Munch; Aleister Crowley's Ordo Templi Orientis; the Germanenorden, which revived the swastika rune and kick-started the pro-Ayran racialist ideas taken up by the Nazis…
Most famously, there was the Illuminati. Yes, this was a real group, brought together in Bavaria by Adam Weishaupt in 1776, driven by radical philosophical free thought, trained in ciphers, poisons and explosions and with the stated intention of creating, yes, a new world order of equality and rational ideals. It attracted some 2,000 members across Europe, then fell to infighting and was all over just eight years later, leaving the ghost of an idea that—in part thanks to Brown—continues to have influence even to this day.
There's long been a mistrust of secret societies too: kings, popes, governments and religions have each, at various times, banned Freemasonry for example, with the Ukrainian government not that long ago recommending jail for anyone who joined a Masonic lodge. George Washington worried that the Illuminati had infiltrated his fledgling country; Thomas Jefferson had to defend himself when accused of being a member. So why should they spark such interest today?
"It's a great list of speakers and personally I'm excited [to be here] because we haven't all been in the same room together since Bilderberg," Rob Brotherton, author of Suspicious Minds: Why We Believe in Conspiracy Theories, quipped when giving a talk at the UK Conspiracy Theories Conference.
"I just thought that was a funny joke. But half the audience laughed and the other half just glared at me," Brotherton recalls. "The fact is that we all respond to the idea of secret societies and we're all able to consider them, especially the idea that there are secretive groups of people that mean us harm. That's how our minds work, not just those of nutcases in tinfoil hats. Clearly there are people like that but it's a stereotype to say they're on the lunatic fringe. Look through history and it's much more than something at the margins. Beliefs like these are an interesting lens through which to look at the world and what the people who hold them are expressing is something not so tangible but widely felt— that they don't trust the government."
Indeed, belief in secret societies might well be expected to increase in turbulent times, suggests Professor Chris French of Goldsmith's, University of London, an expert in the psychology of paranormal beliefs—much as a belief in occultism, psychic phenomena and charismatic self-proclaimed leaders followed scientific discoveries' breakdown of the established religious order during the 19th century, which saw a concomitant boom in the invention of secret societies too. Our turbulent times might explain why, he says, such beliefs were not an area of much serious research just three years ago but are now a hot topic.
"There's a tendency that when people feel they're not in control they're more likely to believe in wheels within wheels," he says. "There's perhaps some comfort in knowing that someone is in control in a world that seems to lack it, even if that is the Illuminati or some other group that amazingly never breaks ranks or spills the beans. Even though it would take thousands of people, all of whom would have to keep their mouth shut, there's some appeal to the idea of hyper-competent, virtually omnipotent groups operating together behind the scenes."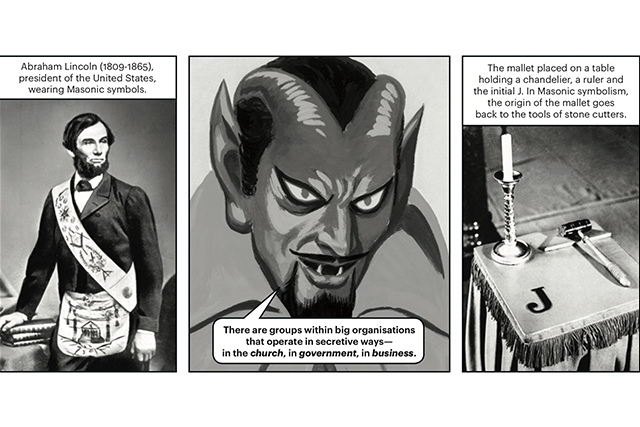 That certainly appeals to our deepest psychological make-up. We prefer to think there is some order to our world rather than chaos; that, when things happen, they have to happen for a reason and not by accident. From an evolutionary standpoint that makes sense: if a caveman thinks that rustle in the bushes is a sabretooth tiger it's best to run; if he's wrong not much is lost and if he's right he's saved his life. Humans also excel in seeing patterns in the random because that's helped us advance as a species, though it's a skill we tend to overplay. Further functions of our psychology encourage the belief in dark machinations behind closed doors: proportionality bias, for example, suggests that a big event must have a similarly big cause; we seek evidence to confirm our biases—a purpose for which the echo chamber of the Internet is ideal; it all even plays to our egos.
"These beliefs make you feel special because either you've been taken in [by the official narrative] and you're a fool, or you haven't and you're smart," says French. "The notion that there are groups of people pushing vested interests, well, we can all accept that. There are secretive groups with strange rituals that are closed to outsiders. They do exist. Let's not beat about the bush. There are groups within big organisations that operate in secretive ways—in the church, in government, in business. But are these groups plotting world domination? I suspect not.
"It's more the notion of groups that are extremely powerful, global and malevolent that becomes problematic," he adds. "But then it's good for democracy to question authority. And skeptics like me have got it wrong. If you'd have told me a few years ago that Snowden would have happened [in 2013 CIA employee Edward Snowden leaked information about numerous global surveillance programmes run by the National Security Agency in collaboration with telecoms companies and European governments] I'd have said that was far-fetched."
Different people have different ideas of far-fetched of course. Isaac Weishaupt is, by day, a charming, mild-mannered man with a grown-up job as program manager, and, by night, reclusive author of The Dark Path and founder of the Illuminatiwatcher.com website. You can watch him on his video podcast—hidden behind baseball cap and dark glasses—explaining the 'Illuminati control system': "the insidious truth of predictive programming and symbolism in works of entertainment, the occult doctrine and why and where they want to take us… A conversation most people shut down immediately—and by design…"
It's not easy to grasp, as he points out, sketching a diagram to illustrate the gulf between what he calls the "world of lies and manipulation", the matrix in which the 'sheeple' live, and the truth of an Illuminati perpetuating an "occult world view and the new world order they want to steer us down, a future world of trans-humanistic agendas and actual destruction of the human male-female duality": in between is what he calls a 'firewall' of disinformation and fear-mongering that perpetuates the stereotype of the crackpot that prevents serious consideration of other ways of seeing how the world is run. The basic us/them, real/unreal divide Weishaupt presents is certainly provocative. And it's won him a following.
"My interest just snowballed through the number of people who got in touch and wanted to talk, and there was the appeal of trying to relay to the masses things they're often not too ready to hear," says Weishaupt. "It's a big, spiralling rabbit hole but it's human nature for people to want to know the truth of their reality. I use 'the Illuminati' as an umbrella term for secret societies and think we're being spoon-fed elements of their belief system: a lot of superstitious elements, ritual magic, aspects of occultism, ancient beliefs repackaged as modern or 'new age'.
"Personally I find this to be insidious," Weishaupt adds. "People understand what's going on at a subconscious level—that there's a control system, that there are wheels within government that, if they knew about them, they wouldn't be happy about—but most people would rather stay on the hamster wheel and focus on their own lives and I don't blame them. But I think [that control system] is real. Not in the sense that they all meet up in some giant triangular boardroom to make decisions, but I do think the influence [of these organisations] is real—and we should seek the evidence that secret societies do have power. Sure, some people have said I'm an idiot and that they can't believe any of this. But others have said they're glad people are talking about it, that it needs free thinking to see through it."
Which group one falls into depends on so many things, among them mentality, experience and even demography— being younger, religious and politically right-leaning are all factors that make one more inclined to believe in a secret society model of the world and how it's 'really' organised and run. But should we be surprised that people hold such beliefs? Perhaps not. Indeed, Professor Patrick Leman, dean of education at the Institute of Psychiatry, Psychology and Neuroscience, Europe's largest centre for research into these fields, argues that we might well expect them to increase.
"It's all a reflection of how trust in the social structures we have long relied on is breaking down. Look at the claims of fake news," he says. "It's why good journalism and good science that applies standards of evidence will become more and more important. The question now is whether the line is shifting to affect those standards. Certainly you'd be hard-pushed to find a group more resistant to psychological intervention than hardcore conspiracists and believers in secret societies because their beliefs can never be disproven. Counter-argument just further strengthens them. Personally, I find that the cock-up is the more commonplace explanation of events than the idea of some secret society controlling them. But then I would say that, wouldn't I?"