It's been said often but it's a sentiment that's certainly true: Paris is always a good idea. There's a magnetism and charm about the French fashion capital—a certain je ne sais quoi, if you will—that's underscored by its mix of Haussmannian architecture with the contemporary, as well as its undeniably chic inhabitants.
And let's be real, shopping fashion in Paris is mainly why millions flock to its fashion avenues every year.
There's almost an endless supply of fashion brands to choose from in Paris. The famed rue Saint Honoré and its corresponding streets are places to go to for luxury fashion, the three main shopping centres—Galleries Lafayette, Printemps and Le Bon Marché—each provides a great mix of international fashion brands, and the hip Le Marais neighbourhood is home to an interesting selection of style options. And of course, there's the seemingly never-ending stretch that is Champs-Élysées.
Past all that grandeur of the City of Lights, are boutiques that focus on French fashion and what that means today. These smaller boutiques have a quieter presence and are not the usual tourist-magnets that the rest of Paris tends to be. And therein lies the charm—new and old boutiques that are off the beaten path, each with its own story to tell and unique perspectives to discover.
Holiday Boileau
Holiday Boileau is probably one that you'd be most familiar with on this list. The brand is an offshoot of previously defunct American magazine Holiday, that was revived in 2014 by Parisian art firm Atelier Franck Durand. In conjunction with the reincarnation of the magazine, a line of Holiday-branded crew-necked T-shirts and jumpers were released in the same year.
Holiday Boileau became a brand in its own right in 2017 and opened its first boutique in Paris in June the same year. The brand has expanded to include a complete ready-to-wear collection, shoes, accessories and even lifestyle objects, as opposed to the simplicity of its original run; Holiday Boileau-branded tees and jumpers in varying colours are still released every season.
While you could easily purchase a Holiday Boileau piece from its online store, or the various other online stockists such as Mr Porter, stepping into its boutique in the 16th arrondissement is quite an experience. The boutique is designed somewhat like its magazine counterpart—there's abstract art hanging on walls, a sculpture of a woman's torso displayed at the changing area and a general sense of being in another place but Paris.
And once you've got your fill of the Holiday Boileau aesthetic—and snagged a 'made in Italy' cotton suit—there's the Holiday Café, located just around the corner. Grab a seat, order a pain au chocolat and you might just bump into some of the Holiday Boileau crew, including style director Gauthier Borsarello.
Holiday Boileau
11 rue Parent de Rosan, 75016 Paris.
Opens 10am–7pm (Tuesdays to Saturdays).
Super Stitch Paris
A spiral staircase below the Holiday Boileau boutique is a basement space that's almost as big as the space above. This is where the Holiday Boileau team works and samples of the previous and upcoming seasons are stored. Tucked in a corner space is Super Stitch Paris.
It's quite a small atelier, but it's sufficient for founder Arthur Leclercq's set-up of around eight machines. Super Stitch Paris deals solely with denims and is serious about it. Leclercq's obsession with denim began at the age of 14 when he was gifted his first pair of selvedge denim jeans. That pair ignited his passion for denim and drew him to delve into his own research about the fabric. It was in 2016 that he decided to purchase a Union Special 43200G chain stitch hemming machine—which the American sewing machine maker Union Special has stopped producing since the '80s—that produces a roping detail at the hem that denimheads would salivate over.
Since his first machine acquisition, Leclercq has continued scouring for antique machines by Singer and Union Special. Putting his engineering background to good use (along with tons of research), he gets them in great running condition again. The use of such machines allows Leclercq to work on vintage denim pieces, restoring broken seams, fixing holes and hemming them to look as good as they originally were.
Aside from fixing holes and other effects of wear and tear, Leclerq uses his denim expertise to refit worn-out denim jeans too. And most recently, he's included embroidery stitching as part of his repertoire.
If you're still not convinced that Super Stitch Paris is the place to go to for all things denim, here's another extension of Leclerq's passion: he's concocted his own detergent. The Super Stitch Detergent is formulated specifically for denim, to allow for a sought-after fade. Genius.
Super Stitch Paris
11 rue Parent de Rosan, 75016 Paris.
By appointment only via [email protected].
Les Éditions du Kiosque
A short walk from Holiday Boileau in the 16th arrondissement (the 16th is where it's at) is Les Éditions du Kiosque. The space is shared with Beige Habilleur, a multi-label outfit that stocks sartorial brands the likes of Gitman Vintage and Drake's. As the name suggests, this is where you'd go to discover some of the best under-the-radar fashion publications, art magazines and even rare issues of coveted titles.
Les Éditions du Kiosque is run by the same folks behind KD Presse, a Paris-based magazine consulting and distribution company. Which is probably why you can find niche titles such as the now-discontinued Acne Paper, back issues of Self-Service from the '90s and fashion-heavy publications from every corner of the world.
With about 400 publications to choose from, it'll probably be difficult to find one you'd like. But assistance is readily available to recommend titles that may be of interest to you—everything from men's fashion, culture and design titles to new independent magazines fresh from the printers.
Les Éditions du Kiosque
83 rue Chardon Lagache, 75016 Paris.
Opens 11am–7pm (Tuesdays, Wednesdays and Saturdays), 11am–8pm (Thursdays and Fridays).
Husbands
Nicolas Gabard has that lanky stature that some of his style icons have. The ex-lawyer founded his tailoring business because he couldn't find the kind of clothes that he wanted to dress in, to reflect the man he wanted to be. The clothes a sartorial Mick Jagger, a suited-up David Bowie or even a young David Hemmings would be in.
The Husbands boutique is, for sure, not your typical tailor's. Upon entering, you're greeted by a hardwood floor, wooden furnishings packed with suit jackets, folded displays of shirts and ties, and stacks of fabric swatches. Among the clothes are album sleeves by Joy Division and The Smiths, and in the middle of the section sits a huge table where most of the action happens when you go in for a consultation.
The fitting area is set like a stage. The floor is slightly elevated and carpeted in plush Capri blue and in the corner sits a stunning red armchair. Once you've changed into your Husbands original, you step out and face a huge mirror that fronts rue de Richelieu as you check your reflection with passers-by as the backdrop.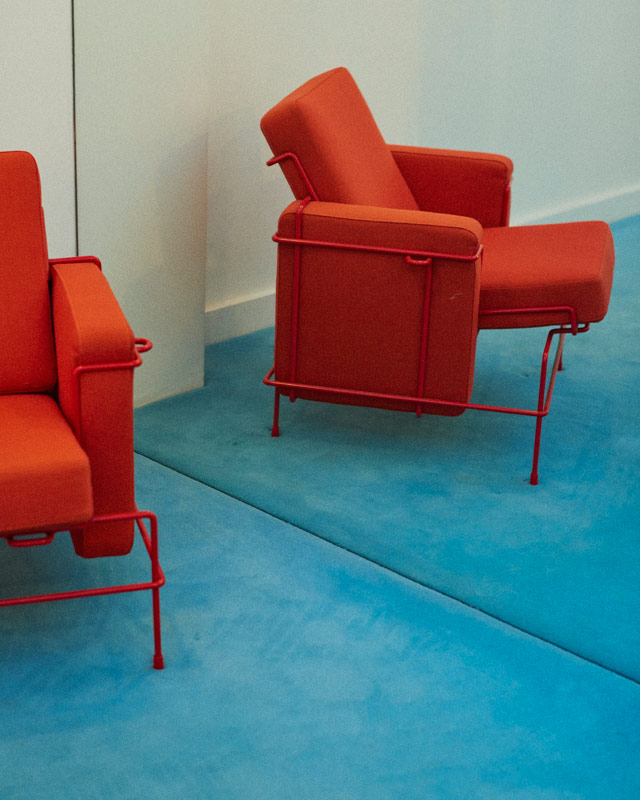 Suit fabrics from Husbands come from England, Scotland and Ireland. Gabard has a knack for looking through old photographs of iconic stylish men and then hunting down the very same fabric that's worn. That's the kind of dedication and passion he has for tailoring.
Husbands
57 rue de Richelieu, 75002 Paris.
Opens 11am–7pm (Mondays to Saturdays).
Harmony
If you're a fan of streetwear, you may already be familiar with David Obadia. The Parisian fashion designer founded Brooklyn We Go Hard (BWGH) in 2010 with Nelson Hassan. The streetwear brand has since collaborated with the likes of Opening Ceremony, Puma and even renowned Parisian department store Le Bon Marché.
Taking on his first love of contemporary fashion, Obadia launched Harmony in 2014. The look is unmistakably Parisian and along the lines of contemporary '90s fashion designers such as Jil Sander and Helmut Lang. If BWGH is cool and irreverent, Harmony is the sophisticated counterpart that's intellectual and cultured; if we may, a somewhat grown-up APC.
Harmony is Parisian fashion as we've always known it to be. It's the kind of clothes that a typical stylish Parisian guy would gravitate towards—quiet elegance, minimal in design and lets you take charge of how best to express your individual style. And coming from the world of streetwear, there are collaborations at Harmony too. Most recently, the brand released its third collaboration with ASICS, featuring two colourways for the latter's Gel Kayano 25 sneakers. What's more Parisian than wearing sporty sneakers with tailored separates?
Obadia once mentioned in an interview that he has dreamed of seeing Harmony being placed on the same level as Louis Vuitton in Barney's. With two successful brands under his belt and the high quality of workmanship that go into Harmony's clothes, it's not entirely farfetched. Harmony is definitely one French brand to keep tabs on.
Harmony
1 rue de Commines, 75003 Paris.
Opens 11.30am–7.30pm (Tuesdays to Saturdays) and 1.30pm–7.30pm (Sundays).
Spring Court is the only brand on this list that has had quite a history. Like most sneaker brands, it started in 1936 with the invention of the first tennis shoe designed to be used on clay. Georges Grimmeisen, the grandson of a rubber factory owner, created it. To this day, the site of the old factory in the 11th arrondissement remains the headquarters of Spring Court.
Spring Court's tennis shoes were then worn by professional tennis players, and in the '60s, began to transition out of the tennis courts. There was a cult following that included John Lennon who wore a pair of Spring Court shoes to his wedding to Yoko Ono, as well as on the cover of the iconic Abbey Road album by The Beatles. Since then, Spring Court shoes have graced the feet of high-profile individuals such as Jude Law, Kate Moss, Orlando Bloom and Barack Obama.
At L'Usine Spring Court (where the factory once stood and CEO Théodore Grimmeisen has moved all of Spring Court's core operations to), lies the Spring Court Outlet Store. The interior is chock-full of its footwear in varying manners of colours, textures and cuts. You won't be able to miss the framed black-and-white photographs acting as a storyboard for the history of Spring Court and the premises that houses the store.
As sneakers go, Spring Court is comparable to Converse in that they're both minimal in design. A Spring Court pair is easily identifiable by the four ventilation holes located on the side of each sole. The original G2 model remains true to its cotton canvas and vulcanised rubber sole design, but is of course constructed using newer technology and tweaked season after season.
Spring Court Outlet Store
5 Passage Piver, 75011 Paris.
Opens 11am–7pm (Tuesdays to Saturdays).
Isaac Reina
Along a quiet street in the hip Le Marais district, Isaac Reina's boutique looks like an art gallery—stark white from floor to ceiling. It's just as well because Reina's leather goods are works of art. Handmade by artisans in France, the Isaac Reina brand is that of subtlety in design but luxurious in craftsmanship.
Reina studied architecture in his native Barcelona but started working in fashion after. He eventually joined venerable French maison Hermès, working as first assistant to men's artistic director Véronique Nichanian for seven years. At Hermès, he was immersed in clothing, but decided that clothing was too limiting for him and went on to create his label in 2006.
There are simply no frills in an Isaac Reina piece. Every detail is thoughtfully created to serve a purpose, and if they don't, they are simply not included. The silhouettes are simple and minimal. In fact, there's no branding at all on the outside of every creation; just clean and pure.
Aside from Reina's interpretation of classic bag styles like weekender bags, messenger bags and structured backpacks, are leather goods one typically wouldn't think are out in the market. For one, commuting around Paris is made even more chic with an Isaac Reina original that's solely designed to hold Paris metro tickets.
Wallets are crafted razor thin, stitches are impeccable and neat, and the colours are so easy to match yet are not the typical shades you'd find anywhere else. But of course, because of Reina's stand on producing small and in France, prices are luxury-level. Which makes every bit of sense because these leather goods are designed to be season-less and last for as long as you need them.
Isaac Reina (Le Marais boutique)
12 rue de Thorigny, 75003 Paris.
Opens 11am–7.30pm (Mondays to Saturdays).
For more stories like this, subscribe to Esquire Singapore.