"The difference," claims Jordan Stenmark, in true dad-joke form, "is night and day." He's referring to how his sleep patterns improved after trialling the first prototypes of his new neuroscience-based eyewear business, which he's established with his twin brother, Zac. "We both noticed a really big difference in our sleep patterns; we were so excited because we realised that we could help so many people with their sleep, too, and we've had friends trial them and not want to give them back."
As global-roaming models and ambassadors for fashion and lifestyle brand campaigns, the Stenmark brothers spent the past decade working long hours, with early starts, late nights and often multiple timezones. Given that looking their best is part of what they trade on, the twins were naturally always invested in their overall health, but as they became more well-read on a more holistic approach to wellbeing, and that included the benefits of a restful night's sleep. "I got really into the science of it," explains Zac. "We all know sleep is a necessity—all the scientific data backs up how important it is. There's not a living organism on earth that doesn't have a sleep cycle; it's the foundation of our health, and people are really starting to understand that if you don't sleep well it can lead to increased risks of all kind: anxiety, high blood pressure, weakened immunity, diabetes… it's crucial to recharge your engine."
What they learned in their research was that our exposure to electronic devices—phones, computers, televisions—is impacting our sleep cycle. While exposure to blue-green light from the sun is a natural promoter of the alertness hormone cortisol, exposure to artificial blue-green night from screens at night suppresses our body's natural production of melatonin, the hormone that tells our body that it's time to sleep. According to the Stenmarks' extensive research, one in three people currently experience chronic sleep issues that are in part due to this increased screen time and a manipulation of our human circadian rhythm.
"I think as a society we are pretty conscious these days of different aspects of our health—the food we eat, getting enough exercise—and yet we don't really think about light, even though it's one of the most important things for life on the planet," says Zac. "Ten thousand years ago, our only source of light was the sun, so once it went down we wouldn't receive light and our body would release melatonin to make us fall asleep and then when it came up we'd get this boost of cortisone, of energy."
The brothers' solution? With a widely followed social media presence, Jordan and Zac aren't advocating for giving up your devices, conceding that our phones and computers are an integral part of our daily contemporary lives. Instead, they've worked with acclaimed American chemical physicist Dr Stafford W Sheen to develop a line of neuroscience-based eyewear, Dreamers, which they believe will revolutionise sleep health. With a global patent currently pending, it's recommended that users wear the 'Sleep' eyewear for a minimum of 30 minutes before bed, blocking a significant 99.9 percent of the sleep-disrupting blue-green light spectrum. For the day, the 'Screen' lenses block the same amount of blue light emitted from our screens whilst working or studying, helping to reduce eye strain and headaches. "Our message is that you don't need to put down your device; you can wear the glasses and still use them," says Jordan. Adds Zac: "You don't need to change your lifestyle."
The brand makes its commercial entry into the market this month with two frame shapes, but the brothers have plans to add more styles, as well as to optimise the lenses so that they can go into any frame. "We really want to create a broader sleep category—to really grow awareness around sleep hygiene and how you can optimise your sleep to really take care of your health," explains Zac. "This past year has been the first time in 10 years that we haven't travelled and it's been amazing to see the impacts of that on our own health. As we all speed back up, we want to help people to change the way they sleep and hopefully improve the way they feel in the process."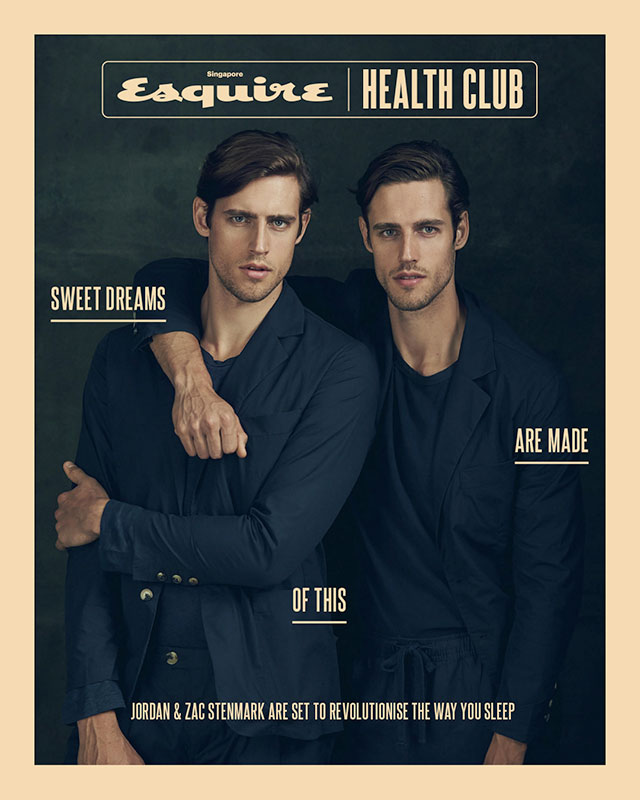 The Dreamers 'Sleep' and 'Screen' eyewear are available from  April 2021.