"We had a lot of special issues at Esquire Singapore but by far the most epic was the launch issue. I was overseeing the Malaysian edition when I got the call to manage the Singapore launch and editorship and it was helluva task to organise. We had a great team, but still there was nervousness and drama as our cover was one of the most disruptive ever done by Esquire. That issue—pictured below with Daniel Craig—went on to sweep publishing industry award after award.
"We had a very disruptive mentality to Esquire: I was tired of the pandering fashion tropes that led men's magazines to be tame to the point of boring. We wanted to dare, to take on sacred cows, to build community on breaking through the Asian mental ceiling of what could and couldn't be done. We wanted to be controversial and fight for intelligent dialogue. So that launch issue laid the path for what was to come: something that was smart, that challenged and melded that point of view with a cocky style attitude as well. Even our fashion editorials and interviews were disruptive and not the usual brand-led content marketing.
"When I left Esquire it was for personal reasons and we came back to Sweden to live another life. I wanted to try another very fast, very disruptive space and I set my sights to work for a tech company which, I can tell you, is even faster in its delivery culture than consumer publishing. But I took my storytelling skills with me. I took the creative collaborative experience of Esquire with me. And that's served me very well."
—Sam Coleman, former Editor-in-Chief
Local Model
Dita Von Teese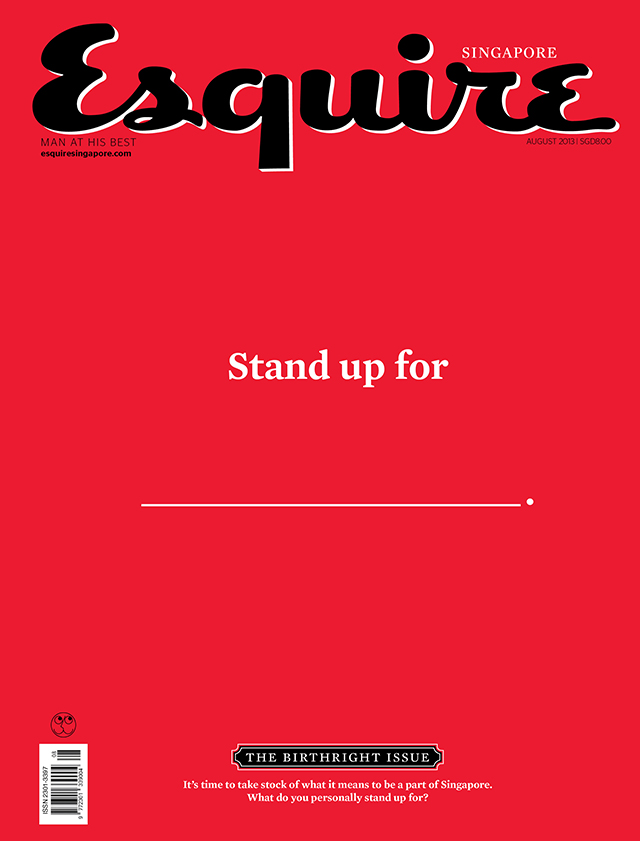 "I remember the August 2014 cover to be contentious. It was simple-looking and impactful but how it came to be was something that we had to fight for. We were supposed to feature someone from the US on the cover but it was August, the month of Singapore's independence, and we thought someone local should be on it. We wanted artist Sam Lo. We had a story on them and we had a photo that was great for the cover but we weren't feeling it.
"Then we were sitting around in the reception room, trying to brainstorm and someone started singing 'Stand Up for Singapore' and that led to a discussion about what Singaporeans are standing up for, which led to having that be a question on the cover. It's provocative and interactive. We had to travel to Malaysia to convince Graham [Paling; CEO of the publishing house at the time] that this was the way to go. Of course, there were pushbacks but we eventually went through with it and it was voted for the best cover at the MPAS (Media Publishers Association Singapore) awards ceremony. And it was nice to know that a few months later, Esquire Malaysia used that same concept, this time with a yellow cover and the text "Malaysia Boleh" and a space for Malaysians to write in. Is it validation? I don't know. We didn't know if the idea would resonate well with readers but it worked out. We needed to trust ourselves, have blind faith and run straight into it.
"I definitely miss the fun shit back at Esquire Singapore. I got to go to Monaco to watch the F1 and meet Jenson Button. I interviewed interesting celebrities. Outside of publishing, I'll never be able to experience such things ever again. But I really miss our original team and that feeling of all these possibilities."
—Mark Tay, former Managing Editor
"I was Fashion Director and then I took on the role as Managing Editor. The positions were similar, in the sense, that there was a lot of work. The difference is that that there was a lot more administrative responsibility, which was tough for me. But I thought that being Managing Editor of Esquire Singapore, I could act as a sort of example that people can look at me and think if she can do it, so can I.
"So, there was a theme for a woman's issue on our slate. It was supposed to have a female celebrity on the cover and our designer [who worked on Esquire Singapore and Malaysia] came up with the cover process where she had a close-up of the personality's lips and turned it sideways so it looked like female genitalia.
"They did this cover concept in Malaysia a month before we do ours and there were a lot of pushbacks from the celebrity's publicist. We had to find a new cover story that still ties in with the "woman's theme" and that took a lot of scrambling to find. We got Robert Downey Jr and we were trying to justify why he fits the theme and then it all clicked at the 11th hour: RDJ plays Ironman; the chemical element for iron is 'Fe'; Ironman, 'Fe-male', it all worked out in the end. Prayer works!
"I had to push down my own anxieties for the responsibility to the team. If it was just me, I could just walk away from it but I had people who depended on me. We had a good product and I didn't want to drop the ball on it. My takeaway from this experience is that if you believe in something, speak up for yourself and your teammates. Because if you have a good team, they are family. We had a great team that you cannot find a synergy like that. It's very rare. I remember just eating Teochew porridge with the team after work, just hanging out."
—Janie Cai, former Managing Editor
"My experience was relatively positive during my four-year stint. I had a passionate and strong team. Our editorial, marketing, and sales team were filled with debaters, dissenters, and disruptors in the nicest way possible. Everyone wanted everyone else to win. There were days when we got into each other's hair, but we never wanted anyone to fail. Both the staff and the freelancers had a kind of grit about them. Really good people. It wasn't about luxury, it wasn't about status. Hell, we won so many awards we didn't even have the presence of mind to keep them (I think more than half of them went missing).
"However, there three big challenges that come to mind.
"Firstly, everyone—from the publisher to the team—needed to accept that Esquire was relatively unknown, not only in Singapore but also in Southeast Asia. Just because the magazine had a rich history in the US and the UK doesn't mean that we can lean back and let the name carry us. We needed to be relevant. We can't get high on our supply.
"That leads me to the second point, we cannot be just a men's or fashion magazine. We need to tell stories that hit closer to home. Relevant general interest. I carried the spirit of the legendary Esquire US Editor, Harold Hayes, throughout my tenure. At the helm from the mid-60s to mid-70s, Esquire was famed for its bold and provocative stories and covers. I had to pull off things like having the mould of the late Lee Kuan Yew's head on the cover, publish stories about a suicide valley in India, and defy nearly every convention set by the publishers and authorities.
"Lastly, we were a very small team with about six to seven people. And we were putting together a print magazine every month, special edition issues here and there, special client projects, running the website, the social media pages, being part of the events, and being part of client meetings. In the US and the UK, each of the things I mentioned was put together by individual teams. Team morale was important to me. My stance was to trust my team: if an editorial member doesn't want to come to the office, wants to go to parties, wants to sleep in, I didn't care as long as they give a 100% to their work.
"Every issue had its challenges. That said, the most challenging one was putting together the "Unsuitable for the Young" issue. IMDA (Infocomm Media Development Authority) is kind of like the censorship board—although they hate being called that—and they had a vague rule that allows print publications to publish four "Unsuitable for the Young"-labelled issues out of the year.
"Oddly, even with this label, we still couldn't print vulgarities, nudity, or anything "deemed" controversial. So, we decided to use that tag as the issue's theme and curated stories about what was truly unsuitable for the young; every inch of that issue had to resonate with the theme. We had local teens writing columns about bullying and parenting; we published stories on child labour in Bolivia and over-education in Singapore; and we even interviewed the daughter of Amy Chua, the writer of Battle Hymn of the Tiger Mother.
"To top it all off, our cover image was one of our teen columnist hugging a large pink balloon with the knot facing the camera. To adults, it might seem provocative, but to a child, it's a fucking balloon. So, is a magazine like ours unsuitable for the young, or unsuitable for adults? We left it to the readers to figure that out. I have no idea how we managed to put it all together, though.
"I will never forget being overwhelmed with a sense of awe that we could put an issue of Esquire together. I miss seeing creative people doing amazing things."
—Zul Andra, former Editor-In-Chief
"As the current editor-in-chief of Vogue Singapore, I look back at Esquire with fond memories and an astute appreciation for the lessons learnt: to think global while respecting local tastes and preferences; to not settle for second best; and to constantly pursue new innovations. At the end of the day, the goal is still to tell stories that move people. That's why we do what we do."
—Norman Tan, former Editor-in-Chief