Recreating a familiar taste solely from remembrance seems far-fetched and success may vary. But it can yield unexpected yet positive results while attempting to execute it. The Dandy Collection founders, Michael Goodman and Rohit Roopchand of Neon Pigeon and Fat Prince fame, pay homage to India with a love letter that celebrates its exuberant culture.
Drawing inspiration from experiences of the vibrant South Asian country that are etched in their memories, for the duo it's all about the connection. For instance, Roopchand has ties to his birthplace in Mumbai and it is through an imagined whimsical kaleidoscope that reveals the many facets that Firangi Superstar takes on Indian cuisine.
Head chef Thiru Gunasakaran helms the restaurant. Formerly from Spago by Wolfgang Puck, the Malaysian native applies that innovative conviction to recreate his childhood tastes while connecting with his South Asian heritage at the same time.
Salvador Thali.
Prata Waffle???
Cali Puri.
Coconut Podi Idli.
Beirut Bhatura.
This Is Not Aloo Gobi.
Half of the menu is vegetarian. The cheekily named This Is Not Aloo Gobi (SGD16; pictured left) presents cauliflower in three ways—as a couscous fried in ghee, mustard seeds and curry leaves, tandoor-charred florets, and incorporated into a coriander purée. A spice masala compote and deep-fried layered potatoes complete this textured medley.
Another do-over favourite is the somewhat familiar Prata Waffle? (SGD24). It is Gunasakaran's witty take on the popular American fried chicken and waffles. The crispy-layered waffle-pressed prata is paired with a Madras-style fried chicken in butter chicken sauce and jaggery syrup.
The artful Salvador Thali (SGD41) excels in both visual and taste. Akin to a lively festival, it reflects works done by Spanish surrealist painter Salvador Dalí, whom the dish is named after. Tweaking the usual way of enjoying pumpkin in a gravy or curry, Gunasakaran infuses the varied elements and flavour profiles of thali into the pumpkin that's steeped in a sambhar marinade, then roasted and charred in the tandoor.
Mutton is often present in South Asian diets too. Here, the Indian Saddle (SGD19 per 100g) boasts a lamb porterhouse that's marinated in spiced yoghurt and coated with tandoori spice after, with an Indian-inspired chermoula garnish. Perfect with a basket of naan plus black garlic butter, three kinds of cheese and nigella seeds. Refresh your palate after this hearty meal with the sweet and tart Mango-Saffron Mousse Cake (SGD12) that gives an Alphonso tea aroma.
Besides the imaginative menu, décor at Firangi Superstar also plays an important part in its identity. The 93-seat restaurant enlisted EDG Design to construct a cinematic Indian panorama that consists of a soulful mix of technicolour against a stylish backdrop in four intimate spaces. Firstly, the Wes Anderson-esque Old Railway Room is an enclosed private dining space that features vintage fans and light fixtures against TraseOne's minimalist cartoon rendering of a Rajasthani landscape.
Prefer to be near the wildlife? Choose the lush Jungle Lodge that has a den-like ambience and showcases murals of big cats with teacups stalking across an emerald landscape. Or bask in luxury at the Elephant Palace dining room that's inspired by the blue room of the Udaipur City Palace. The two arched cosy alcoves decked in Rajput architecture here prove to be popular with diners.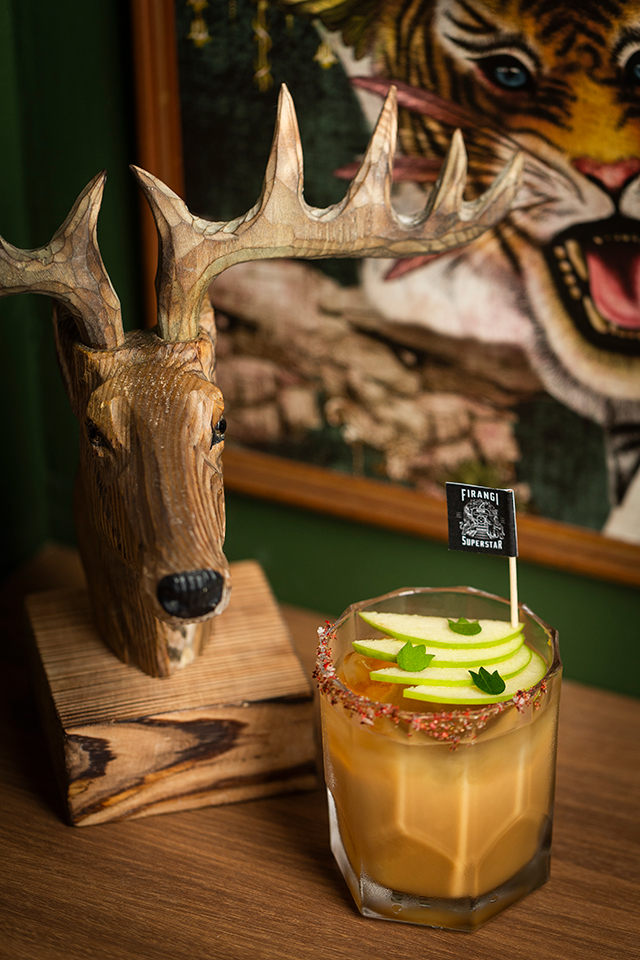 Cocktail No.11
G&T Old Delhi Station.
Drinking tipples such as Gin & Tonic at the Officer's Club section definitely has feels with its cigar-and-whisky patina furnishings alongside hung antique rifles and genuine monochrome photographs. Speaking of cocktails, Firangi Superstar's concoctions mirror the Indian take on classics. Kick the night off with Cocktail No. 3 (SGD25)—a buttery and herbaceous Manhattan counterpart made with ghee-washed Cognac and fenugreek-infused Vermouth. Also, pleasantly fascinating is Cocktail No. 9 (SGD26)—a deceptively sweet apricot toffee liquor forged with cognac, cinnamon Scotch and condensed milk that packs a potent punch.
Firangi Superstar is located at 20 Craig Road #01-03, Singapore 089692.