No doubt one of the biggest fitness club franchises, Fitness First boast a strength of 91 clubs in Asia, with almost one-fifth located in our little red dot, catering to the hectic schedules of Singaporeans who want to keep fit amidst the whirlwind of life.
Answering the club's East-side members' calls for a location that fringes the town area, Fitness First transforms the 1,115 square metre space on the second floor of Singpost Centre at Paya Lebar into a sleek and snazzy playground for everything fitness. Aside from the usual free-weights stations and machine offerings, almost two-thirds of the space has been turned into an open training area to accommodate classes ranging from HIIT and BodyPump, to BodyCombat and circuits.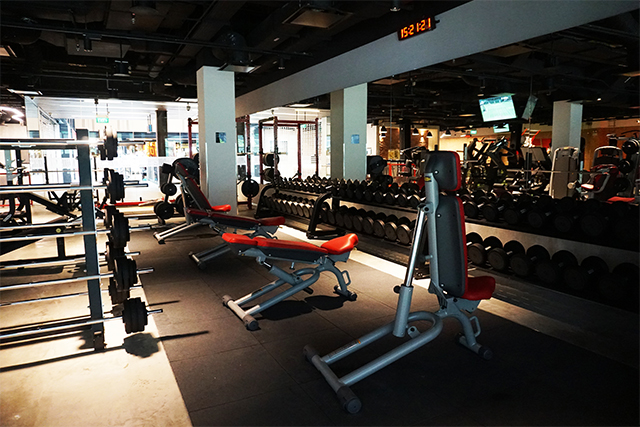 Along with the new gym comes the introduction of Fitness First's proprietary high-intensity full-body conditioning workout inspired by the art of boxing, BOOM™. A Paya Lebar branch exclusive, the 45-minute class promises to burn calories, tone muscles, improve limb coordination, stabilise core strength, and build power and endurance as you jab away at the boxing and aqua bags on the turf. As intense as it sounds, the workout guarantees to leave you gassed, but in a good way.
Fitness might be the priority, but the new Paya Lebar club also strikes a balance between physical and mental wellness with innovative programmes that are designed not just to look good, but to feel good as well. For instance, Fitness First adds fun into the mix with its Turf Games—challenging members' nimbleness, strength, and speed as they overcome obstacles in the athletic course of rope climbing, monkey bars, and barbells.
Love cardio but detest the strain exerted on your knees? Meet the Zero Runner, a revolutionary running machine brought in by the club that mimics the motion of running while keeping the impact on your joints and ligaments minimal. The popular Stairs Climber also makes a reappearance alongside for those looking for an intense leg workout to increase endurance and stamina.
The idealogy of wellness permeates through every minute detail of the Paya Lebar outlet. For example: sound dampening pads have been installed at the deadlift zones to minimise loud and unnecessary thuds from dropping the barbell; the pantry does away with the usual water fountain for fruit-infused water to provide a refreshing post-workout vitamin boost; and there are vending machines stocked with plenty of energy bars, pre-workout supplements, protein shakes and isotonic drinks.
Fitness First Paya Lebar is located at 8 Eunos Road #02-104 Singapore Post Centre, Singapore 408600 and opens from 6 am to 10 pm from Mondays to Fridays, and 8 am to 10 pm on Saturdays, Sundays and public holidays