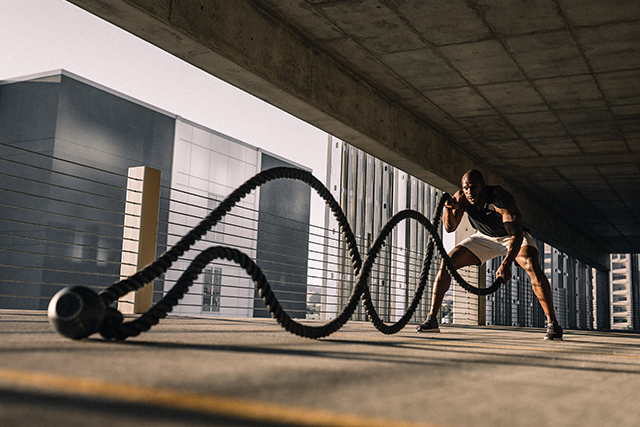 Despite what the motivational posters say, getting started isn't the toughest part of your fitness journey. In fact, the first two weeks at the gym feel like a breeze. It's as if the wall-to-wall mirrors paint you in a more flattering light and you just want to spend all day working out. Eventually though, the honeymoon comes to an end, and no matter your time on the treadmill, the hangover catches up.
Before you know it, you wake up to an ill-fated morning-after which makes it all too clear that your legs (and arms and chest and back) can't keep up with the lifestyle. Barely making it out of bed, you try to squirm your way into work clothes, and as colour fades out of your life you wonder where it all went wrong.
Was it when you ran an extra mile hoping it'd impress the lady on the elliptical? Was it when you tried to squat twice your bodyweight? Yes to both. In fact, this hangover was completely your own doing.
That's no reason to swear off exercise though—it's simply a reason to be smarter about it.
Curb your ambition
Lebron James is still dunking like he has the knees of a 28-year-old, and Tom Brady might keep winning Super Bowls till he's 50. But for those of us who weren't crafted in a genetic lab specialising in superpowers, perhaps it wouldn't be a bad idea to reign in the fantasies. "Start small," says renowned sports psychologist Dr Jim Taylor. "It's important to set realistic expectations and goals, otherwise they won't be reached and you'll think you've failed."
Begin this year's spring clean by freeing your bookmarks of the 30-day abs challenge, and freeing your mind of the all-or-nothing attitude. There's no fast track to fitness, and the journey becomes a lot smoother if you prepare for the long haul. Taylor adds, "Accept that you will fall off the wagon from time to time — skip a day, eat junk food — but that doesn't make you a failure. You can get back on and keep going."
Trust your process
Beginners often get drawn in by the allure of newbie gains — it's a phenomenon whereby you rapidly build muscle during the first few months of training. However, as your body gets accustomed to the process, the rate of muscle growth tapers off. The mirror stops providing the motivation you need to workout.
To avoid this, Taylor stresses on the importance of process goals over outcome goals, especially for those starting out. "The danger of outcome goals, such as weight loss or improved stamina, is that it is difficult to accurately predict when they will be reached. Focus on just showing up and doing the workouts," he says.
Don't believe in your willpower
Willpower is like that friend who's never there at the right time. When you're on your way to bed, it'll be right in your ear about waking up early and hitting the gym in the morning. But when the alarm goes off at five-thirty? Nope, not a word now.
"Willpower is overrated," says Taylor, agreeing that your needed boost of energy needn't come from within. One way to make sure you get to the gym on time is by having someone who holds you accountable. Consider finding a workout buddy or joining a group class — the journey becomes easier when the people around you support your efforts.
Rebuild your routine
Carve out some time for fitness and let your calendar know that you're in this for the long run. "Research shows that the best way to stick with a fitness programme is to make it a normal part of your daily life," says Taylor. Whether that means midnight deadlifts or early morning aerobics is up to you. As long as you start off easy and pick what's comfortable, the road to fitness will come without the hangover.