You know Merci Marcel for serving up casual French fare across their four outlets islandwide. Well, they've just gotten Frenchier with a new concept that spotlights the iconic flat pancake. We're talking galettes, crêpes, and a surprisingly extensive list of drinks starring some proper organic cider. Opening from 8am for the working folk to squeeze in a breakfast treat, the establishment also avails artisanal cheese and cold cuts, a couple of mains (Impossible burger, anyone?), and brunch staples.
The space
While styled in a similar modern country decor accented by greenery, the palette at Telok Ayer goes sleeker with deeper shades, brass fixtures, and mirrored bar. It maintains the wood elements that keep the interior cosy and features a skylight that widens the narrow layout.
The savoury
There are up to 12 galettes and 10 crêpes, all efficiently named by numbers with the ingredient list spelled out for your convenience. The No. 4 is a classic of ham, sautéed mushrooms and comté cheese, centred with a sunny side up. The To Share naturally has the envelope sliced into neat pieces. While ingredients are decent, what shines through is rightfully the galette itself, made from exclusively imported buckwheat flour. It makes for a balanced base that keeps the dish light, and you ready for crêpes.
The sweet
Again, you have the traditional with brown sugar with Maison Beillevaire butter (lemon butter recommended), but it's hard to go wrong with pairings like No. 21's orange confit, dark chocolate sorbet, and white chocolate chips. A bonus is the brand's partnership with local artisanal gelato boutique Birds of Paradise, which makes all the sense in the world because c'mon, it's dessert. You got to have a petite scoop of Hojicha Sea Salt or Strawberry Basil on top.
How we feel about it in a gif
Overall, it's only a pity they weren't served a degree or two warmer.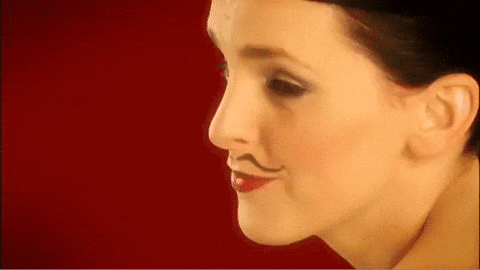 French Fold is located at 204 Telok Ayer Street, Singapore 068640. Book your reservation online.