Remember the memes that were circling around of celebrities in insanely oversized jackets, back in 2018? While those were the brainchild of @itsmaysmemes on Instagram (we recreated our own for a fashion editorial as an homage to the pop culture moment), Balenciaga has recreated the absurdity of such oversized proportions in real life.
Balenciaga's spring/summer 2020 pillow puffer jacket is quite literally, a walking meme. Crafted out of polyester and viscose, the pillow puffer jacket is designed with a high neck and comes equipped with a slot to insert a hanger so that the form of the jacket can be altered into its meme-worthy silhouette.
Wearing the pillow puffer jacket instantly gives the illusion that you're walking hunched, with a slight hump at the back—altering the shape and posture of your body without actually doing so. It's undoubtedly ridiculous but also somewhat genius for the novelty that it is. Why spend all that time with Photoshop?
As with all things Balenciaga, the pillow puffer jacket is now available for pre-order for SGD4,290. But if you're not looking to spend that much money to use fashion as a way to 'alter' your body, here are five other ways to do so.
Everyone wants to fly. Well, you can't with this cape-attached T-shirt by Burberry, but at least wearing an oversized T-shirt has never looked this fancy. Or fabulous.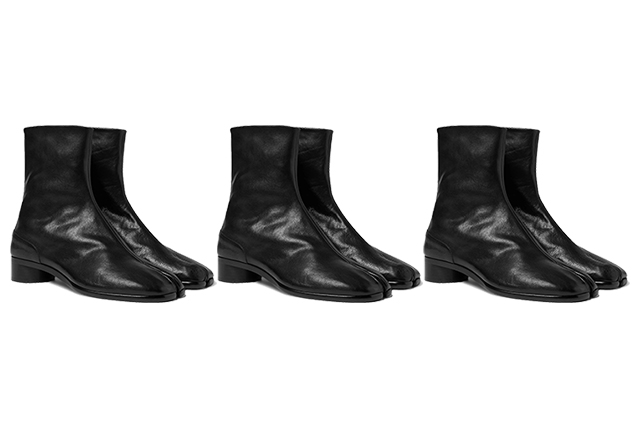 The iconic Tabi silhouette by Maison Margiela is pretty much a fashion investment at this point. No matter how many different iterations the brand comes out with, the heeled boot version in plain black leather is a fool-proof addition that gives that extra lift and avant-garde expression to any outfit.
Part of this season's Paula's Ibiza collection, turn yourself into a spiky walking hazard (relax; they're anything but sharp and pointy). Perfect for those crowded morning commutes on public transport and even better as a way to enforce social distancing.
No matter how kind you look on any given day, these Gentle Monster frames would convert that friendly disposition into one that's cold and perhaps, slightly robotic.
California Dream cologne perfume by Louis Vuitton (SGD380 each)
It's said that a scent can influence how one is perceived or even looked at. Louis Vuitton's new fragrance (available from 28 May 2020) was designed to capture the essence of a Californian sunset, and thus, could potentially make one look and feel cooler than he inherently is.
Related stories:
Bottega Veneta's Maxi Cabat and other ways to spend SGD13,630
Louis Vuitton's Jenga set and other ways to spend SGD3,436
JW Anderson's leather cap bag and other ways to spend SGD1,270
Rolls-Royce Champagne Chest and other ways to spend SGD63,000
RIMOWA's Aluminium Groove iPhone case and other ways to spend SGD140
Dior Men's leather AirPods case and other ways to spend SGD530
Dior's Toile de Jouy straws and other ways to spend SGD200
Apple Watch Hermès Series 5 and other ways to spend SGD1,979
Saint Laurent's condom and other ways to spend SGD3
Loewe's Elephant phone cover and other ways to spend SGD690
RIMOWA x Garrett Leight California Optical's Essential suitcase and other ways to spend SGD1,640
Emma Willis' paisley silk robe and other ways to spend SGD2,565
Louis Vuitton's dumbbells and other ways to spend SGD3,750
Bottega Veneta's Maxi Arco Slouch bag and other ways to spend SGD9,810
Supreme x S&M Bikes 1995 BMX dirt bike and other ways to spend SGD6,777