You've spent at least SGD239 on your Apple AirPods. And let's be completely honest: it's quite an investment for a pair of wireless earbuds; beautifully designed, but not cheap. The only logical next step is to ensure that it's well protected. It's more than just about protecting the AirPods and the charging case from cosmetic damage; it's about protecting them from your carelessness.
That's right. It's bound to happen.
Thankfully, Dior Men has just released a luxurious answer to that unavoidable problem, in the form of its leather AirPods case. Crafted in Italy using calf leather, the Dior Men AirPods case is essentially a leather creation that wraps around the entirety of the AirPods charging case, and is topped with a metal hardware that allows it to be hooked onto zipper pulls and belt loops, or even used as a key fob.
Basically, there's no reason why you'd lose your AirPods, especially when it's attached to something else on your body. There's also the fact that at SGD530, no one would want to misplace almost SGD1k worth of items at once—there's your incentive to be extra careful.
Not sure if the Dior Men leather AirPods case is the one for you? Here are some other ways to give your precious audio investments the protection they deserve.
Leather charm with pockets by Fendi (SGD1,300 each)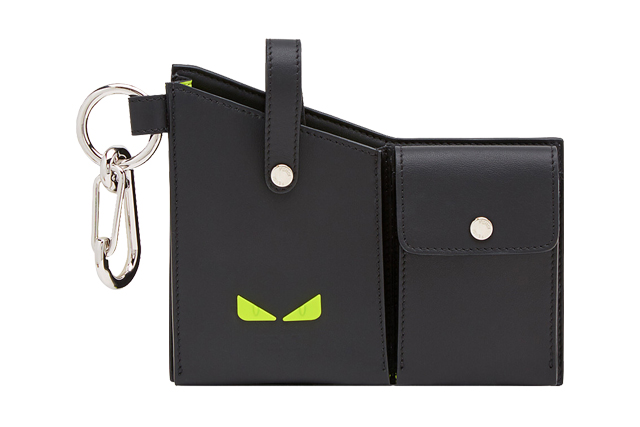 Leather charm with pockets by Fendi, SGD1,300.
Two Dior Men leather AirPods case for one Fendi.
This Fendi bag charm is twice the price of the Dior Men leather AirPods case, and with good reason. Instead of just protecting your AirPods, the Fendi charm also fits your phone so both your mobile investments are kept in check. Or you could potentially lose them all in one go.
In essence, this viral creation by Jacquemus is part of its autumn/winter 2019 women's collection. But wear this as a lanyard and you've got yourself a micro bag that fits the AirPods perfectly.
It doesn't have to be specifically designed for the Apple AirPods for it to be useable. This Burberry coin case for example, serves the same purpose—with more room to spare—and is a bit hardier thanks to the polyamide and acrylic blend fabrication.
A combination (in terms of functionality) of the previously mentioned Jacquemus micro bag and the Dior Men case, this 3.1 Phillip Lim design is an AirPod case that comes attached with different attachments so that it's not one-dimensional.
The Dior Men option is luxurious. But if you need one that could take a great amount of beating while you're out in the great outdoors, luxury doesn't have to play a significant part. This waterproof case is perfect for that purpose and is rather aesthetically pleasing too.
Related stories:
Dior Men's metal Saddle bag and other ways to spend SGD48,000
Bottega Veneta's Maxi Cabat and other ways to spend SGD13,630
A wearable Iron Man Mark 47 XLVII suit and other ways to spend SGD11,022
Samsung's 98-inch Q900R QLED 8K Smart TV and other ways to spend SGD99,999
Louis Vuitton's Jenga set and other ways to spend SGD3,436
JW Anderson's leather cap bag and other ways to spend SGD1,270
Rolls-Royce Champagne Chest and other ways to spend SGD63,000
RIMOWA's Aluminium Groove iPhone case and other ways to spend SGD140