The more one examines the work of artistic director Kim Jones for Dior Men, it becomes quite a clear realisation that his interpretation of Christian Dior's menswear is one that's the truest embodiment of the Dior man now. While that may be a bold proclamation to make, Dior's menswear division never really took off (at least, not in the way its womenswear did) when it was first launched by then-creative director Marc Bohan, until Hedi Slimane came in and shook things up in 2000. Slimane's skinny cuts defined the look of menswear of the time and were peppered with his love for rock and roll. But at the same time, hardly a vision that, at a glance, one would have immediately connected to Christian Dior himself. Next on the roster, Kris Van Assche opted for a balance of sporty and tailoring while building on the kind of raucous masculinity that Slimane introduced—an attempt adopting streetwear's increased prominence in fashion.
Jones's artistic direction has always stemmed from taking notes from the extensive Dior archives (both menswear and womenswear) with a focus on its haute couture aspects. The updates he then makes are based on contemporary sensibilities, which, of course, include elements of streetwear. It's little wonder then why the fashion cognoscenti have much admiration for Jones's work at the fashion house.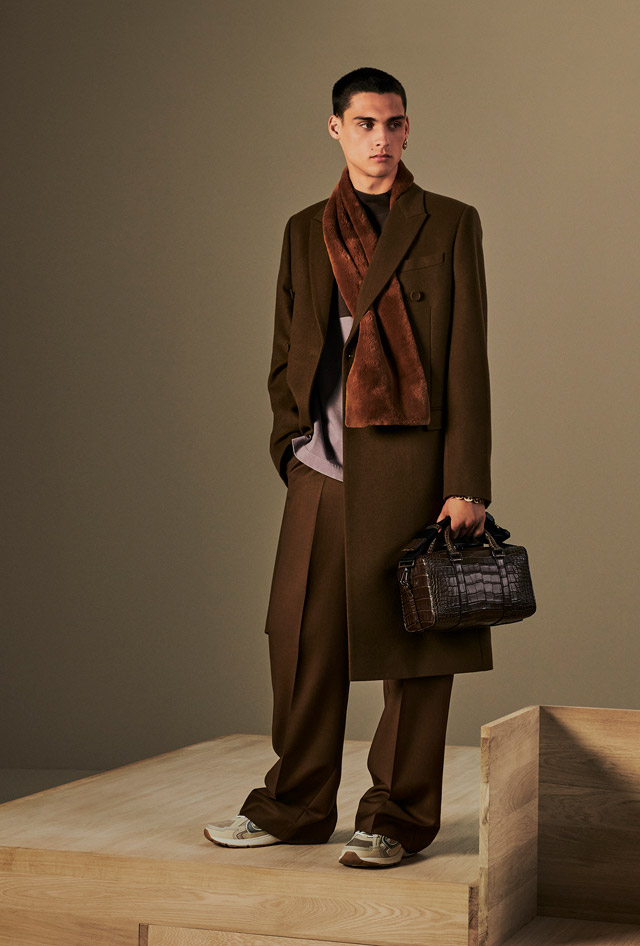 That constant balancing of both the contemporary and Dior's heritage has culminated in a steady evolution at Dior Men. The spring 2022 collection is a fine example of this, relaxing tailoring even further and grounding the collection with comfortable—but still refined and artisanal all the same—sneakers.
Taking inspiration from Bohan's work for Dior in the '60s, Dior Men's spring 2022 collection referenced the stylised 'CD' heart graphic as one of the key features in the collection. The motif appears as insignias on outerwear and lightweight overshirts, and is incorporated as part of a striped print on shirting. 
The vibe is unequivocally modern and reflective of our more casual approach to fashion these days. And also our more active lifestyles, thanks to a COVID-19 world. Which is why almost every look in the collection is paired with a sneaker, namely the all-new (yes, Jones is introducing yet another sneaker into the Dior Men lexicon) B30—arguably the sportiest Dior Men sneaker yet.
Even one whose familiarity with sneakers is restricted to just the athletic kinds would be able to recognise the inspiration behind the B30's silhouette. Modelled after running shoes, the B30 embodies an aerodynamic look that's topped off with panels of technical materials such as mesh and microfibre. It's designed to be lightweight and flexible like running shoes but still exuding the kind of elegance one expects from a house like Dior. And because Jones is also a master of branding identity, the sneakers are finished with equally aerodynamic versions of the CD logo right at the sides as well as the soles and heels.
B30 sneaker in gray mesh and white technical fabric, SGD1,650.
B30 sneaker in cream mesh and technical fabric, SGD1,650.
B30 sneaker in olive mesh and cream technical fabric, SGD1,650.
B30 sneaker in yellow mesh and white technical fabric, SGD1,650.
B30 sneaker in black mesh and technical fabric, SGD1,650.
It's almost expected now that Jones does what he does season after season. While we'd typically call such a move formulaic, it's one that works at Dior Men. Because the element of surprise comes in the form of what reference points Jones chooses to adopt and adapt for the now, and at the same time, strengthening his Dior Men legacy.