At dunhill, there has been a steady and studied evolution of aesthetics under the creative direction of Mark Weston. The more traditional tailored approach of his debut spring/summer 2018 collection has progressively made way for boxy-cut blazers (the double-breasted ones are especially oversized) with modern flourishes of irreverent layering.
Still, tailoring is core to dunhill. The runway collections may be leaning towards a more contemporary version of it—and by association, younger—but the make stays true to traditional menswear tailoring techniques; just pushed and elevated beyond the confines of the dunhill that many were familiar with. And the spring/summer 2021 collection was a fine example of that.
Instead of hiding the underpinnings and inner constructions of the garments, Weston chose to bring them to the fore. The collection was a celebration of the many different technical nuances that are rarely, obviously seen in tailoring. And it wasn't just one particular style too—there were Japanese-inspired tailoring by way of side-tie constructions (a detail that Weston has sort of made into his signature), relaxed Italian tailoring, and of course, traditional Savile Row techniques. Yet, the exposing of such hidden details weren't only restricted to the woven tailored pieces; even the knits had their ribbed ends reversed and knit seam-bindings visible.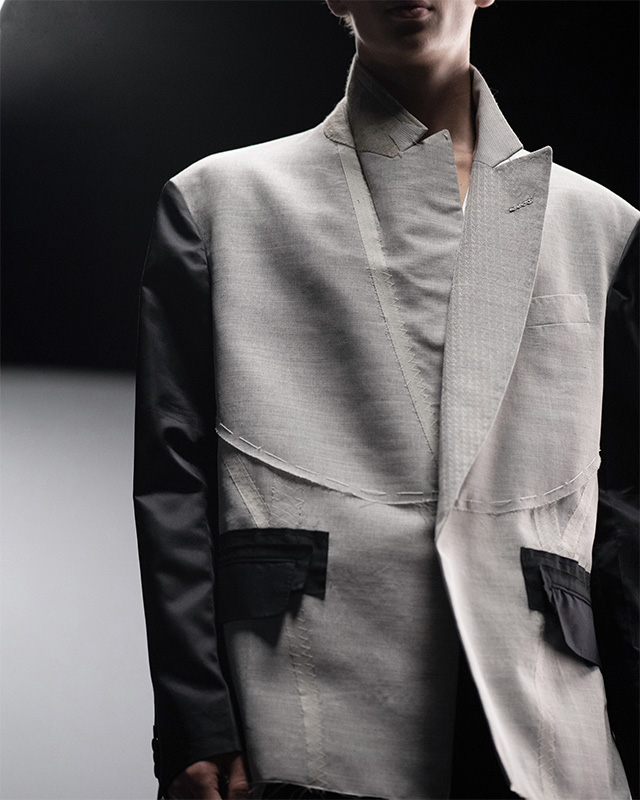 The inside-out concept was by no means a revolution—Dries Van Noten explored that for autumn/winter 2015, Y/Project constantly experiments with ideas of construction, and Comme des Garçons Homme Plus often takes deconstruction and reconstruction as a running theme. But at dunhill, it's like finally drawing a curtain to what goes behind its ateliers. And by the looks of it, it's splendidly beautiful work.
Look and feel: Aside from the surfacing of tailoring details, the colour palette featured neutral tones of blacks, whites and creams that were almost never monochromatic. While previous collections took to more relaxed, wide-cut trousers, the silhouette this time around generally consisted of a boxy top juxtaposed with bottoms that were tapered right at the ankles. If you were looking for traditional button-downs, there was none of that in the collection—shirting fabrications were lightweight and flowy with a penchant for Japanese yukata-esque constructions. More importantly, there was an ease to every look. The layers looked stylistically haphazardly done—a sort of pirate-like quality—but masterfully exposing every layer and always anchored with black leather loafers.
Favourite looks: There was only one print in the entire spring/summer 2021 collection and that was in look 7: a tie-dye printed side-tie shirt that was cut oversized for a full sense of the print. For something more classic but with a contemporary edge, look 26 showed restraint with its combination of a supple oversized coat matched with a white inner layer and a pair of black leather trousers adorned with adjustable straps. There's also look 24 that had a similar approach but styled more relaxed by way of a lightweight inside-out jacket in white. Our top favourite though, would have to go to the chic simplicity of look 24's knit cardigan; it's time to double up on those chest days at the gym, folks.
Favourite accessories: dunhill's unique Lock Bag (a mini case that's inspired by archival house codes and was first seen in autumn/winter 2020) made a return but in new iterations as apparent in look 9. Covered in the season's tie-dye print, it's bound to make a bigger statement than the original but one that's still small enough for a brilliant accent. We're also curious about those drawstring pouches (tagged with a dunhill fabric label) in looks 5 and 8 that looked like they were fixed with shoulder straps. We'd need a better look at them but definitely have our fingers crossed that they're a unique mixed-material take on a crossbody bag.