Redefining and reworking the style codes of menswear have been artistic director Alessandro Sartori's raison d'être at Ermenegildo Zegna. And for the brand's runway arm, Sartori has pushed Ermenegildo Zegna XXX to be a constant experimentation of new shapes and silhouettes with a purpose.
"My aim at Zegna is to create an accord between the essence of tailoring, which is our reason for being, and the rhythm of the modern world. What I have done is a rewiring of luxury crafting, following a flow that frees the man while keeping the distinctiveness, offering pieces that are easy to wear as they are inventive. Effortlessness is the key," says Sartori.
Ermenegildo Zegna XXX spring/summer 2022 was visually, a continuation of its previous season. The autumn/winter 2021 collection's inclusion of female models in the line-up marked a turning point for Sartori—it was a collection that was called 'The Re(Set)'—where the brand's clothes are open for interpretation and welcomed to all. In addition, the monochromatic stylings echoed throughout spring/summer 2022 as well.
Sartori calls the latest collection the 'New Set'. And while there may have been familiar cuts and silhouettes that he's been building on since taking creative helm of the brand, the collection was a strengthened proposal that tailoring can and should move away from its traditional confines.
Look and feel: It's no surprise that the Ermenegildo Zegna XXX spring/summer 2022 collection consisted of only a handful of somewhat typical suiting (looks 5, 12, 46 and 52). But even then, they're crafted using more unconventional materials or designed with atypical details. The rest of the 'formal' offerings consisted of streamlined kimono-esque sets fastened with a side-tie and constructed with oversized patch pockets for added functionality.
The overall vibe was certainly one that's lightweight and fluid, with a focus on new materials. Paper-thin leathers, featherlight nylons, washed silks, and of course, the brand's flagship sustainable option of #UseTheExisting fabrics, all captured an airy quality that was accentuated by the collection's voluminous cuts.
Favourite looks: The simplicity of look 24 with matched separates (that looked to be made of silk) in a bold teal and matched with white leather sneakers and chunky off-white socks, was a fresh jolt from the line-up that was hard to ignore. Look 35's workwear-inspired shapes was marked by a jacket that as the model walked in the video, had such a beautiful sheen. And that exaggerated panel of contrasting material right at the hem made it feel even more contemporary.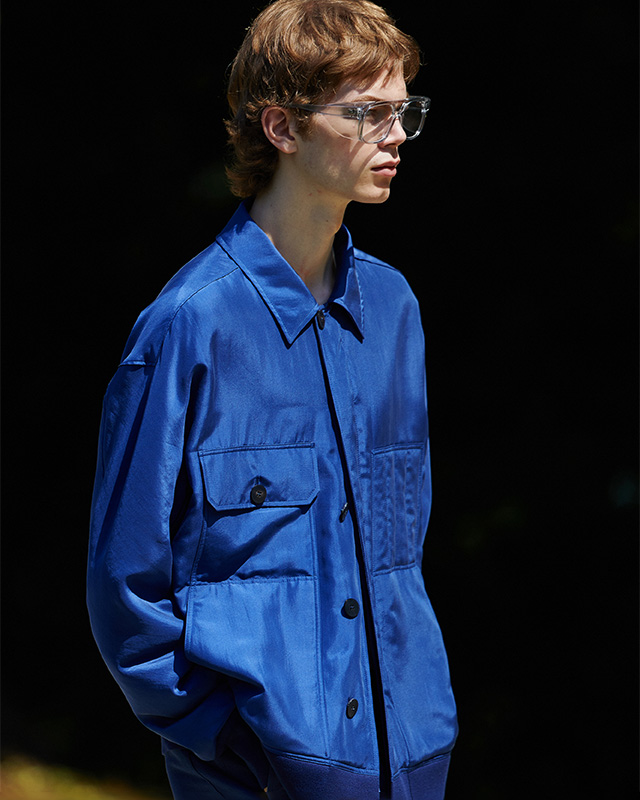 There's no denying that the nouveau tailoring proposals were the standouts. We're gravitating towards look 30's leather kimono blazer option as well as look 49's linen combination—lightweight and structured at the same time. But for an oversized rendering of the look, the styling in look 23 was sumptuously divine and one we'll be keeping our eyes out for.
Favourite accessories: Ermenegildo Zegna XXX hasn't been strong in its accessories category. They've always been alright but nothing ever truly stood out; until now. The spring/summer 2022 collection's series of bags are some of the most confident offerings from the brand yet. First up was the camera bag shape (looks 1, 3, 12 and 14) that had everything colour-matched for a seamless and ultra-minimal aesthetic, and packed with convenient multiple external pockets.
For those looking for a structured tote bag without all the fuss, there was a slate of colours to choose from. But the fresh beige that's in look 21 would make for the perfect and versatile companion with just about any colour combination.
More Milan Fashion Week Men's SS22 reviews:
Day Two: Fendi SS22
Day Two: Dolce&Gabbana SS22
Day Three: Prada SS22
Day Four: Giorgio Armani SS22