When we said a full day of free activities, we meant it. Yes, all 25 activities across 12 different locations across Duxton. By bringing the magazine to life, Esquire Neighbourhood attracted 7113 people from opening night and Saturday altogether, seven times what we had last year over a Shophouse weekend. But hey, numbers is one thing, did the people truly enjoy the special line-up planned for them? We checked in with a vox populi.
---
Info Desk
"This is such a great way to get people off their phones and interacting with each other."
Many new to the event were intrigued by the hubbub on site and flocked to the Esquire front desk. Excited about the free alcohol surely, but also wanted in on the activities hoping that they would be available the next day. Who said the world only exists digitally? We can officially tick the 'foster community' goal off our list.
Cru HIIT | lululemon yoga | Social dancing
Nothing unites people quite like sweating it out to upbeat music. With a HIIT class by CruBox, three yoga classes by lululemon, and two salsa dance classes by Salsa Cubana, these classes pretty much catered to all, so the array of attendees—including onlookers who stumbled on and happily joined in—found at least one class that fit their ability and style. Notably the social dancing, where individuals who would have never usually conversed or connected, danced as pairs.
Strength and conditioning circuit with Matt Benfell
"I didn't know I could burn so many calories from a session that didn't make me feel like death."
We hate to break it to the fitness fans, but you guys did look like death. Thankfully, the post-workout breakfast provided by Group Therapy did seem to re-energise. Plus, we heard taking home a goody-bag with Asics mercy made the early rise, merciless sun, and literal heart-pumping session worth it.
SKODA test drives
With the compact Octavia saloon, executive saloon Superb, and Kodiaq seven-seater SUV lined up, guests got #InTheSmartSeat for a specially selected test drive route. Some attendees at Esquire Neighbourhood also made the Smart Move and made walk-in enquiries for test drives.
Panel talk at The Co: Reinvigorating creative spaces
"As soon as you ask, 'What's in it for me?', you have lost the whole purpose and concept of community."
Panelist Javier Perez shares on the greater good in mind—the element of trust in community. Essentially, reinvigorating creative spaces is looking at investing in the long-term community of the neighbourhood as opposed to short-term monetary value. It takes consistent commitment to create connection based on a common interest or shared geographical location.
In addition to Perez, the panel talk (held at The Co. co-working venue) on creating spaces to foster community consisted of Lorenzo Petrillo from LOPELAB (the man behind Urban Ventures and street activations like Keong Siak Festival), Michael Lints from Golden Gate Ventures (who shared on how technology is helping to connect people) and Jasper Wong from POW! WOW! (the world's leading mural festival that travels the globe).
Panel talk at The Co: What makes a man today?
The cultural understanding of masculinity is changing. From traditional Asian fathers who don't know how to share feelings to the toxic masculinity that alienates men and fuels suicide, what is the difference between a 'good man' and a 'real man'? At the end of the day, if you think about it, traits that define a 'true man'—strength, integrity, honesty, vulnerability—are just what it means to be a human.
Moderated by editor-in-chief Norman Tan, the panel consisted of speaker, host and TV personality Anita Kapoor; emcee and maestro Gibran Baydoun from private-members club 1880; and singer, actor and personality Ben Kheng.
Netflix: Singapore Social lunch presented by Guinness
"I guess the one thing I hope doesn't make the show is the scene of me sitting on the beach and eating noodles."
Mae Tan, one of the main cast members reveals. Together with Sukki Singapura, Vinny Sharp, and Nicole Ong, (Paul Foster was in Nepal building houses with Habitat for Humanity; NBD), all were nervous but excited for the screening of Singapore Social—the first docu-series on Singaporeans that's launching on Netflix on 22 November.
The cast got together at Kilo Kitchen with their closest pals for a barbecue inspired lunch, with special menu items such as Guinness-infused pork ribs, and all paired with a Guinness Draught or cocktail. LA Producer Sun DeGraaf was also in attendance and introduced the show as a real look into the lives of locals; celebrating the individuals unafraid to be themselves in a modern world.
The group were serenaded by singer-songwriter Sam Driscoll thanks to Umami Records, before battling it out in our signature Esquire trivia segment. The winning team walked away with Claude Bernard watches and a lifetime of bragging rights.
Rethinking possibilities: Upcycling workshop
The family-friendly activity saw families and folk of all ages joining in. Held at the co-working space, The Co., Terra SG brought awareness to the difference between recycling and upcycling, and how the process can be easier than expected. To further hone the point, everyone had a hands-on chance to turn a simple banner cut out into a paper wallet in just a few steps and no additional materials.
Corum x Havana Club cocktail workshop
"The best way to enjoy this is not to shot it. I know this brings back a lot of memories—good or bad."
Brand Ambassador Brendon quips with a knowing smile. With ingredients and equipment laid out for their convenience, participants not only learnt how to make three exclusive Havana Club cocktails inspired by the three collections of Corum watches, but was brought through a greater appreciation for both the drinks and the accessories.
Men of DUXTON: Daring Greatly
"Daring greatly to me is encouraging myself and my family to pursue their passions. Although I grew up in a very strict household with limited choices, I want to make sure that my son gets to explore all the possibilities available to him."
When the audience was provoked to consider what it means to dare greatly, they realised it was more than just being unafraid. Founders of cafe Monument Lifestyle and retail brand Duxton, Iris Sangalang and Dustin Ramos, were transparent in sharing the initial stages of brand creation and the surprising discoveries that inspired them to build brand that celebrates everyday struggles and recognises that perfection is not always the goal.
Workshop: Putting your best face forward
Speaker Anita Kapoor advocated getting real with yourself before being on a platform to share parts of yourself with others. Audience were reminded to embark on journeys to get closer to their own truth and authentic self, to never try to copy someone else's presentation style but to find what works best for them.
Workshop: Self-branding in the digital age
"Wait, you've never Googled yourself? You're lying."
Bettina von Schlippe, CEO and founder of PR agency R.S.V.P. gave a riveting and highly informative talk, with insights on what marketers look for, how to be certain of your own niche and the target audience you potentially reach out to.
Exhibition and cocktail classes with Martell at HULS Gallery
Did you know that V.S.O.P stands for Very Superior Old Pale? And that X.O simply meant Extra Old? Well, now you know. Three different variants of Martell were showcased by Brand Ambassador Lucas Mulliez, and because Martell is the only cognac house to exclusively distil clear wines, guests got to learn the distinctive style that comes from the unique ageing method.
Virtual Reality: Enter the Zegna world
"You mean, I don't have to fly to Italy to see it?"
In this world-first Virtual Reality tour created exclusively for Esquire Singapore, users were pleased at the clever opportunity to be seated front-row at a fashion show without having to stress about dressing up for it, the experience of an interview with artistic director Alessandro Sartori, but more impressively, the chance to see the beautiful historic home of Casa Zegna.
Games at Xiao Ya Tou
"Excuse me, you said mahjong memory is easy?"
Well, when you've been enjoying cold Erdingers since 11am, the games are not so straightforward. Except tea pong. Apparently that's the only game that's actually harder when sober. With prizes like Karl Lagerfeld fragrances, Claude Bernard watches, and Fossil bags on the line, everyone was really competitive.
Tequila and Mezcal cocktail workshop
Even non-drinkers unfamiliar with Tequila got to see a new side of the liquor by going behind the bar and making their own cocktail. From Arquitecto to house-infused mezcals, the refreshing mixes were paired with bites from Lucha Loco and fun facts of the agave harvesting times and techniques.
The L'Entrecôte Wine Trail
"Did you know Australia is pretty famous for their vinegar export? They call it wine."
Resident wine expert and Déliciae Hospitality Management CEO Mr Olivier Bendel cracked a good one as he took the groups through four types of French wines [disclaimer: the only Australian in the group took it well]. Pre-connoisseurs got to discuss and learn about wine characteristics in a safe space while enjoying fresh crêpes on the side.
Barre Flow
"Are men still too shy to try Barre?"
Apparently. Perhaps they're all attending our 'What Makes a Man' talk. Apart from the yogis who ask about the incorporation of Vinyasa, Barre choreography was a pleasant surprise for most because of how it differs from various instructors.
Sultans of Shave workshop
For a tailored hold, you can and should mix products such as a water-based pomade and texturing spray. Guests discovered that no amount of effort of styling to achieve a certain look can work if it doesn't for their hair type. As for treating a sensitive or oily scalp, high temperature when cleansing hair should be avoided as it might produce more sebum and irritation.
Masterclass: Creative writing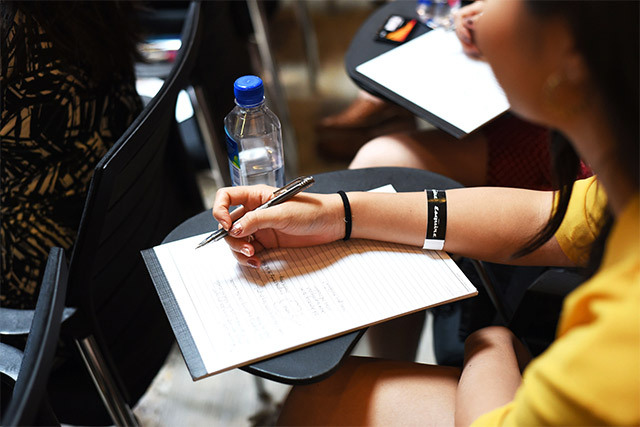 We watched the faces of participants slowly turn from stoicism into ones of rapt attention as Neil Humphreys (Singapore's highest-selling author) gave applicable tips in what was practically a conducive class environment. Knowing whom you're writing for and having unique voice is one thing but, funnily enough, 'fish out of water' scenarios actually makes your writing relatable. Especially when it's self-deprecating.
Improvisation masterclass: Joy of active listening
"Yes, and…"
The key tenet, according to Jon Cancio, denotes agreement and encourages adding to the scene. In the landscape of improv, there is no shame in failure. If you thought Improv is all about performances, you thought wrong. In fact, participants saw how effectively it demonstrated the importance of listening for a better partnership through a round of Improv games.
Poetry of gin (featuring Monkey 47)
Everyone had a chance to try their hand at poetry and receive constructive critique by Marc Nair. One exercise involved postcards with pictures of objects as writing prompts. We're not sure if the tasty gin had some contribution, but some were so abstract one brave participant sheepishly asked exactly what they were supposed to be seeing.
Consultation and full body assessment by Orchard Health Clinic at lululemon
Registrations for this activity got filled up so quickly, and we can totally see why. Why can say no to complimentary one-on-one consultations with an expert from Orchard Health Clinic? Participants got to find out why they have been hurting and received treatment on the spot.
Outdoor cinema with aperitivo hour featuring Strongbow
"Oh my god this set up is so cute, are you doing this next week too?"
We know our pretty lights and cosy seats made the silent cinema outside Alba 1836 pretty IG-worthy, with passersby whipping out their phones for a quick snap as Oscar-winning film 'La Vita È Bella' was playing underneath the stars. What made it even better for the audience was the unlimited ice-cold, refreshing Strongbow apple ciders.
Live music curated by Umami Records
"He's awesome, I'm a new fan! What's his Instagram?"
What's a party—or in this case, neighbourhood takeover—without some good music? The solid performances by Theodora and YAØ at our opening night were a telling preview of what was to come, with Lincoln Lim and Valiantes melting hearts at their raw, stripped-down performances at Monument Lifestyle.
Over at the indie bands session at Kilo Kitchen, opening act thecolorfractal got feet tapping to his folky bops, alternative rock band Cadence wowed the crowd with gruff vocals and hard-hitting beats, and three-piece band Royal Estate got the room beating to their groovy pop-rock tunes.
Umami Records brought us the best with such a stellar line-up of Singapore's top up-and-coming musicians.
Related story:
Inside the opening party for Esquire Neighbourhood