They say we are all on an endless pursuit of happiness—often described as a journey rather than a destination. Known for her disruptive work of transforming everyday objects by artistically recontextualising monograms of luxury fashion houses, visual artist Sarah Coleman infused her design ethos with that of Fendi. Fendi Vertigo marks Coleman's second partnership with the Italian house following their Design Miami collaboration last year.
The idea of 'fun in the sun' roots Fendi Vertigo. Creative director Silvia Venturini Fendi worked closely with Coleman to capture the wonders of the outdoors with yellows and blues as dominant colours. The house's iconic FF monogram has been given a groovy makeover with a '70s-inspired psychedelic twist as well as a rendition that's designed to look like it was viewed through a fisheye lens—referred to as FF Vertigo and FF Fisheye, respectively.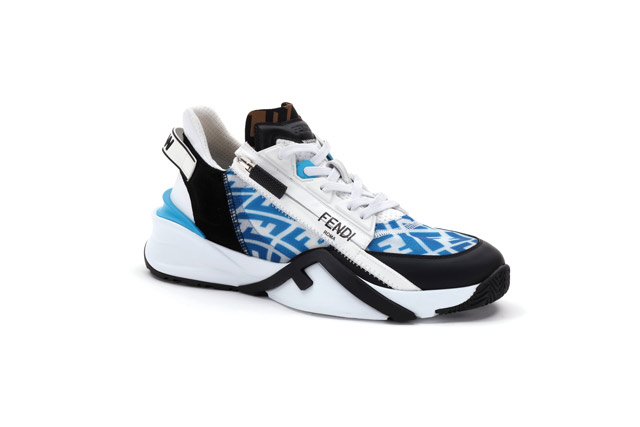 FF Vertigo flow sneakers (SGD1,350), by Fendi.
FF Vertigo x Ferrino backpack (SGD2,490), by Fendi.
FF Vertigo box bag (SGD2,600), by Fendi.
FF Vertigo scarf (SGD600), by Fendi.
FF Vertigo flat baguette shoulder bag (SGD1,400), by Fendi.
FF Vertigo x Ferrino tent (SGD8,750), by Fendi.
The newly interpreted monogram finds itself across the entire collection in lightweight yet resistant fabrics, including jacquard, elevating even the simplest pieces. Bowling shirts, bermudas, polished raincoats, fisherman's vests with matching baggy trousers, and summer suiting made from lightweight organza, round off the collection's summer-ready pieces.
Coleman isn't the only collaboration in the capsule collection. On top of all that, the fashion house also collaborated with Polaroid to create a FF Vertigo Polaroid 636 camera. There's also a bento box made in collaboration with Alessi Food, along with a camping essential set—comprising of a tent and a technical backpack—produced by outdoor gear specialist Ferrino.
The Fendi Vertigo capsule collection is now available in Fendi boutiques and on fendi.com.