The winds say it's only a matter of time before the departure of travel restrictions and the anticipated arrival of fully-vaccinated, quarantine-less international travel. Or so one can dream, especially with Germany and Brunei lanes currently in the green. Well, whatever the status is, one can also afford to eye f— a couple of new luxury hotels and resorts in the meantime. Not only is it free, it's like an early bookmarking of potential locations to visit when the day arrives. This week, we have…
Cheval Blanc Paris
This one is special as the Maisons' first city residence in its birthplace, Paris. Making its debut today, it's set in the very historic Art Deco masterpiece by Henri Sauvage from 1928. French architect Édouard François embellishes the exterior with a more contemporary dimension, while the interior is helmed by designer Peter Marino.
Reaching out to monumental stonemasons, gilders, stonecutters and metalworkers for the job, the contribution of these masters of trade and guarantors of French craftsmanship that only human hands can provide means every item has a purpose. No furnishing is left to chance, from marble type to graphic embossing of subtle mineral hues, and all custom-made with a unique identity.
Overlooking the Seine, they've kept the immersive panorama through the bay windows on the facade; a staggering view of the French horizon from the landscaped terrace. The entire expansive area is divided into only 72 rooms and suites, which means the private apartment with its own pool, spa and life accommodates up to 1000m2.
Cheval Blanc Paris is located at 8 quai du Louvre, 75001 Paris, France.
PREVIOUSLY ON VISUAL BUCKET LIST…
Samãja Selo Private Residences
Okay, this marks the pinnacle of a private vacation. For those who prioritise tranquility and an escape from people who dare be on a getaway in the same resort at the same time (the audacity), that's no longer a pipe dream. With a limited collection of beach front and hilltop, these residential villas combine the best of both worlds; vacation home ownership with boutique hotel amenities.
Meaning; an expansive pool, equipped spa and fitness facilities, a clubhouse and a yoga pavilion. Plus, in light of #WFH, a library and co-working spaces. You won't go hungry with the multiple dining venues that include alfresco terrace dining at The Ocean Grill and The Sunset Bar positioned on the jetty. Oh, and did we mention an outdoor movie theatre?
Still, it's the fact that the architectural team will conceptualise and custom villa designs to your preferences, down to the size and layout. If that's too high a commitment, fractional villa ownership is also available to access the same perks like private air transfers and 24-hour concierge at a proportional cost. Even more unique is the chance to exchange (you read that right) your space through the property's partnership with ThirdHome, which offers 10,000 luxury homes in 94 countries worldwide.
For ownership inquiries and more information, visit Samãja Selo Private Residences.
The Bodrum EDITION, Turkey
Exterior view.
Bungalow pool.
The Spa.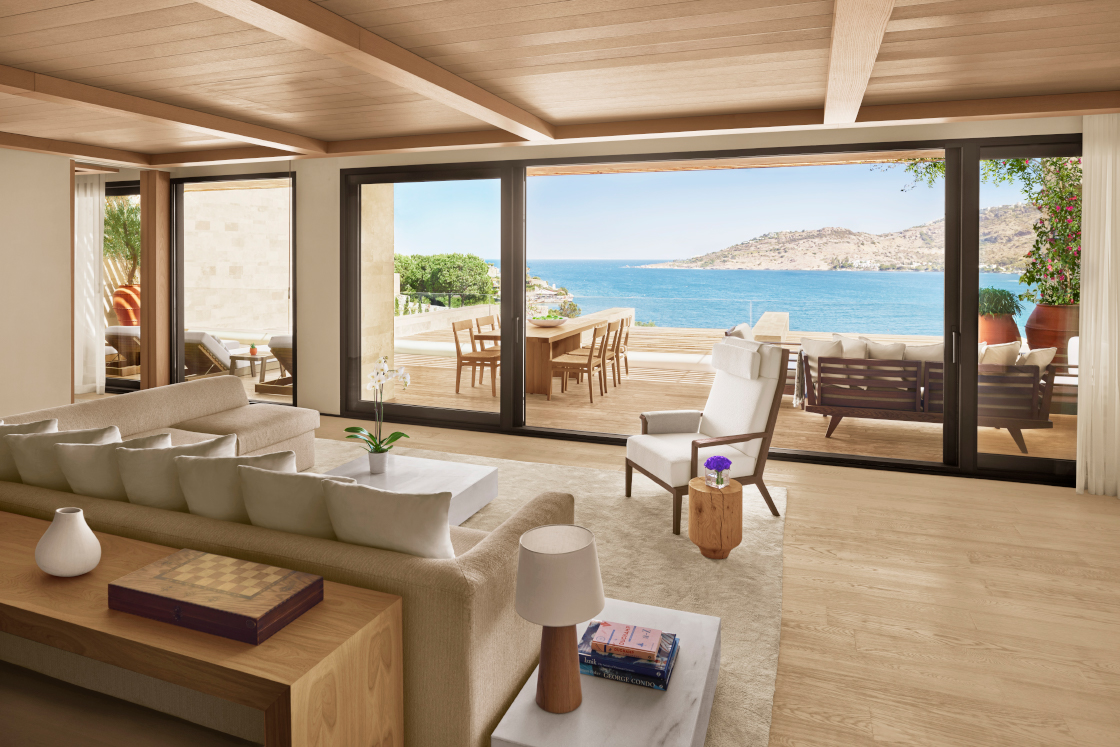 Yalikavak Suite.
Couple Spa Suite.
Aegean Suite.
The Kitchen.
Beach bar.
If you're familiar with Marriott International, you'd know that EDITION marks a partnership collection of individualised hotels conceived by Ian Schrager. Bodrum is one of the current 11 across New York, London, Shanghai and more. The ideal summer travel resort located in Tilkicik bay has 108 guest rooms, suites and villas, of which almost all have stunning views of the Aegean Sea. Some feature private pools, wide balconies, and even gardens, but every room sees custom-designed furnishings and indulgent marble bathrooms.
The facilities of the boutique hotel is equally, if not more so, impressive. Eight luxurious treatment rooms, salon, sauna and the epicentre of the spa—the Turkish Hammam. Together with the Infinity pool, exclusive beach club with a jetty housing private cabanas, there's more than enough venues to unwind and relax.
The bars and restaurants don't pale in comparison with a gourmet specialty grill overlooking the bay, a night club, and an all-day casual dining featuring Latin-American cuisine to name a few. Having reopened its doors earlier in the year, the hotel is already rolling out unique programming for the months ahead. Check out The Bodrum EDITION's Morena Beach Club, BRAVA, and spa for more.
The Bodrum EDITION is located at Dirmil Mahallesi, Balyek Caddesi, No.5A 48400 Yalikavak Bodrum/Muğla, Turkey.