Hey, there. How are you holding up? Hopefully the news of Singapore's circuit breaker extending to 1 June 2020 hasn't got you down. Or that bubble tea shops closing down islandwide isn't causing you unimaginable distress. Or that the uncertainty of when McDonald's will be back in operation (where else can we get such addictive fries), isn't making you mad.
But oh well. All for the greater good, right?
It seemed as though Louis Vuitton knew what was going to happen. The French luxury fashion house has most recently released a new range of sporting goods, done in the way that you'd expect of a typical Louis Vuitton product—luxe and decorated in its signature monogram. The highlight of the series would definitely be a pair of dumbbells weighing three kilograms each; just the right weight for beginners.
Crafted from lustrous metal, the dumbbells are engraved with a series of 'LV' logos around both ends of the handles, while the weights feature distinctive Louis Vuitton branding. What sets this apart from your usual run-of-the-mill dumbbell is that the handles are wrapped in Louis Vuitton's Monogram Eclipse canvas. It makes for a better grip as well as gives you the feel of touching something luxurious while working out at home throughout this entire circuit breaker period. And for all that, these Louis Vuitton dumbbells will set you back SGD3,750 a pair.
Not interested in building some gains while you're home? Here are five other luxurious ways to pass an extended four more weeks of circuit breaker with that SGD3,750.
There's no need to be wasting paper and repeatedly drawing those grids with this reimagining of the classic Tic-Tac-Toe game. And when you're finally free to resume your usual pre-COVID-19 routine, this will be a stunning display addition to your home.
We can't help but liken these knot stone creations by Shizu Designs for Loewe to fancy pet rocks. Each stone is intricately wrapped and tied with strips of leather in knots that are used in traditional basket-making techniques. Best for those who can't keep a living thing alive.
To avoid going stir crazy, how about indulging in a memory card game to ensure that your mental prowess are kept in check?
If you're already thinking of sprucing up your place with more aesthetically pleasing furniture, this Marni Market stool might just be it. Use it as an additional seat or as a leg rest as you lounge for hours while bingeing Netflix.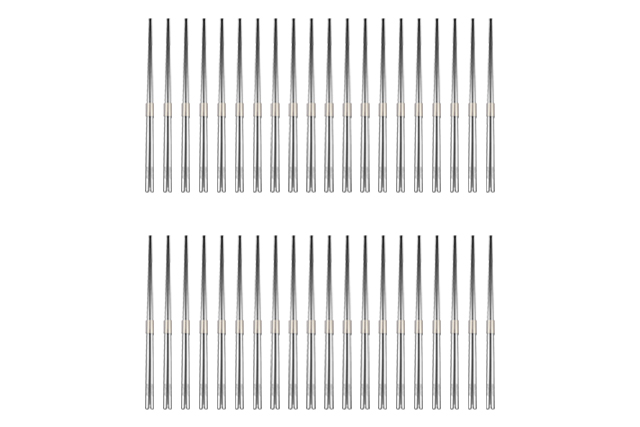 You're eating at home—take-outs or home-cooked—way more than usual now. So it makes sense to invest in a pair of titanium chopsticks that you can reuse over and over. Save the planet and be just a bit pretentious while you're at it.
If you need more stay-home-luxury recommendations, Louis Vuitton has curated a list on how that can be achieved.
Related stories:
Bottega Veneta's Maxi Cabat and other ways to spend SGD13,630
Louis Vuitton's Jenga set and other ways to spend SGD3,436
JW Anderson's leather cap bag and other ways to spend SGD1,270
Rolls-Royce Champagne Chest and other ways to spend SGD63,000
RIMOWA's Aluminium Groove iPhone case and other ways to spend SGD140
Dior Men's leather AirPods case and other ways to spend SGD530
Dior's Toile de Jouy straws and other ways to spend SGD200
Apple Watch Hermès Series 5 and other ways to spend SGD1,979
Saint Laurent's condom and other ways to spend SGD3
Loewe's Elephant phone cover and other ways to spend SGD690
RIMOWA x Garrett Leight California Optical's Essential suitcase and other ways to spend SGD1,640
Emma Willis' paisley silk robe and other ways to spend SGD2,565