It's fitting that Virgil Abloh's final collection for Louis Vuitton was shown in-person. The autumn/winter 2022 menswear collection was the first live runway show in a while and felt like a more intimate event than the grandeur that was Abloh's rainbow-coloured runway debut for the maison. Yet, all the same, the show was attended by many of Abloh's friends and collaborators; Naomi Campbell closed in an all-white outfit.
There's no doubt that emotions were high. The Louis Vuitton autumn/winter 2022 menswear show felt like a celebration—of Abloh's industry-shifting legacy as well as his time at the maison. The eighth collection by Abloh was staged within what was called 'Louis Dreamhouse' and what the show notes describes as "where the surreal becomes real and fantasy manifests in real life". Throughout the show, models walked out from a door with movement artists at times interspersed in between as a live orchestra played a specially composed dreamy soundtrack by Tyler, the Creator.
Collectively, the staging and collection was somewhat of a remix of Abloh's work at Louis Vuitton. There were familiar looks and silhouettes reworked into new ideas, and an overall sense of child-like innocence throughout. But that's the thing about Abloh: the man had such a clear vision. The collection felt and looked inherently Abloh. His collections were so distinct (just like the ones by John Galliano at Dior or Hedi Slimane at Saint Laurent) that future artistic directors both in and out of the maison would be referencing the breadth of them all.
Look and feel: It's difficult to pinpoint a certain look to the collection because Abloh took inspiration from a variety of sources. But a clear defining thread across each look was how Abloh sought to explore the notion of realism versus surrealism. There were a lot of hidden details and trompe-l'œil effects through the manner of construction or simply through cleverly devised design elements.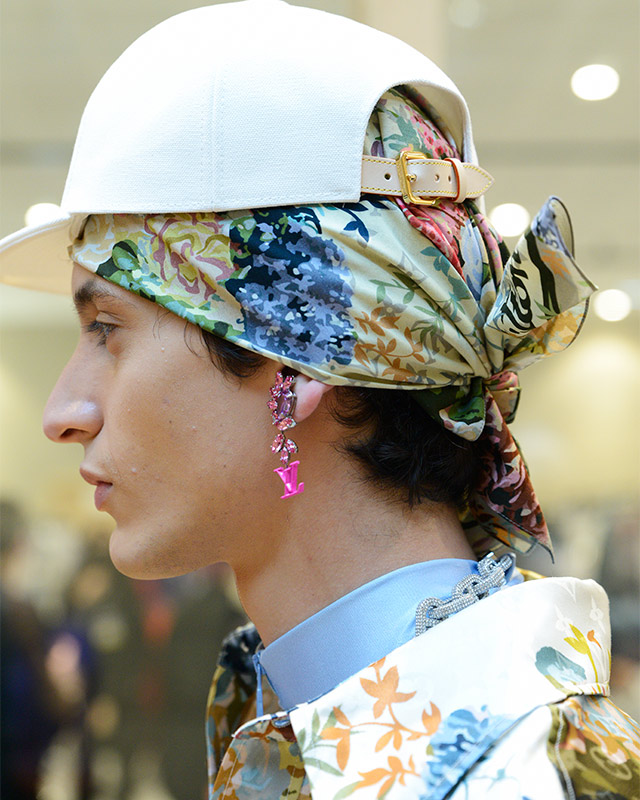 What felt new and not something that Abloh had done often before, was a more focused execution of fabrications. Luxe velvet juxtaposed beautifully against silk, a trucker suit completely embroidered in sequins, and head-to-toe tapestry looks featuring works of art showed a more artful side that we didn't see much of prior to this collection.
Favourite looks: Starting off with my absolute favourite from the autumn/winter 2022 menswear collection is look 13. The draw comes courtesy of that brilliantly done lacing of the peak lapels in the blazer and then topped off with a crystal button—what a stunning look. Then there's look 25's all-green look that comprised of a jacket worn over a workwear-inspired dress that's belted with an attached pouch. The clothes were then paired with leather boots and a cap that were both done in the same forest green.
As part of the tapestry series of looks, I gravitated towards look 36, especially with that military-esque jacket constructed in such a way that the waist was expertly cinched. And perhaps one of the collection's more impactful prints (and in some ways reminiscent of the floral treatments for spring/summer 2020), the head-to-toe floral jacquard fit in look 46 that mashed flowers bouquets with the Louis Vuitton Monogram.
Favourite accessories: The paint can bags (looks 14 and 28) that were teased before the show remain one of my favourites from the collection, and were classic Abloh. The aforementioned floral tapestry print was also translated onto a Louis Vuitton Keepall bag (look 44) and it just looked so beautifully rendered—like grandma's favourite cushion turned into a bag. Jewellery was quite tastefully used throughout the collection but it's look 43's statement necklace composed of an eclectic array of elements and crystals that caught my eye. The collection also featured a number of caps designed with pointy ears and look 32's version done in a deep turquoise easily trumped them all.
More Paris Fashion Week Men's AW22 reviews:
Day Four: Dior Men AW22
Day Five: Loewe AW22
Day Five: Hermès AW22