Virgil Abloh may have finally hit his stride. After a brilliantly produced autumn/winter 2021 menswear collection and film for Louis Vuitton, the artistic director continued the approach with a spring/summer 2022 collection that was just as packed with Black cultural nods as it was fashion.
Abloh calls the collection 'Amen Break'—a reference to the drum solo break within funk-soul group The Winstons's B-side titled, 'Amen, Brother'. In the collection notes, Abloh detailed the cultural relevance that the drum solo had in modern contemporary music as it was continuously sampled, reinterpreted and remixed by a host of other genres of music. Those same ideas formed the basis of Louis Vuitton's spring/summer 2022 menswear collection.
The short film's narrative this time around ianvolves a father-and-son duo who had just experienced a loss and aims to get a message across to the other side. They are ambushed, attacked and separated before gaining assistance and a form of brotherhood in order to complete their mission. Japanese martial arts and cinematography inspired the aesthetics of the film with them being important elements in rapper GZA (who also appears in the film) and Wu-Tang Clan's works.
It was in these kinds of cross-cultural subtexts and nuances that Abloh found their similarities, decoded them, and then recoded them for the collection. And at the same time, recontextualising their appeal and aesthetics for a whole new generation.
Look and feel: As always, there was a lot to unpack for Louis Vuitton's spring/summer 2022 menswear collection, which was also Abloh's seventh so far. And as with every collection of his since, the show notes are extensive—47 pages long to be exact. Generally, the collection incorporated elements of rave as depicted in its trippy acid hues in various iterations.
A constant dialogue of formal versus casual fashion permeated throughout the collection. Suits and tailoring were hardly ever structured nor were they stuck to straight-laced conventions. They were cinched at the waist in a stylised karate belt-tie in monochromatic expressions, and then grounded with sneakers. Tracksuits on the other hand—key coordinates of the collection—were positioned as an essential and matched with just about anything, including tailoring, blurring the lines between formal and casual further.
There's also a sense of embracing one's individuality with gender lines and normative fashion coding blurred more than Abloh's ever done for the maison. The spring/summer 2022 menswear collection specifically included more skirts in an array of silhouettes—from kilts to detachable pleated skirts to full tiered ones. It's not so much of a push but more of an indication that wearing one means nothing other than, simple, a person wearing a skirt. If there's any artistic director out there that could get the message across and normalise men wearing skirts, it'd be Abloh.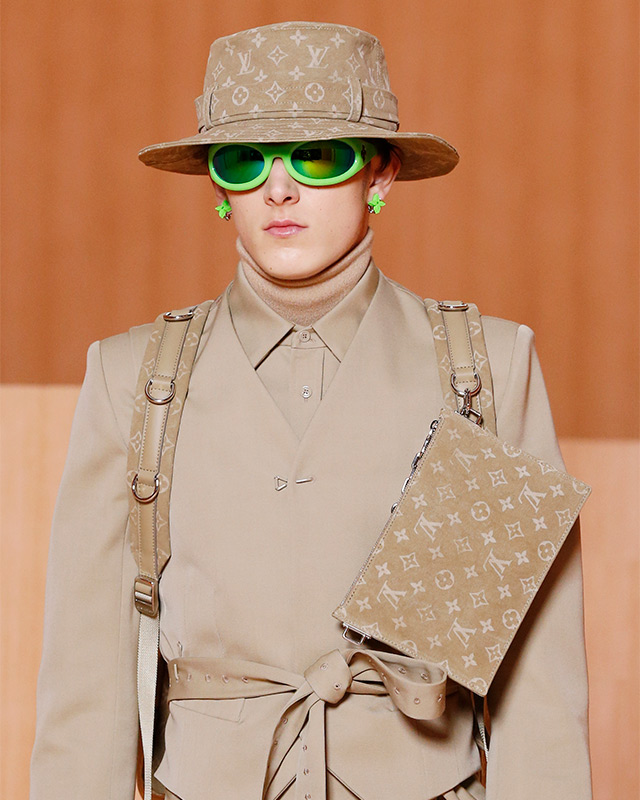 Favourite looks: Look 3 essentially captured the vibe of the entire collection. That cobalt blue waistcoat (effortlessly cinched) and trousers worn over a track jacket—a brilliant pairing that we're already thinking of co-opting now. Then there's look 13's wholly khaki look that played off the layers and dimensions so beautifully, especially with the inclusion of an asymmetrical skirt. For another nouveau tailoring masterpiece, there's the striking head-to-toe magenta fit in look 38 that reminds us of Abloh's first collection for Louis Vuitton.
Special mention goes to the splendidly gradient ensemble in look 35. Everything from the rainbow mix of colours in the LV Monogram leather jacket, shapka and crossbody Soft Trunk to the blue trousers—what a stunner.
Favourite accessories: Now, there's no doubt that everyone has been talking about the much-awaited collaboration between Louis Vuitton and Nike. It's an inevitable occurrence that we all knew was going to happen sooner or later. And now that it's finally upon us for the spring/summer 2022 season, we daresay that this would probably be the collaboration of the season. We're not sure how any other fashion brand will be able to top this.
The collaboration in itself was a nod to how custom Nikes were at times remixed with Louis Vuitton signatures back in the day. For the Louis Vuitton spring/summer 2022 menswear collection, a slew of Air Force 1s were reworked with signature Louis Vuitton materials in an array of combinations and permutations. But our favourite has got to be look 69's iteration that's done in Damier Azure Canvas and emblazoned with a graffiti motif right at the sides.
More Paris Fashion Week Men's SS22 reviews:
Day One: Wales Bonner and Lanvin SS22
Day Two: JW Anderson, Courrèges, and Burberry SS22
Day Three: Dries Van Noten SS22
Day Four: Dior Men SS22
Day Five: Loewe SS22
Day Five: Hermès SS22