There's not much else that's more reminiscent of the '80s than the music. The craze surrounding the decade and its new wave phenomenon have influenced popular culture longer than the decade itself. Today, we play our favourite '80s classics on smartphones, wireless earphones and voice activated speakers; abolishing the once loved cassette, boombox and Walkman that revolutionised the music scene.
Cassette tapes (an item that Generation Z would be completely unfamiliar with) in particular, changed the music's accessibility and portability. And highlighting its influence in music and society at a time of freedom and boundary-pushing, is Montblanc with its new Meisterstück Soft Grain Mix Tapes capsule collection. Including both bags and accessories, its core element is the nostalgic motif of the cassette. The collection takes a walk down memory lane, pushing the edge of innovation while presenting Montblanc's excellent craftsmanship and design. It reflects back to when the brand was evolving; moving into new spaces from jewellery to leather goods with evolving designs.
What's in the new collection?
Leather backpack with a padded laptop pocket and adjustable shoulder straps.
Leather key chain.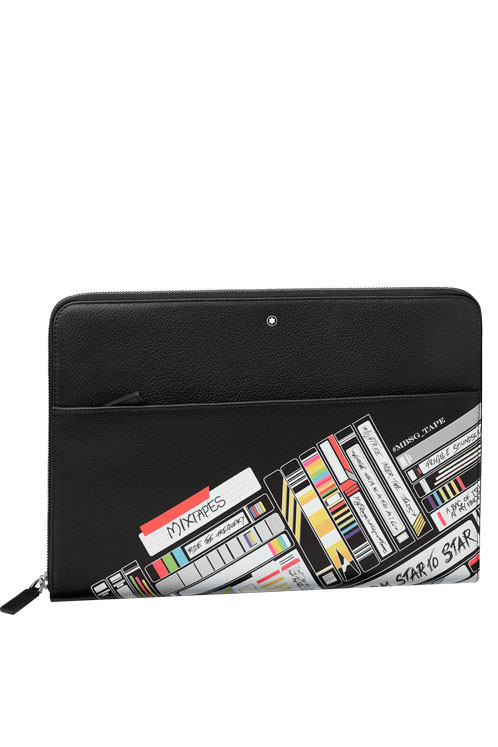 Leather zipped portfolio.
Leather zipped clutch with removable handle.
Leather cardholder.
Ingenuity and imagination surrounds the Meisterstück Soft Grain Mix Tapes capsule collection. The colourful and animated tapes, create a clear juxtaposition against Montblanc's signature black, grainy leather, producing a bold but wearable collection with pieces that replicate a sense of connection with the '80s. 
Smaller leather pieces in the collection are printed with the cassette motif while larger leather goods feature cassette sleeves in vibrant shades. Each piece in the collection is design to fit perfectly when slot together, just as a cassette does into its sleeve. 
The '80s vibes doesn't stop there. The Meisterstück Soft Grain Mix Tapes capsule collection explores the taps on the nostalgic memory of personalising mix tapes. The collection features a label print that can be personalised on each leather piece, creating completing the '80s vintage feel; an homage to a decade of iconic music, experimentation and cultural disruption.
The Montblanc Meisterstück Soft Grain Mix Tapes capsule collection is now available in Montblanc boutiques and online.