'The Rolls-Royce of'. You know you're at the top when you're often referenced as the benchmark for the best in something. Well this, ladies and gentlemen, is the Rolls-Royce of champagne chests, in more ways than one. But for starters, this Tudor Oak-accented champagne chest is crafted by the luxurious automobile brand itself.
The Rolls-Royce Champagne Chest opens up with a touch of a button to reveal a set that's designed for four guests (or for yourself if you're feeling really indulgent). At a starting price of approximately SGD63,000, the bespoke creation comes with four hand-blown glass champagne flutes—each polished aluminium base comes etched with the 'RR' monogram—that is arranged within the chest as a nod to the V12 engine, four cotton napkins that are each embroidered with the 'RR' monogram, two mother-of-pearl spoons for caviar, and three porcelain bowls.
Because each Rolls-Royce Champagne Chest is a bespoke creation, configurations can be made according to your taste. The caviar configuration for example, includes two thermal caviar caissons, as well as two blini caissons—all to complement your champagne hour with.
There's no doubt that the price is steep. But this is bespoke luxury, after all. And there are not that many things that are as indulgent as sipping champagne from a dedicated chest that's positioned right next to you, while you gaze into the clear, chlorine-treated water of your pool. Luxe.
But if SGD63,000 for the piece is too much, here are five other ways to indulge.
Because you're a star, you need an evening blazer that's decorated with actual star signs of the universe. Pro tip: ask a girl for her star sign and then ask if she can point it out of the jacket. (No, please don't).
You can't possibly lounge by your pool in just any mere robe from Spotlight or Muji. It has to be in something that reflects a decadent you. It has to be Gucci. And it has to be green because that's the colour people will turn when they see you in one.
Wool? Please. Your delicate skin is too good for anything that scratches or itches. Your sweatpants must be made from the softest of cashmere, combed softly by artisans as they whisper sweet nothings to the goats.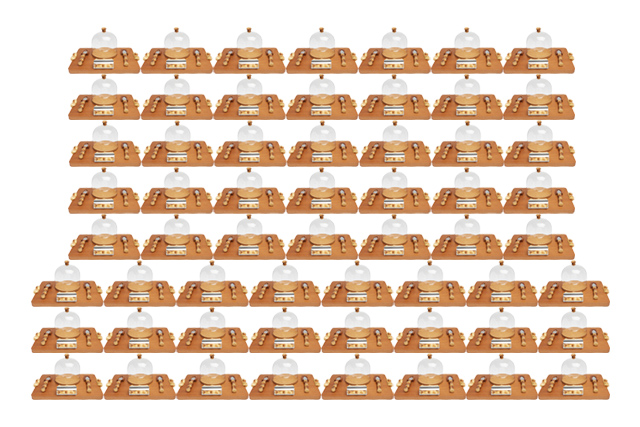 A luxurious champagne set needs to be accompanied by a cheese platter set that looks equally as indulgent. Cheese from Cold Storage will never taste the same ever again once you've enjoyed cheese place atop of this Lorenzi Milano set.
Don't even think of wearing a pair of sensible, rubber slides at the poolside. These leather slides are a more eco-friendly option and with 62 pairs at your disposal, getting them wet is really not a big deal.
Related stories:
Dior Men's metal Saddle bag and other ways to spend SGD48,000
Balenciaga's layered coat and other ways to spend SGD8,760
Bottega Veneta's Maxi Cabat and other ways to spend SGD13,630
Louis Vuitton's Monogram Brown Logos Chalk Nano Bag and other ways to spend SGD2,190
A wearable Iron Man Mark 47 XLVII suit and other ways to spend SGD11,022
Samsung's 98-inch Q900R QLED 8K Smart TV and other ways to spend SGD99,999
Louis Vuitton's Jenga set and other ways to spend SGD3,436
JW Anderson's leather cap bag and other ways to spend SGD1,270