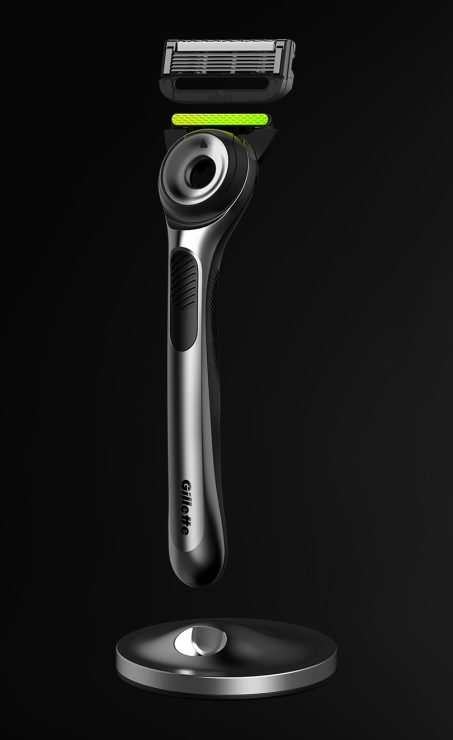 Over the years Gillette, the world's largest razor company, has come up with countless innovations on what is essentially a simple act. Few things are as universal as the personal grooming routine that is shaving— every morning, men wake up and drag blades over their faces.
GilletteLabs, which is the style- conscious and cutting-edge (pardon the pun) division of the Boston- based brand, has come up with a way to elevate this experience. Cue the new design dubbed the GilletteLabs with Exfoliating Bar Razor. It's the second product to come out of the line, and its diecast zinc metal construction—tipped with rubber sections to improve grip—makes it feel like a premium product in the hand. The handle itself even comes with a lifetime warranty, which the brand touts as the last razor you'll have to buy.
The compelling idea with this razor is that it levels up the ritual of shaving by going back to basics.
Namely, the benefit that exfoliating offers. By removing dirt and debris from the surface of the skin, a practice encouraged by barbers in general, razor blades can glide more smoothly and offer an easier shave. By building in an exfoliating bar, this razor also exfoliates and shaves in a single go. Nifty.
The brand has also added thoughtful details like a 2D FlexDisc circular pivot that adapts to the contours of your face and maximises the razor's contact with skin, as well as a five-blade cartridge design that features some of Gillette's thinnest and finest blades mounted on responsive springs.
"Most men see shaving as a chore," says Procter & Gamble CEO Gary Coombe in a press release. The idea of this new design, according to him, is thus to "elevate the shave experience from a chore into a pleasurable everyday experience". To that end, the GilletteLabs with Exfoliating Bar Razor comes with a magnetic docking stand that keeps the tool dry, clean, ready to use and (perhaps most importantly) looking good on your bathroom counter.
---
This story was first published in the December 2022/January 2023 issue of Esquire Singapore.