No, unfortunately, this is not an article about a chicken raised to the sounds of Beethoven, in a coop painted like the Sistine Chapel. Far from it, actually. It's about a chicken that never experienced the world at all—never heard its sounds or saw its sights. In fact, this chicken didn't even live. Scientists grew it in a lab—minus the face, legs, organs and consciousness—and then they sent the lump of meat straight to the fryer. Thus, in 2020, began the sale of cell-cultured chicken bites, or to give them a less deceitful name, no-kill nuggets.
Today, SGD20 can buy you an eight-piece bucket from KFC. It can buy you 12 drumlets from Nando's. Or it can leave you three dollars short of a plate of Good Meat cultured chicken, made up of a maple waffle, a few bites of lab-grown meat and a side of hot sauce.
Imagine spending SGD23 on the latter. Now, imagine getting robbed. Feels similar, no?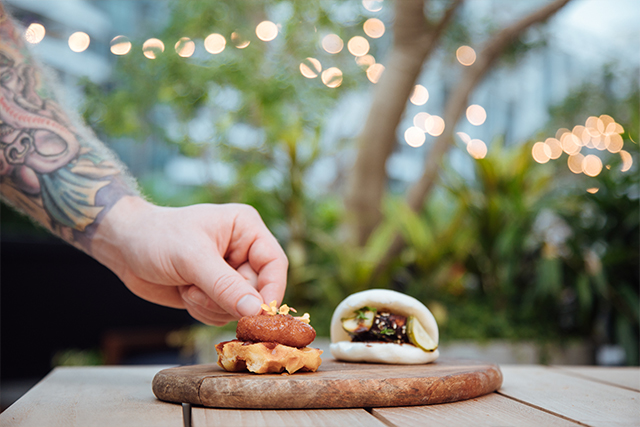 After decades of research, it has finally become possible to give up meat without giving up meat. But the solution's far from perfect. Even though it really is chicken this time, and not some other plant- or soy-based alternative, the texture still doesn't feel the same. The consistency still feels off. And you can't enjoy your newly cleared conscience because in the process of achieving it, your wallet met a similar fate.
That's not to say that cultured chicken isn't a big deal. It's a scientific breakthrough which could soon prove crucial in our fight against climate change. There has been a pressing need to decrease meat consumption for some time now—due to the greenhouse gases and deforestation associated with rearing livestock—but lab-grown meat could provide an easier compromise. While it's clear that most people would rather watch the world burn than switch to a diet of vegetables and legumes, perhaps they'd be slightly more agreeable on nuggets and patties which, with some ignorance, could pass for chicken.
There's still work to be done before pitching them the idea though. Lab-grown meat can be produced with lower emissions and land requirements than its traditional counterpart, but only once production is scaled up to significantly higher levels. If used as a substitute, it'd save the lives of animals, but at the same time it could put human lives in peril—over a billion people from low-income groups who rear livestock for a living.
Finally, there's the ethical dilemma. Would switching to lab-grown meat really clear our conscience if we're motivated, not by our love for animals or the environment, but by self-interest? Once the price of cultured chicken goes down to SGD5 (from SGD23), does our chance at redemption go with it?