When Akio Naito was tasked to take charge of Seiko Watch Corporation's North American business back in 2016, it was one of the greatest challenges he'd had to face. At that time, public opinion in that market about his brands which included Seiko, Grand Seiko, and Credor was either non-existent or very low. But in just five years, he'd not only turned the business around, but converted non-believers into some of the most fervent Grand Seiko and Seiko collectors in the world.
Today, Grand Seiko has garnered legions of ardent fans all over the world, who are drawn to the brand's unique balance of exquisite Japanese heritage and craftsmanship with technically innovative and highly precise watchmaking know-how. In particular, Grand Seiko limited production models with specially created dials have become an obsession for many watch collectors. Customers looking to acquire pieces like the Grand Seiko Heritage SBGA211 also known as the 'Snowflake' dial should expect to join long waiting lists as these products simply cannot be rushed.
But nature-inspired dial designs are just one aspect of Grand Seiko. Since its inception, the brand has always been focused on innovation and precision, and it has certainly delivered the goods on this front. Esquire Singapore met up with the newly minted brand president to find out more about the road ahead.
ESQUIRE: It's such a pleasure to meet you Mr Naito. Congratulations on your new role. Please tell us what your vision is for your brands.
AKIO NAITO: For Grand Seiko, which we made an independent brand in 2017, our aim is to establish it very firmly as a global luxury watch brand. We are in the process of expanding the business, especially outside of Japan. The brand has existed in the Japanese market for just about 60 years and we launched Grand Seiko on a global basis in 2010. So compared to 60 years of history in Japan, we only have 10 years of history as a global brand. So to many other markets the brand is not known as a luxury brand. My goal is to strengthen our communication to tell all consumers, not just watch aficionados, what is Grand Seiko and what is our unique identity as a brand.
ESQ: What about Seiko?
AN: Seiko has been widely recognised throughout the world. Because it covers such a wide range of pricing segments as well as collections, from dress to sport, the identity as a brand is not so clearly established. Consumers in different countries probably have slightly different image of Seiko. I would like to establish a clearer identity for Seiko.
ESQ: How will you go about that?
AN: We have been pursuing in the last several years what we call a global brand strategy centring around Prospex as the sporty line, Presage as the dress line, Astron for the highly advanced technology piece, and the Seiko 5 Sports as a more young and fashion oriented collection. Instead of positioning Seiko as a brand having everything for everybody, we would like to group together certain clearly identified collections and build the overall brand image more clearly.
ESQ: It's been four years since Grand Seiko branched out as an autonomous unit. How has it grown as a fully-fledged brand?
AN: That was historical turning point for the brand, and had a remarkable impact for our global business outside of Japan. We were able to develop and grow Grand Seiko sales quite significantly and quite rapidly after we separated the brand. Take the US market for example. I was assigned to develop Grand Seiko in the US in 2016. That year, Grand Seiko was not within the top 20 in sales of men's watches ranging from 5,000 to 9,999 US dollars. But last year Grand Seiko ranked fourth.
ESQ: That's amazing!
AN: We climbed up very rapidly as to be recognised as a luxury watch brand in the US market. Then it continued in Europe, China, and of course Singapore because of the effort of Thong Sia Singapore. Our Seiko boutiques have been very successful in selling Grand Seiko.
ESQ: We've noticed a consistent two-part approach each time you have a key launch. There are vintage tributes as well as modern interpretations. Why is this important to you?
AN: We have a rich history and heritage in watchmaking in the past. I believe faithful recreations and modern interpretations serve different purposes to our consumers, bringing them very unique values. A faithful recreation of a milestone or an iconic watch historically is received highly by our core fans. Watch aficionados who love the history of Seiko or Grand Seiko. For the modern reinterpretation of historic models, I think they appeal to the wider range of consumers who do not necessarily know what exactly was the history behind the watch, but they know we made an improved version with modern technology.
ESQ: Now that your goal is to raise the perception of Grand Seiko in the minds of global consumers, should we expect average prices to adjust upwards as well?
AN: We do not necessarily see the future in terms of a core pricing zone. But take the 'snowflake' for example, which is one of our best-selling models, roughly six to seven thousand US dollars thereabouts. And the latest best-selling model now, what we call 'white birch.' That one is selling extremely well all over the world and we are having such a difficult time catching up with the demand. There have been many complaints coming to me that we have to create more. This one is about ten thousand US, so maybe 20 to 30 per cent higher than 'snowflake'.
ESQ: But 'white birch' comes with the new 9SA5 movement too. That's a major technical upgrade.
AN: Yes. It does contain a more advanced mechanical movement, conventional spring drive versus high beat new mechanical calibre. But as we improve on technological excellence or value, of course the cost is going up. The challenge for us, then, would be to deliver and communicate the value of our products so the consumer understands it is not too expensive to purchase.
ESQ: Indeed Grand Seiko dials have become a point of obsession for many watch lovers. Can you tell us more about the manufacture's dial-making scope and capacity?
AN: Our brand philosophy is 'The Nature of Time'. Often, design inspiration comes from natural beauty with the scenery of Japan. Especially for dial design executions. We pay so much attention and create intricate designs through processing certain materials and the special skills that our craftsmen and women possess in order to produce these special dials. It's not an easy process, certainly not a mass production, hence it's so precious and creates a unique identity for Grand Seiko. We always try to come up with a unique inspiration or design motif based on this brand philosophy.
ESQ: Are you working on increasing production capacity?
AN: Yes. Over the last few years we've been investing into our production facility and machinery. But certain processes have to be done manually by skilled craftspeople. That's why it's very difficult and challenging. Training people to become master craftsmen takes time. But definitely we are aware of the need to expand our production capacity and we are in the process of training these people.
ESQ: How do you never run out of design ideas for these incredible dials?
AN: Have you ever been to our factory? I think you will understand why from the moment you see the surrounding natural beauty of the factory. You see how nature influences people working in the factory, our craftsmen and women. It's natural for us to be inspired by the beautiful surrounding nature. Therefore we are always inspired to adapt natural beauty into our creations.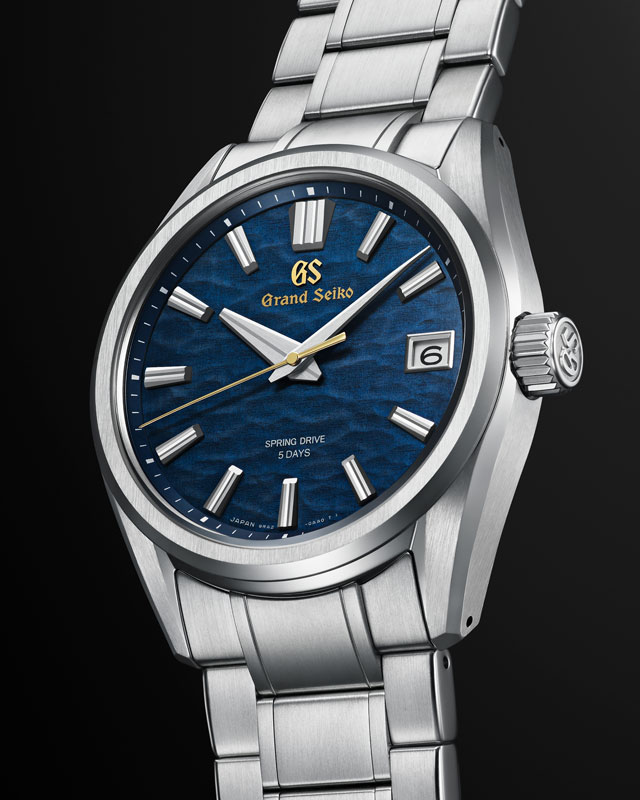 ESQ: Tradition is such an important value to the Seiko Watch Corporation. At the same time how do you navigate trends and technologies as we continually progress as a society?
AN: Our founder Kintaro Hattori left us a message that we should always be one step ahead of the rest. So the drive to create innovative technological excellence has always been in our DNA. So we constantly come up with the most advanced and most innovative new movements for example, our T0 tourbillon constant force movement, and we keep doing this for many years to come. We will constantly come up with new technology. Regardless of how the world around us is changing, our DNA is to create something innovative.
ESQ: The T0 Tourbillon and the 9SA5 are two major talking points for Grand Seiko now. What do they signal for the brand in the road ahead?
AN: The 9SA5 was not easy to manufacture. Our technical designer spent so much time perfecting the technical design of the movement. But the manufacturing part is still very difficult. So I don't think the price will come down even as we increase volume. That's the fact. T0 and 9SA5 were produced by same team of engineers who were committed to do everything it takes to perfect the mechanical movement.
ESQ: What are the future plans for these two technical superstars?
AN: T0 is such an innovative and interesting mechanism. With the combination of tourbillon and constant force in same axis, it is truly a unique product. What we have in mind, and this might be too early to explain in a more concrete way, but my vision is to come up with a group of products taking advantage of the co-axial technology to drive 9SA5 and T0 in the very near future. So it may be slightly high end but at the same time it's an attractive and never-before seen type of product.
ESQ: How do you ensure that Grand Seiko and of course Seiko as well remain relevant to modern lifestyles?
AN: Emotion is a very important element for people to buy a luxury watch. A mechanical watch is like your partner. You carry it always and you can pass it on to the next generation. To communicate that kind of story is how we can differentiate our timepieces from more functional and utility devices like the smart watch. That's how we should pursue building our brand. Emotion is an important element, especially in this changing world, even during and after the Covid pandemic.
ESQ: And how is the company as a whole staying connected to its community?
AN: Sustainable development goals is now an important theme for every business and we are no exception. We try to connect or link our business activities, or our brand, with how we can contribute to society. Take 'white birch' for example. There is one of the largest white birch forests located in Iwate Prefecture near the Grand Seiko factory. We are going to help preserve the wild white birch tree forest. That's one example of how we would like to link our activity with social contribution.