Never underestimate organic relationships. The confluence of complementing components can result in the best possible effects without much effort. Such are the wonders of biology. Australian clean beauty brand Grown Alchemist taps into this and extracts active ingredients naturally occurring from nature which are beneficial to human biology.
Now, Grown Alchemist has extended its environmentally-friendly product range from skincare to bodycare. And they will be available in Singapore too. We caught up with Jeremy Muijs, CEO and co-founder of Grown Alchemist, to understand the importance of natural active ingredients and the brand's stand behind clean and green beauty.
View this post on Instagram
ESQ: What is the inspiration behind Grown Alchemist?
Jeremy Muijs: After working for many years as consultants in product and brand development, Keston and I decided to move towards the natural side of the skincare market. It was during this shift that we saw our clinical results were demonstrating improved cellular function when exposed to natural ingredients. This realisation gave birth to the Grown Alchemist.
ESQ: Why the decision to expand Grown Alchemist's presence in Singapore now?
Jeremy Muijs: We have been wanting to come to Singapore for years but have waited for the right opportunity. The timing is perfect for us with the right strategy and partnership! We hope to introduce and educate our Singaporean consumers about our brand and what we stand for, and our philosophy Health=Function=Beauty.
We use natural, cell-communicating peptides like Neuro-peptides and Tetra-peptides which deliver amazing, visible results. Our goal is to enable Singaporean consumers to have access to the best clean beauty products from Australia that promise the results.
ESQ: Tell us more about the minimalist design process and language of Grown Alchemist.
Jeremy Muijs: At Grown Alchemist, we believe that good things come in considered packaging. We wanted to create a product exterior that does justice to the amazing formulations inside.
Packaging has the power to attract and engage the consumer as well. This is why we have been so careful about the presentation of our minimalist, sustainable packaging. We want to retain an aspirational element to the Grown Alchemist consumer experience.
ESQ: What are the common misconceptions of clean and green beauty?
Jeremy Muijs: A common misconception is that organic and natural products don't work as well.
Clinical research has compared the antioxidant and nutritional benefits of organic ingredients with non-organic ingredients. The results show organic ingredients are richer in essential nutrients than conventional ingredients. These nutrients like antioxidants, vitamins, mineral salts, essential fatty and amino acids, are critical for skin-cell function and repair, optimising the beauty result.
Because of the restrictions placed on how organic ingredients are grown, they are also free from harmful and potentially carcinogenic chemicals. Grown Alchemist products use organic ingredients certified by the internationally recognised organic certification body, ACO [Australian Certified Organic].
Our preservative systems are natural-oriented and where possible are 100% natural relying on antioxidants, anti-bacterial extracts, essential oil extracts, and herbal extracts to protect our products from contamination.
In terms of shelf life, our product packaging is made from glass and hardened premium PET plastic, one of the world's most recycled materials and also the most non-leaching and inert. This type of packaging ensures the product remains as healthy and powerful as the day it was created.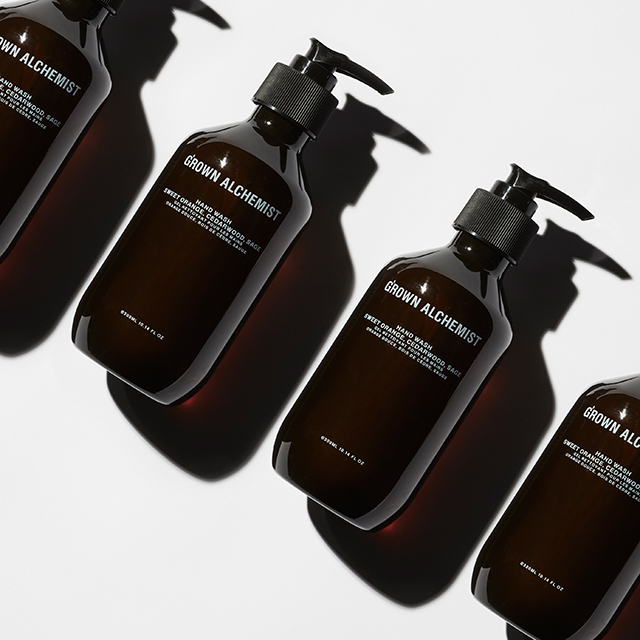 Body Cleanser Chamomile Bergamot Rose
Detox Serum Antioxidant
Anti-Pollution Primer Prebiotic Peptide and Anti-Pollution Shield Complex Ganoderma Extract
Detox Night Cream Peptide-3 Echinacea Reishi Extract
Instant Smoothing Serum Tri-Hyaluronan Complex
Gentle Gel Facial Cleanser Geranium Leaf Bergamot Rose-Bud
ESQ: Which products from Grown Alchemist is your favourite and can't live without?
Jeremy Muijs: We have so many essential products to experience and enjoy in our range but it's only natural to have a favourite.
One of my favourite products is our Instant Smoothing Serum which is formulated using a complex-combination of plant-derived high, medium, and low weight hyaluronan molecules; that delivers an instant lifting effect through intense hydration, rapidly smoothing the skin's surface.
This formulation is ideal for use as an intensive hydrating treatment, counteracting the negative effects that sunburn, windburn, and air-conditioning can have on the skin. I also recommend this serum as the perfect instant plumping and priming product to use before an evening out!
ESQ: How is your daily skincare routine like?
Jeremy Muijs: When it comes to skincare, detoxification is a process I take very seriously; both personally and professionally.
Our Detox Serum Antioxidant +3 protects the skin from the complete force of not only oxygen—generated free radicals; but also, those created carbons and nitrogen. It's one product I always recommend for those looking for rapid results. In only two weeks of twice-daily usage, the skin is deeply detoxified, glowing, and hydrated.
My skin is on the drier side, so I use Hydra-Restore Cream Cleanser to cleanse and soothe my skin; Detox Serum and Instant Smoothing serum as a power couple to detoxify and hydrate; Age-Repair Treatment Cream that lock in the hydration and a powerful anti-ageing cream; and Age-Repair Eye Cream for the delicate eye contour area.
ESQ: How do Grown Alchemist approach the trend or boom in vitamins and acids such as Retinol, Niacinamide, and AHA + BHA? Can they be safely obtained via natural extracts?
Jeremy Muijs: We are always in the pursuit of the finest ingredients and formulations to optimise skin health and skin function. We work with Skin Scientists and Nutritionists to develop the highest quality supplements at a bioactive level. We are well aware of the recent trend in vitamins and acids used in skincare.
In fact, we have already begun our development of products and supplements using active ingredients a decade ago. We think of our brand as the perfect fusion of advanced natural alchemy and cosmetic science, continually driven by technological advances.
Our exposure to some of the world's finest formulators, we understood the science behind using active, natural ingredients to stimulate the biological functions that support healthy skin. We can only continue to build on this alchemical understanding through the advancements in technology to offer a deeper understanding of how we can optimise our topical and supplementary skincare treatments.
ESQ: Why the extension into haircare and bodycare from skincare?
Jeremy Muijs: We have a holistic approach to beauty and health. Health and beauty are inextricably linked. Our skin is our largest organ keeping our bodies protected from environmental toxins daily, aside from protecting us from environmental debris our body skin also absorbs the vast majority of what we apply topically.
This is why we believe everyone should have access to non-toxic, natural products that repair and rejuvenate skin function. Hence, our premium bodycare range.
For haircare, our hair and scalp health is constantly challenged by the world we live in. The frantic pace of modern living, stress, and environmental pollutants are capable of weakening, inflaming, oxidizing, and ageing our hair and scalp. We formulate haircare products that improve the health of our hair at a cellular level, reinforce healthy cell development, optimising cell processes to nourish and repair the hair.
ESQ: Lastly, which Grown Alchemist products are essential for a busy individual who wants a fuss-free routine?
Jeremy Muijs: Our skin needs a host of essential peptides, vitamins, and antioxidants to maintain optimal health. I would suggest products that align with our three-phase skin prescription of 'Cleanse. Detox. Activate.', as a safeguard for protection and repair processes.
For a busy individual with an easy yet effective routine, I would suggest Grown Alchemist Gentle Gel Cleanser, Detox Serum or Instant Smoothing Serum, and Hydra-Repair Day Cream (which can also be used at night).
Grown Alchemist is now available exclusively through Takashimaya's e-commerce website and will plan to have a physical presence at Takashimaya Ngee Ann City in the second quarter of 2021.