Interstellar fans, your time has come. Remember the watch that appeared in the movie and that played a key role in the entire movie plotline? Oh how could we forget, really. Well that Hamilton Khaki Field, nicknamed The Murph, was custom made for the movie and never intended for sale—until now. Right up to the last few minutes, Cooper played by Matthew McConaughey came up with a brilliant way to communicate with his daughter, Murph played by Jessica Chastain. He used gravity to tamper with the seconds hand of his watch. Using Morse Code, he transmitted the quantum data that was to help humanity escape Earth, which was wasted beyond redemption. Against the odds, Murph worked out the formula, shrieked 'Eureka!' and humanity is saved. Everyone lives, life goes on.
That timepiece probably got more screen time than any other watch in movie making history. It was also one of the very few that actually had something to do with the storyline. This is impressive even among Hamilton watches, a brand that has appeared in over 500 feature films from futuristic masterpieces to comedy capers, action blockbusters and inspirational biopics. So four years after Interstellar, commemorating its enduring relationship with filmmaking art, Hamilton releases the one and only Murph.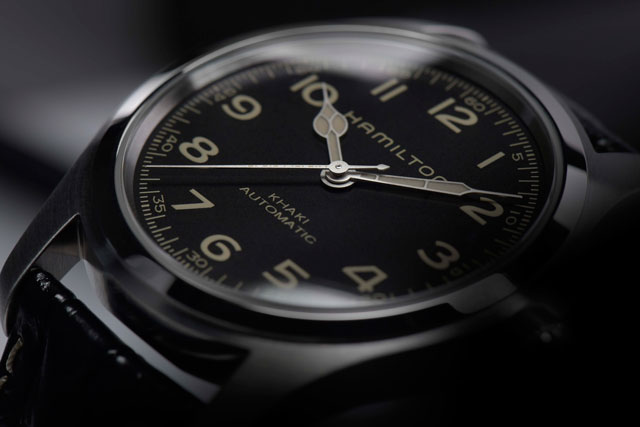 Designed to memorialise that moment where the all-important plot twist was revealed, the Murph has the word 'Eureka' very discreetly printed in lacquer in Morse Code on the seconds hand. Almost invisible to the naked eye, this feature is known only to the wearer and other fellow owners of the watch. Housed in a 42mm stainless steel case, the Murph has a black dial with beige Superluminova inlaid Arabic numerals and cathedral-shaped hands. It is an exact reproduction of the one featured in the movie and is casual enough for daily wear yet quirky enough for special occasions.
Hamilton has also gone one step further, collaborating with the movie's production designer Nathan Crowley, to design a special box for the watch. Inspired by the famous tesseract from the film, it's got multi-coloured stripes all over. This looks exactly like the inside of the supercube that allowed Cooper to communicate with Murph through time and space. It is a limited edition box, just 2,555 will be made, but the watch itself is not a limited edition. Inside the case is a H-10 automatic movement offering 80-hour power reserve.
The Hamilton Khaki Field Murph retails at $1,390 and will be available in stores from mid-May 2019.