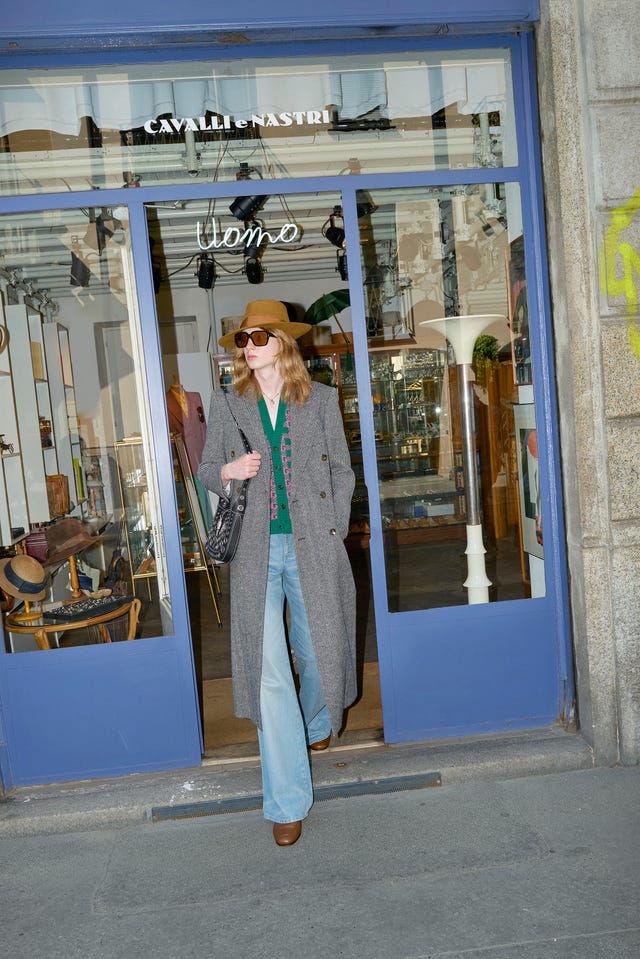 There are Gucci guys, and there are Gucci Guys. Harry Styles lands firmly in the latter camp. He doesn't just wear the label's clothes regularly—he sends WhatsApp messages to creative director Alessandro Michele just to shoot the shit. And when their busy schedules permit, they meet up for a glass of wine and do the same. It's a genuine friendship, one with its roots in the early days of Styles's ascension to music superstardom and Michele's rise to the same status in the fashion world.
One of the things that constantly comes up over the course of those texts and meetups? Fashion, naturally. And this week, in Milan, that shared interest was fully realized with the unveiling of the new "HA HA HA" collection, a 25-look collaboration between Styles and Gucci, named for a combo of both of their first initials. "We were thinking for a very long time of doing it, just for fun," Michele explains. "It started to be something really concrete maybe a year ago. And it's still pretty strange. It's still like 'hahaha,' you know? We didn't know, all of us, that it would become something big. Because it was not big. It was just a cozy thing."
What Michele means is that when he and Styles started thinking seriously about how they wanted to approach the collection, the idea wasn't to do something glitzy, glam, and high on pomp. Instead, they set out to create a "dream wardrobe" for Styles. Something that the singer-songwriter and actor could wear in real life. Fitting for an Englishman, it's shot through with Prince of Wales checks—tweaked, of course, with trademark Gucci eccentricity—herringbone wools, and no shortage of double-breasted jackets. But the impression is far from fusty. That's thanks to a few different elements, like the whimsical animal print on a shirt, an appliquéd heart on a pair of boots, or a bold intarsia design on the sort of sweater vest Styles has worn (exceptionally well) for years. But the one infusion you simply can't miss, looking over the cut of a pair of trousers or peeking at the details of one of those double-breasted jackets, is the influence of swaggering '70s tailoring.
The whole experience did offer a sense of sifting through someone's closet, albeit in a more considered, commercial setting. It also felt, in a departure from the general vibe of fashion week, pretty casual. Easygoing. According to Michele, that's the same way he and Styles worked together to bring the collection to life. "We'd have an easy conversation on WhatsApp, or seeing each other at a dinner," he says. "We are not usually behind a table and just working. It's more about life, because when you are in contact with someone in a very deep way, there's not really a way to do it. It's just something that happens."
And now that it's happened, Michele seems (just a little) taken aback. "It's interesting because it's authentic," he says. "I was in a way kind of shy to show the things that were really kind of personal. And now they have a label. Maybe they're going to have a price. That's strange."