Safe is comforting, but predictable. In contrast, to be a cut above the rest while upholding expected standards requires capable hands and skills. For instance, woody notes are always synonymous with men's perfumes. Rarely other scents from the fragrance wheel get the spotlight. This doesn't faze Christine Nagel in featuring another aromatic as an anchor for Hermès's newest signature scent. "I had to open up other, less predictable paths to move away from the usual woodiness of men's scents."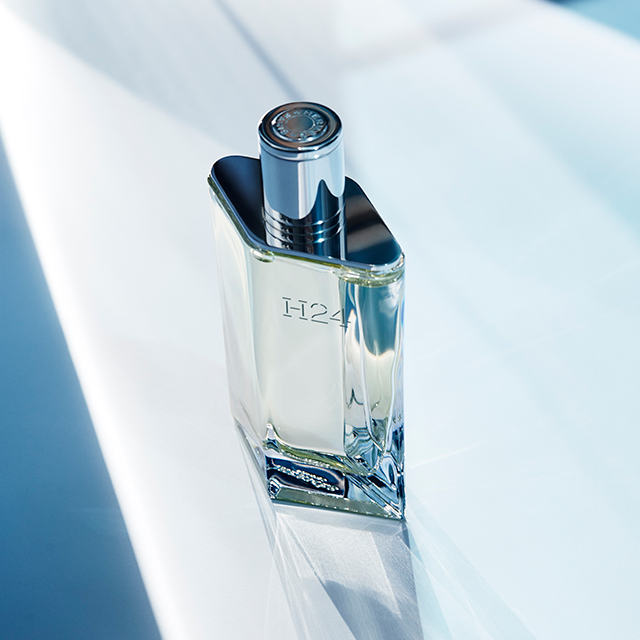 Named H24, this botanic herb and plant-based perfume is bold and daring for the French luxury Maison. "It's a name that's dynamic, contemporary and modern. And at the same time, sober," explains Nagel. Coincidentally, there's no direct connection with Hermès's signature jacquard tie of the same name.
"I like it because it's a name that talks about the house's masculinity and movement. And at the same time, it's both innovation and tradition. H stands for 'hour' and 'Hermès' [and] of course, H for 'homme' [which is] 'man' in French, and for 'Human'. On the other hand, 24 is [taken from] '24 Faubourg', our iconic address in Paris. It also stands for 24 hours of the day."
Inspired by Hermès menswear's artistic director Véronique Nichanian's timeless yet forward-thinking designs that shaped the urban man, Nagel sought to translate those properties through a fragrance. "I wanted a change and a different way of looking at things. When I look at [Nichanian's] menswear designs at fashion shows, I sense that notion of fluidity, energy and suppleness. I immediately associated a vision of this man, dynamic and in motion."
The experienced perfumer describes the motivation to an accelerated film. "It's like planted little saplings. The seeds are sown and through the strength of the plant that breaks through the earth grew to look for sunlight. This surge out of the Earth is the starting point." So how is it possible to identify such physical aesthetic qualities and emotion using nose work only? It's time for Nagel to exercise her prowess.
Clary Sage (Salvia Sclarea)
Narcissus
Rosewood essence (from Rosewood)
Sclarene
Instead of having a woody note as the backbone, botanical takes the stage. H24 avoided the usual suspects. Instead, it highlights clary sage (salvia sclarea), narcissus, rosewood essence and sclarene as key ingredients.
The clary sage from the aromatic botanical fougère olfactory family is used by Nagel to make a parallel to Nichanian's work. "[Clary sage] reflects the duality of Nichanian's designs—sensual and soft like the leaf which is almost velvety. At the same time, you can feel that it's very clear cut like the edges of the leaf. I chose the sage, which is a leaf, as the backbone. Maybe in this fougère category, everybody uses lavender. But it was more surprising for me to use sage."
Narcissus also has qualities that are essential to H24 and its narrative. "Narcissus is a man's flower as it's quite green and raw. Thus, it's comparable to the Hermès man that Nichanian often puts in her clothes—there's always that electric touch of colour in her collections."
When encountered, narcissus is that spark on the H24 that's recognisable. As Nagel explains, "I've worked on it using a special technology that distillates it with a material of synthesis [techniques]. Without removing that sparky side to it, I made it more supple that resulted in a process where one material dissolved and melt into the other, which they call the 'fondue enchaînée'."
Isn't it ironic and taboo to use wood after declaring to steer away from them? The secret lies with the scent as the woody trail ends at its physical form. "The rosewood brings freshness and doesn't smell woody at all. It was quite surprising and new for me to bring freshness through wood and not citrus," says Nagel. But gaining access to this elusive ingredient is challenging as Brazil completely closed its doors about 20 years ago because it involves deforestation of the Amazon forest.
"I discovered small producers of rosewood in Peru that were sustainably driven. Since they're respectful, they were able to get the approval to use this wood. Not only I'm happy to use this rare raw material once again, but I'm also glad to assist these small producers on their productions."
Lastly, sclarene, a material of synthesis, complete the quartet. Deemed "special, delicate and sophisticated" by Nagel, this biotech handiwork isn't obviously detected initially but grows into a sensual warm fragrance that's akin to "warm, metallic steam" that sustains then H24's musk. "This fragrance develops a scent that's exactly of Nichanian's tailoring workshops. A steam which has the scent of wool and hot metal. It's very daring to showcase this warm metallic note."
Nagel masterfully connects the link of Nichanian's Hermès urban man through research on raw materials which conveys those sensations seamlessly. "When she mixes fabrics such as fibres, cashmere and leather in certain garments, you can't see any stitches, it's seamless. They melt into each other. So that's the freedom I have to look for when sourcing materials using my experience."
This vision extends to the H24's bottle too. Showcasing the intricacy of glassmaking, the Philippe Mouquet-designed creation taps on the aerodynamic lines of this refillable object to express the spirit and energy of a contemporary man. Imagine that the bottle's shape had been altered by an invisible hand's firm grip. The box, made from 100 percent recycled and recyclable paper makes reference to the fragrance's sustainable composition.
Although certain scents can be deeply personal, anything goes with H24 even if it's inspired by masculinity of the Hermès man's universe. "There's nothing sexier for me than women wearing a men's fragrance, you know," exclaims Nagel.
"Personally, I'm dressed a lot in Nichanian's Hermès designs. Because I feel the sensuality and it's 'so Hermès' for me. I love these clothes as they speak to me. So, I created this fragrance for men. If women wear it, I'd be delighted. I think you have to give this freedom for everyone to do what they feel. But I don't forget that my source of inspiration is a masculine inspiration. But if it attracts women, well, why not?"
H24 is now available at Hermès Singapore stores including Hermès Liat Towers, Hermès Takashimaya, Hermès Marina Bay Sands, selected counters, and https://www.hermes.com/sg.