You've seen it coming. Restrictions placed on Lunar New Year house visitations are definitely in effect this year. Hence, if you aren't one of the eight unique visitors chosen for the day, take this opportunity to explore a Singapore decked out in auspicious festive colours like red and gold.
While basking in Chinese New Year's sights and sounds, do remember to capture special moments worth reminiscing. From synchronised lights to majestic lion troupes, an iPhone can photograph them in detail. And don't underestimate the iPhone 12 and 12 mini especially. It can hold its own against the 'Pro' siblings.
Here, award-winning Canadian-born Singapore-based photographer Scott Woodward, who won the iPhone Photography Awards among others, tell us the tips and tricks on capturing visually appealing shots. He exclaimed: "To me, people don't necessarily have to travel to make "travel photography". There are fascinating places, characters and stories everywhere—even in our own backyards. And now more than ever—when we cannot travel—we have the opportunity to be tourists in our own city—to explore our familiar surroundings with a keen eye and a fresh perspective."
Rule Of Thirds
The Rule of Thirds is perhaps the most well-known 'rule' of photographic composition. Imagine your image is divided into 9 equal rectangles by 2 vertical lines and 2 horizontal lines.
The Rule of Thirds dictates that you should position the most important elements in your scene along these lines, or at the points where they intersect, for more well balanced and interesting photos. This asymmetry makes photos more appealing to a viewer because it causes visual tension. Turn on your grid in your iPhone settings to assist with guiding your composition.
Footnote: "By following the rule of thirds, eyes will automatically be drawn to subjects that stand out."
Add Life To Landscapes
Beautiful landscape shots can be breathtaking. But if you've ever been subjected to a friend or family member's holiday snaps, you know how dull they can become after you've looked at dozens of them in a row.
Try adding people to your landscape photographs—living elements tend to evoke stronger emotions in viewers. Even if they occupy just a little bit of space within your frame, a human touch helps make a more powerful photograph. It gives scale to an image, offers perspective and adds drama.
Footnote: "Human presence also provide contrast and a sense of movement which them transports you to that particular moment. Action stills can be powerful."
Golden Hour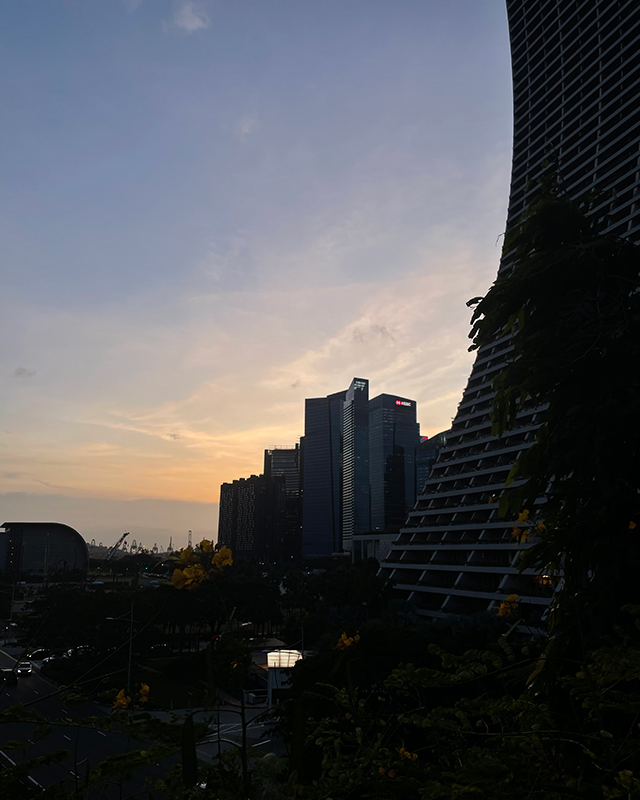 The most critical ingredient in all great photographs is lighting. The best images always make interesting, powerful use of light. The sun's angle significantly affects the warmth, contrast. Practice understanding how light works and reflects and warms.
As often as possible, shoot in the warm 'golden hours' of early morning and late afternoon (one hour after sunrise or one to two hours before sunset. This is when the sun is low and the light is soft and yellow/orange).
Footnote: "Different light tones definitely provide visual interest. So experiment with the brightness setting on the iPhone for a clear or silhouette shot."
Blue Hour (Night Mode)
Blue Hour is that magical time when the sun has already set, but there's still some light left in the sky. This twilight period—typically about 20 minutes after sunset—is special because, for a few fleeting moments, the sky takes on a predominantly blue shade. And Night mode on iPhone 12 makes it even more dramatic.
Night mode automatically turns on when the camera detects a low-light environment and, using a combination of hardware and software, helps bring out the detail in the dark areas of your image while preserving the night time feeling.
Footnote: "Gone are the days of grainy shots. iPhone 12 lenses pick up details effectively even in Night Mode."
Take Risks
An iPhone is much easier to handle than a DSLR. It is lighter and more compact, which means that you can use it to effortlessly make more interesting photographs. You can use this to your advantage: be on the lookout for dynamic and creative angles and experiment and push yourself outside your comfort zone.
Shoot without looking at the screen. Track a moving subject with your camera. Get on the ground and shoot up or get on a balcony and shoot down. Keenly observe your surroundings for natural frames, symmetry, reflection, patterns and textures.
The more creative you get, the more you'll learn about what works and what doesn't and the better your photographs will be…or maybe you'll just get lucky and make a beautiful accident.
All tips are provided by Scott A. Woodward and all photographs are taken by the author using Woodward's suggestions. Masks were only removed briefly for photo-taking and that all social distancing and health/safety measures were strictly adhered to.
The iPhone 12 and 12 Mini is now available at all Apple Singapore stores and apple.com/sg/iphone-12/.