Details do matter. From colours to materials, these often-overlooked elements have the ability to sway one's mood. But coming home daily to face the same old fixtures and fittings can make a weary soul feel even more tiresome.
Fortunately, it only takes a bit of effort on those pillows that embrace you nightly to send your mind on a vacation it craves. So, what do you need to do to achieve that? April Kwan, activity leader at IKEA Southeast Asia's communication and interior design department, reveals how we can transform an archetypal house into a functional and cosy home.
PLATSA Bed frame with 2 door and 3 drawers
TRYSIL bedframe queen size
LILL Net curtains
RESGODS Bed tray in bamboo
RESGODS Bed tray in bamboo
NATTJASMIN Fitted Sheets queen size
NATTJASMIN Fitted Sheets queen size
PLATSA Bed frame with 2 door 3 drawers
STOCKSUND armchair
TARNABY Table Lamp
TARNO Table 2 chairs outdoor
ESQ: What are some ways to refresh a house without making drastic changes to a familiar space?
April Kwan: You can be adventurous with soft furnishings. You can work a lot with textiles, table lamps, rugs, cushions etc. These are home furnishing items that are easy to change and that can refresh your room instantly. A fresh coat of wall paint will instantly change the look of your room as well.
ESQ: Why do colour and fabric come into play when creating a comfortable space? Tell us some recommended colours to experiment with.
April Kwan: Colour and textiles play a major role when creating a comfortable space as they affect your emotions in the living space. The choice of colour is a major factor when you want to dress up your room. In fact, colours influence your mood and how you feel.
Introducing neutral hues such as light pink, beige, pale mint or pale blues into your space is a safe bet as they go well with wood tones, soften light and make the room look cooler and more comfortable. To avoid ending up with an explosion of bright colours in a small space, you can gradually build colour by introducing extensions of the same colour or different shades and textures of the same colour as your furniture or accessories.
You can also stick to the same colour palette when you choose your furniture in a small space so that they can blend seamlessly with the rest of your room to create an uncluttered and stylish atmosphere. Choosing monochromatic black and white colours and natural materials like wood can also give your space a classic, established look.
By sticking to strong basics, you get a much longer-lasting style too and you get to switch it up by adding accents or a pop of colour through soft furnishings.
ESQ: Amidst the COVID-19 pandemic, how can we create a safe and recuperating area to safeguard our well-being?
April Kwan: Apart from practising good hygiene and keeping your surroundings clean, we believe that sleeping well helps to improve one's well-being. We believe in the five essentials of sleep: comfort, lighting, temperature, air quality and sound.
ESQ: IKEA also emphasis and focuses on better sleep. What led IKEA to be particular with the slumber realm?
April Kwan: We sleep for one-third of our lives, and at IKEA, we know how important a great night's sleep is to help us feel well-rested. In a perfect world, the bedroom should be our own tranquil nook, free from disturbance that can interfere with a good night's rest. With this in mind, we see this as an opportunity for IKEA to demonstrate its sleep expertise, by providing people with simple and smart solutions based on the 5 sleep essentials: Comfort, Sound, Light, Air quality and Temperature.
ESQ: How can IKEA provide a staycation experience at home?
April Kwan: When you think of a staycation experience, you will associate it with soft pillows, silky bed sheets, breakfast in bed, a calming atmosphere and ambient lighting. It's easy to recreate the same atmosphere at home with Ikea products.
Make your bed with lots of pillows, layers and textures so you can mix and match. Choose textiles you think are super comfy for a bed you want to dive into and never leave. Why not treat yourself to a morning in bed too? Chinaware stands steady on our RESGODS bed tray so you can read a newspaper or watch TV while enjoying breakfast.
ESQ: What are some tips to encourage one to stay more at home?
April Kwan: Lounging around in your hotel-style bedroom all day doesn't mean you have to stay in bed. A seating area with armchairs and a table feels very hotel-like and creates a cosy reading area for a change of indoor scenery. Create some shade by hanging a pair of thick curtains that you can adjust to let some sun in. They will also keep out the heat. In addition, use an LED lamp that doesn't generate warmth as reading light.
Amp up the ambience and please your senses with fresh flowers and lit candles. For an even more luxurious, getaway feeling, go big with a wall of mirrors.
Also, layered curtains help shut the world out whenever you want. A sheer interior layer lets natural light in but still creates privacy. A thick curtain on top blocks out much more light and dampens noise.
SKARSTA Desk sit stand white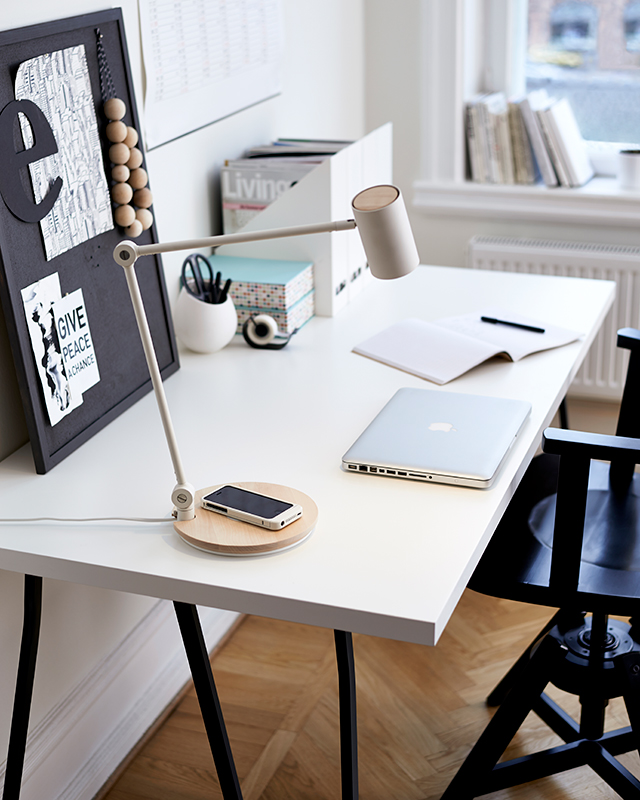 RIGGAD LED work lamp with wireless charging
KVISSLE Desk organiser
NAVLINGE LED work lamp
BEKANT Storage unit with smart lock
BYLLAN Laptop support
BORTBERG Lumbar cushion
ESQ: Name some essential Ikea products to have for an effective workstation. And what is often overlooked when organising a workspace?
April Kwan: A height-adjustable desk is ideal as it allows you to change position often. Alternating between sitting and standing increases circulation and reduces potentially harmful effects from sitting too long.
When space is limited, choose hard-working essentials with hidden extras. Task lighting is best for focused desk work and the base of the HEKTAR or RIGGAD LED work lamps is also a wireless phone charger. It has a USB port too if you prefer to plug in a charger cable.
Accessories are often overlooked in workspaces. You can improve your sitting posture with a lumbar cushion to relieve the spine and lower back. Or consider laptop support if you are working on the sofa. The laptop support is stable on your lap or an uneven surface thanks to the formable base.
ESQ: How can 'Work from Home' (WFH) individuals apply IKEA products for a conducive and suitable working environment? Does modular furniture have an advantage?
April Kwan: Modular furniture gives you that flexibility to turn any space in the home into a conducive environment for work. If space is shared by several family members, you can use adjustable tables and chairs that provide variations in seating. You can also use a storage trolley to store away personal work-related stuff.
ESQ: How important is it to include a desk lamp?
April Kwan: Yes, desk lamps are super important! A desk lamp with adjustable arm gives you the right level of light that you need when you are working. When there's insufficient light in your workspace, you tend to strain your eyes more and it may damage your eyesight over time.
A good table, chair and a work lamp are a must-have when planning your work area. A work lamp can be a table lamp, wall lamp, floor lamp or pendant lamp. If you are working with limited space, try using your existing lamps in your house. Tip: The light source has to be from around 40-65 cm, with an adjustable arm.
ESQ: What are some Ikea organisation products you can't live without?
April Kwan: I like my workstation to be as clean as possible. Besides my desktop and a work lamp, I will place a decorative piece on my desk which is changed from time to time according to my mood. It can either be live plants or fresh flowers in a vase. For the rest of the items, I prefer to keep them out of sight in a drawer unit next to me.
Another one of my must-haves is the Skådis pegboard. It's flexible and comes with many accessories which I can change easily to help create the best storage for my needs.