Fashion's role extends beyond the runway and trends. At its extreme, it is a reflection of sociopolitical circumstances, historical nuances as well as an art form in its own right. The latter is especially apparent through curated exhibitions. A curator's role in that case is crucial in displaying the semiotics imbued within garments. It's through exhibitions that curators seek to tell stories and deliver new perspectives in hopes of invoking discourse among visitors and purveyors alike.
A piece of garment, when curated and placed with others that are seemingly devoid of similarities, serves to piece together a larger narrative. Take New York's Metropolitan Museum of Art's spring 2012 exhibition for instance. Titled Schiaparelli and Prada: Impossible Conversations, it was an exploration of how the two aesthetically different Italian designers had similarities in their approach to fashion in several ways. The exhibition displayed the importance of curation and the possibilities that it can potentially open up–bringing to the fore ideas and analyses that would have otherwise been missed.
In Singapore, young curator Weiqin Chay seeks to invite a more democratic discourse that involves artists beyond their own exhibits through Veneer and Visage. Through codes of dress coupled with a multi-medium approach, the exhibition delves into the ways identities are projected when uncovering the façade of one's appearance. Situated in Supper House—a creative space focused on bringing artists together—exhibited works include fashion, textile composition, sculpture, and digital painting by six multidisciplinary Singaporean artists who tap on their personal narratives to create artworks that reimagine the 'face'. To find out more about the exhibition in the eyes of its curator, we speak to Chay about his intent.
ESQ: What spurred you to start this curatorial project of yours?
WEIQIN CHAY: I was inspired to look at the various ways we veil or obscure our face, body, and identities. Granted, many shows have already touched on the topic of masks. But I thought to look beyond the mask as an object, and explore the idea of masking conceptually through multidisciplinary art and fashion. The topic continues to be relevant as our modes of communication are interfaced with facial-morphing technologies, or even memes and emojis onto which we project our expressions. Essentially, I'm trying to ask: If we don't see each other face-to-face, then what are the different layers through which we conceal or project ourselves?
ESQ: Rachael Cheong, Samuel Xun and 雅 Y A's works are especially interesting. Can you explain a little bit more about their interpretation of the theme?
WEIQIN CHAY: The fashion piece by Rachael Cheong of Closet Children is inspired by the iron maiden, an ancient torture device that the king designed to be an automaton in the image of his wife. Combining her research on Barbara Creed's concept of monstrous femininity and Angela Carter's The Bloody Chamber, she recreates 'The Iron Maiden' that strips away the association with male violence and weaves in the protective ability of fashion for the female body.
Samuel Xun's 'Maybe, Just Maybe' is reworked from an earlier fashion-informed piece into a canvas composition in his signature camp aesthetic. At once confrontational and meditative, the process of creating a face that glares right back at you appears to be a stare-off between the artist and his inner demon.
雅 Y A sees her 'An Everyday Thought' photography series as pages taken out from her journal. She situates herself in a domestic setting to uncover her reflections on the social issues beneath the layers of banal, routine life. Her dismembered body and visage disrupt the legibility of appearance and allude to her belief that the human condition is amorphous.
ESQ: What message do you intend to convey to the visitors to your exhibition?
WEIQIN CHAY: The exhibition unravels the different facets of encountering the face today. It serves to reflect on ideas of concealment, protection and identities. It's a fun approach and relatable topic for people to come see works from diverse disciplines. Through the multidisciplinary approach in my curation, I hope visitors also gain a greater appreciation of the diverse creative genres.
ESQUIRE: How do the exhibits work in tandem or interact with the space?
WEIQIN CHAY: The artists and designers in this show were specifically selected because of the multidisciplinary nature of their practice and background. The venue partner, Supper House, was also built with the same intention of getting creatives or artists across diverse disciplines to mingle. When I shared my proposal with the founder of the space, Ashley Chiam, he gave the green light immediately. I'm glad our values aligned in that there are always more to be learnt from each other when different disciplines cross paths. I guess looking back, staging the show there made a lot of sense because I've since interacted with many creatives who aren't from the field of fine arts.
There are small and subtle details in the placement of the works that make thematic connections, such as aligning works that talk about gender issues in a vista, or works that relate to ideas of domesticity within the living room. Certain 'faces' actually stare right at you from afar as you walk through the space, and that's the same for Samuel's work, which is aligned to the middle of the couch for visitors to come face-to-face with the issues that he's exploring. But other than those, it's mainly about working around logistical and budgetary constraints, and spreading the works throughout the space, such that viewers can spend a fairly equal amount of time with each installation.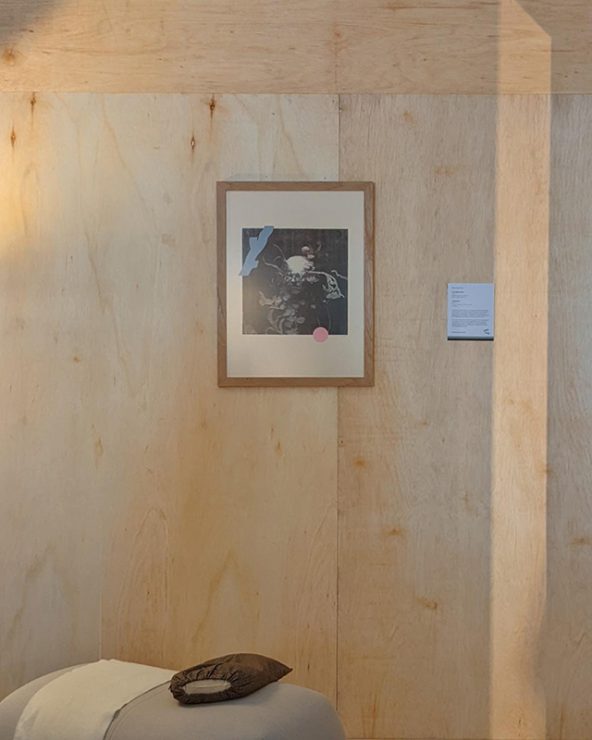 ESQ: What's the most important value to you when you curate?
WEIQIN CHAY: As an interlocutor, it is important to have empathy to make sure that the artists' voice comes through. That's also why I've produced a publication where I've paired the artists to interview each other about their works and concepts. In doing so, I wanted to relinquish my voice and interpretations, and draw the focus onto theirs. I also believe that when artists/designers/creatives from different disciplines interact, they are able to point out how concepts or techniques resonate or differ in each other's works. Their dialogues were so interesting! I gathered more perspectives than I would have if I had just interviewed them individually. You can still DM @veneerandvisage if you'd like to get a copy.
Back to the point about empathy, I actually spent quite a bit of time considering the premise of the dialogues, understanding their works, and even their personalities (laughs). As cliché as it sounds, building good relationships is important, because I don't just work with the artists. The project also involved venue partners, and designer Justin Noah Chua, who seamlessly integrated the themes of Veneer and Visage in designing the exhibition's branding, social media, and publication.
ESQ: Do you have any plans for your next curatorial venture?
WEIQIN CHAY: Veneer and Visage is actually more of a lesson for myself—to figure out the extent to which I can blur the line between fashion and art in the context of a local exhibition. In terms of fashion, I hope to exhibit pieces that don't just have creative designs but are also able to articulate strong intentions and relevance to contemporary issues. I know of a few friends who are deeply passionate about fashion curation, and I hope we can all work towards carving out more curated spaces in Singapore for fashion to be interpreted meaningfully.
The Veneer and Visage exhibition opens all weekend from 2pm to 8pm at Supper House until 6 March 2022.