Jean Paul Gaultier has made its return to ready-to-wear this season after six years. And this time around, we are greeted with not only the new vision under creative director Florence Tétier but also a reinterpretation of everything we've known and loved about the French house.
After the posting an out-of-the-blue message—'The End'—on Instagram in May 2021, fans were left wondering if it was truly it for the brand. But shortly after, there were hints that it was a build-up to an announcement of the return of the ready-to-wear line. Titled 'Les Marins' and featuring model Bella Hadid, the collection drew inspiration from Gaultier's love for marine-themed fantasies, reimagined from archival styles as well as vintage and upcycled pieces. The brand also followed up with an announcement that it will move away from the fashion calendar for its ready-to-wear collections, choosing instead to release six to ten times a year—a treat for all the Gaultier fans out there.
In addition to its return, the French house has collaborated with five designers—Palomo Spain, Ottolinger, Alan Crocetti, Nicola Lecourt Mansion and Marvin M'Toumo—to offer their renditions of the brand and create pieces that showcase their design styles merging with the spirit of Gaultier. The collaboration has brought a fresh perspective to the French house, offering a series of unconventional gender-fluid designs. From tops and trousers with unique cutouts to jewellery designed for the chest as well as statement necklaces, each designer has brought a personal touch to the collection.
If 2015's last Jean Paul Gaultier ready-to-wear collection was the end of an era, this is the beginning of a new one.
JPG x Palomo Spain marinière top, by Jean Paul Gaultier.
JPG x Alan Crocetti cone-bra nipple brooch, by Jean Paul Gaultier.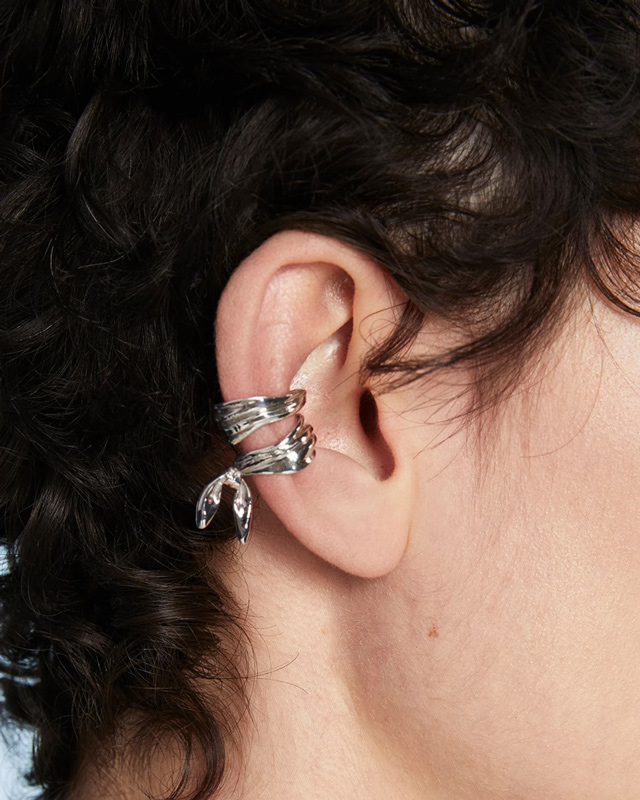 JPG x Alan Crocetti bandana double wrap ear cuff, by Jean Paul Gaultier.
JPG x Palomo Spain ass-air trousers, by Jean Paul Gaultier.
JPG x Palomo Spain corset, by Jean Paul Gaultier.
We rounded up five pieces from the Le Marins collection worth highlighting in the gallery above. Spanish label Palomo Spain has chosen to rework Gaultier's iconic marinière top, corsets as well as jeans. The Spanish designer added his flare for the gender-nonconforming and undoubtedly quirky aesthetic to the pieces. Cutouts appear on the back of jeans to deliberately expose stylised undergarments, and flowers are embroidered on a boned corset for maximum camp and sex-infused pieces that are also rather Gaultier-esque.
Brazilian jewellery designer Alan Crocetti, on the other hand, took a more overt approach when it comes to gender-fluidity and unbridled sexually charged design. While some of the rhodium and gold bandana designs for the collection may have taken a literal marine direction, it is the nipple brooch which ultimately falls perfectly in line with Gaultier's erotic narrative.
It's the iconic conical bra moment of the '90s but remixed for the new decade. And that's exactly what the all-new Jean Paul Gaultier ready-to-wear is all about—of signature moments made new.