There's only one thing watch lovers love more than buying new watches, and it's talking about watches. Because at the end of the day, are you really a watch geek if you're not into the watchspeak? I mean, that's precisely why everyone's got no fewer than 10 different watch groups, Whatsapp group chats, and Clubhouse channels right?
Now you can add the Esquire Singapore monthly news round-up to your horology feed. We'll keep you apprised of the latest happenings, the coolest product drops, and the biggest celebrity scoops just before the month ends, so you'll never run out of things to talk about no matter when, where, or with whom.
These are the top stories for the month of June.
Patek Philippe special exhibits at Cortina Watch 50th anniversary showcase
Cortina Watch ramped up its 50th anniversary festivities with an in-house exhibition titled Once Upon A Virtuosity. Showcasing for the first time its complete collection of Patek Philippe dome clocks, all of which are themed on dynamic Asian cities, the event also spotlighted two wristwatches made especially for the watch retailer by Patek Philippe. One of these celebrated the 25th anniversary of Cortina Watch, and the other was just released as a 100-piece limited edition in honour of the retailer's golden jubilee.
Jaeger-LeCoultre's Reverso Stories exhibition tours to Seoul
From Shanghai and Paris, the Jaeger-LeCoultre Reverso Stories exhibition concluded its South Korean tour in June. The manufacture took visitors through four themes: the origins, style and design, innovation, and craftsmanship. At the inauguration, Jaeger-LeCoultre ambassador Kim Woo-Bin also discovered a specially commissioned art installation by American artist Michael Murphy called Space Time which sees time as the fourth dimension. At the Art Deco-themed 1931 Café, visitors also dined on sweet treats created exclusively for Jaeger-LeCoultre by Parisian pastry chef, Nina Métayer.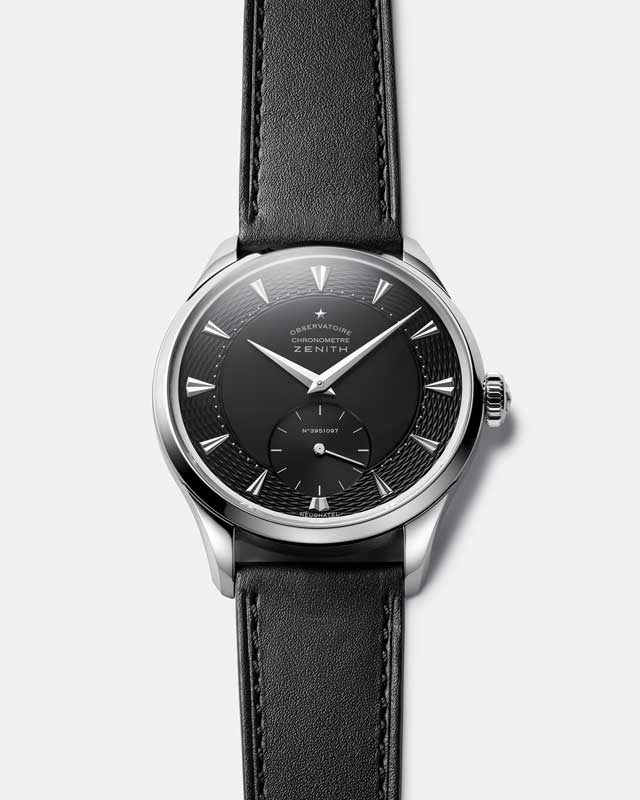 Calibre 135 Observatoire Limited Edition.
The vintage Calibre 135-O fully restored by Kari Voutilainen.
Zenith revives vintage chronometer calibre in new limited edition timepiece
Imagine one of watchmaking history's most decorated movements from the 1950s, at first forgotten, and now fully restored and beating again in a modern timepiece. That was what Zenith had done with its legendary Calibre 135-O which won a whopping 230 chronometry awards at all the key Observatories throughout its production timeline. To bring this movement to its full glory Zenith worked with watchmaker extraordinaire Kari Voutilainen. The Zenith Calibre 135 Observatoire Limited Edition comes in platinum and only 10 have been made – so only serious collectors need apply.
Cartier Mystery Clock Model A surfaces at on the auction block
The story of Cartier's mystery clocks dates back 110 years and one of the first examples of these exquisite timepieces made with rock crystal, yellow gold, onyx, enamel and diamonds recently appeared on the auction block. Another Louis Cartier project but this time pursued in collaboration with clock maker Maurice Coüet, the invention named simply as Model A was a marvel of timekeeping. Throughout history, it fascinated everyone from the famous financier JP Morgan to Queen Mary and Joseph Stalin. Estimated to sell between HK$1.5 million and 2.5 million, the timepiece went under the hammer at HK$6.87 million.
HYT and Brillantine Pictures write a new future together
It's not every day that a watchmaking company signs a partnership with a filmmaking studio. But then again HYT isn't your average watchmaking company either, and this unusual collaboration between the two Swiss firms is set to conjure new and revolutionary presentation platforms for HYT's innovative timepieces.
A visualisation module with its unique and innovative video mapping system enables HYT to animate a timepiece to demonstrate its technical features in 3D while incorporating visual elements of the creative universe surrounding the product. More than a showcase, this technology opens new possibilities for creative expressions of haute horlogerie, something that CEO and creative director of HYT Davide Cerrato envisions as a new journey towards "Fine Watchmaking 4.0."
Kendrick Lamar wears Tiffany Crown of Thorns at Glastonbury Festival
For this first 'live' performance of Mr. Morale and the Big Steppers and first appearance at Glastonbury, Kendrick Lamar wore a white shirt stained with blood with a Crown of Thorns wrapped around his signature braids.
Made expressly for Lamar by American jeweller Tiffany & Co., this headpiece took 10 months to handcraft, using high-polished titanium and set with over 8,000 diamonds. Lamar and pgLang co-founder approached Tiffany & Co. with the idea, and design inspiration came from an vintage Jean Schlumberger Thorns brooch made in 1947 before the designer joined Tiffany.
This is streetwear label Undefeated's first collaboration with H. Moser & Cie.
Streamliner Chronograph Undefeated with a Black Tiger Camo fumé dial.
H. Moser & Cie. co-creates special timepiece with Undefeated
When two great minds come together, the results are always amazing even if they came from completely different the worlds. Case in point, when Eric Cheng of streetwear label Undefeated wanted to fuse its creative influences with the minimalism and technical flair of H. Moser & Cie., he just picked up a phone and reached out to the watch brand's CEO, Edouard Meylan.
Shouldn't be too difficult to start the conversation since Cheng is already a big fan and collector of Moser's timepieces. Before long, the duo created the Streamliner Chronograph Undefeated with a Black Tiger Camo fumé dial. This 76-piece limited edition is now available on undefeated.com and h-moser.com.
Mercedes-AMG Petronas team principal and CEO, Toto Wolff.
The one-off Big Pilot's Watch Perpetual Calendar designed for Wolff.
IWC timepiece owned by Toto Wolff headed to auction
Ahead of the British Grand Prix, an exclusive IWC Schaffhausen wristwatch created in honour of Toto Wolff, team principal and CEO of the Mercedes-AMG Petronas F1 Team, is being auctioned by Bonhams in aid of the charitable initiative Ignite. The Big Pilot's Watch Perpetual Calendar Edition "Toto Wolff x Mercedes-AMG Petronas Formula One Team" is a one-off model, designed with input from Toto himself and includes a red ring around the crown – a reference to the red hat worn by a cherished friend, fellow Formula 1 legend Niki Lauda.
A must for any motor racing enthusiast, this timepiece comes with a behind-the-scenes tour of the Mercedes-AMG Petronas headquarters in Oxfordshire and virtual face time with Wolff himself – no promises if he'll dish any dirt on Hamilton, but you may certainly try! Estimates are between £40,000 to 100,000 on this one-lot online auction, from now till 1500 BST on 7th July.