Why has Tod's, the venerable Italian luxury craft house, launched a sneaker? We speak to Yong Bae Seok—the designer of the new Tod's No_Code 'shoeker'—to unearth the thought process, and unique design elements, of the brand's new hybrid product. As it turns out, you can have your cake and eat it too.
ESQ: The menswear landscape is flooded with sneakers. When you're designing a shoe like Tod's No_Code, do you think that you can offer something new or do you think that everything has already been done?
YONG BAE SEOK: We try to offer something new. Every season in the fashion industry, especially footwear, there are a lot of changes. Sometimes it's more sporty, sometimes it's more casual. But for Tod's No_Code, we have created a 'shoeker'. That is, a hybrid of a shoe and a sneaker. It's a combination of Tod's elegant formal shoe silhouette with the comfort of sneakers. It has the pointed toe from Tod's formal offering fused with a lightweight EVA-rubber composite sole; a substance we created specifically for the shoeker.
ESQ: The shoeker, by design, is meant to be highly versatile—something you'll be able to wear from day to night. Do you think there are design compromises that have to be made in terms of either comfort or creativity?
YONG BAE SEOK: There's beauty in comfort too. For me, before you put them on, shoes are just objects. People want to buy something beautiful. So shoes need to be beautiful and also comfortable. They go hand-in-hand; it's not about which is more important. We hope that customers discover that the shoeker is both beautiful and comfortable.
ESQ: Men today have a blended work-life balance. When designing these shoes, did you have a particular man in mind?
YONG BAE SEOK: I didn't have a muse in mind for the shoeker, but rather, I was thinking about a man who is passionate about fashion. Someone who is an individual. I create a tool for the modern man to use according to his own personal taste.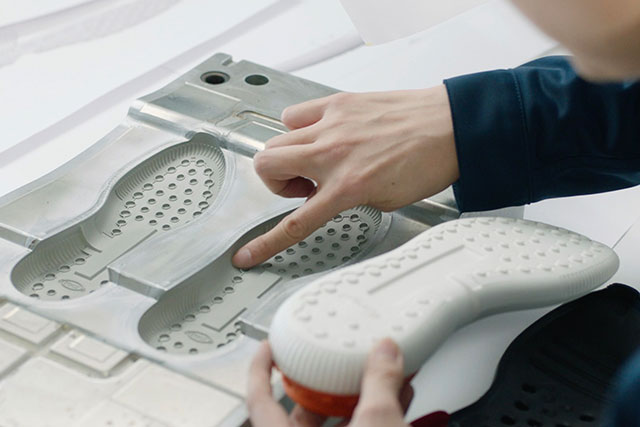 ESQ: Tell us more about the construction of the shoeker.
YONG BAE SEOK: For me, the special thing about the shoeker is the three material components: Italian calfskin leather (for its softness and suppleness), wool blend fabrication for the vamp (80 percent natural wool with a bit of stretch for extra comfort) and the EVA-rubber composite sole (which is super lightweight and comfortable) with the dots on the heel as a reference to Tod's iconic Gommino driving shoes.
ESQ: What is your favourite design element?
YONG BAE SEOK: The outsole is my favourite. It's a proprietary blend of EVA and rubber that, in the construction
process, has to be precisely calculated to fit approximately 70 percent of the shoe mould. This is because the composite expands as it is set—it grows to fill the mould. This technique incorporates a lot of air into the outsole, making it super light and comfortable.
ESQ: The shoeker is a great example of the continued 'casualisation of menswear'. Is this the future of footwear or do you think we are going to experience a pendulum swing back to formal shoes?
YONG BAE SEOK: I remember, almost 10 years ago, the emergence of this hybrid influence on menswear. Now, when you look at clothing and footwear, you can't really tell what is 'classic' and what is 'sportswear'. Everything is mixed now. I think people will only want to have more hybrid products. At the moment, the hybrid trend is doing well.
ESQ : Do you think hybrid products can still be luxurious?
YONG BAE SEOK: Traditionally, when we think of luxury, we think of experienced artisans using their hands to make something. But for me, a well-made product using the finest materials is luxury.
ESQ: Can something still be luxurious if it's made by a machine?
YONG BAE SEOK: I've never encountered shoes that were 100 percent made by a machine. We need someone to be close to the machine to help make quality footwear. There is always a human element to the creation of something beautiful.
ESQ: The main thing is that there is care and attention.
YONG BAE SEOK: Exactly. The shoeker is made in Italy and crafted by our Italian artisans. The materials are very good and it's exactly a mix between the know-how of the classic Tod's shoes and the sneaker. There is a lot of thought and care in the creation of each shoe. We're an Italian label that's dedicated to craftsmanship.
ESQ: Will you collaborate with other designers for future versions of the Tod's No_Code sneaker?
YONG BAE SEOK: We are open to collaborations with designers from different fields. No_Code is kind of a laboratory. As the name suggests, there is no code. As the codes of society are changing, we want to create products in response to the changing lifestyles of modern men. This is just the beginning.
Enjoyed the story? Subscribe to Esquire Singapore for more.