If you've heard of Roger&Sons, you would have heard of The Local Tree Project. Started two years ago by the company's second generation owners, this one-of-a-kind sustainability initiative aims to change the way we think of local resources, specifically timber, because the impression we always get about land-scarce Singapore is that there are no natural resources.
While that is not entirely incorrect, the artisanal woodcrafters wants to raise greater awareness about the beauty of local trees and their unique characteristics. That, and a unique opportunity presented by two local organisations led paved the way to The Local Tree Project.
Says Morgan Yeo, creative director of Roger&Sons, "We've had groups like Mandai Park Holdings and Tan Tock Seng Hospital see us, as they'd had some trees cut down for their developments, and wanted to know if we could turn them into furniture to be placed in the parks. That's where we come in. Jobs like this can take an entire year. We spent a lot of time going to various sawmills, speaking to different people… Along the way we discovered that a tremendous number of trees are being cut down every year. In fact, as mentioned in a Straits Times article, 13,000 trees will be cut down in the next 15 years."
Use Local
As he zipped in and out of different sawmills in the country, Yeo discovered a staggering stockpile of unwanted timber idling in yards and sheds as big as four Olympic sized swimming pools, piled up four metres high. All of it could have been used in place of costly imported lumber. But instead, these once-magnificent trees were destined for the landfill. Yeo instinctively knew he had to do something, because why import when you can use local?
So The Local Tree Project's primary objective is to repurpose locally felled trees and turn them into useful products that people can continue to appreciate. Yeo elaborates, "The whole idea is to be more sustainable, reduce our carbon footprint, and try to be self-reliant in a sense where we rely less on imports, and use our own local natural resources whenever we can."
Singapore has a vast amount of tree species but the more common ones that Roger&Sons works with are the angsana and tembusu, as well as rain and khaya trees. Tembusu wood, Yeo tells Esquire Singapore, is particularly hard and dense, which makes it a great choice of material for chopping boards—we still see them today at very traditional hawker stalls.
Pioneering Spirit
Today, six years after taking over the family business and just two after starting The Local Tree Project, Yeo is happy to share that 35 per cent of the timber used by Roger&Sons is 100 per cent local. The "first son" of Roger&Sons also wants to open more conversations about the situation, and has been in talks with government organisations such as the Urban Redevelopment Authority on repurposing wood from local trees. "Our plan is to create a circular economy where resources that we have but that are neglected are put to good use," he enthuses.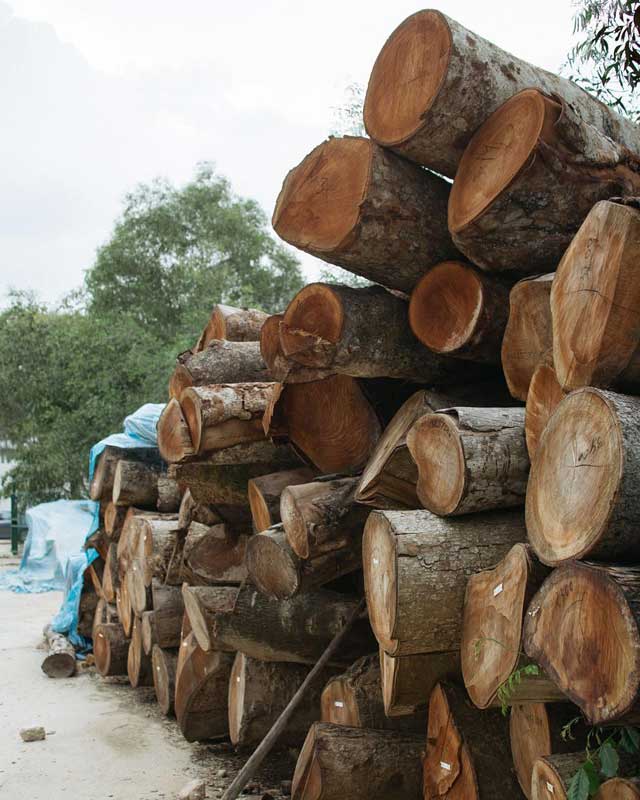 For someone who had to fight tooth and nail to be accepted by the traditional and arcane world of carpentry—Yeo joined the family business as a fresh university graduate—to leading it as a sustainability pioneer, he has come a long way in such a short span of time. The industry isn't exactly known for its warmth towards the young and easily impressed; Yeo spent a good few months running errands and cleaning up after the older, more experienced tradesmen while trying to learn as much as he can.
The Local Tree Project is Singapore's first sustainability initiative that focuses on utilising and minimising wastage from felled trees—every part of the tree is used, even the by-products such as sawdust, shavings and wood chips. It's described by Yeo as a "crazy journey so far" but it's never easy charting an unbeaten path. This pioneering spirit also reflects the values of the new Longines Spirit collection.
Time Honoured
Inspired by the legendary exploits of men and women who conquered land, sea and air, the Longines Spirit collection is an ode to exploration, and a toast to the pioneering spirit that resides within us. As the watchmaker of heroes and heroines—Amelia Earhart, Paul-Emile Victor, Elinor Smith, and Howard Hughes all were accompanied by a Longines timepiece on their mission—it has designed the Spirit as a modern yet timeless watch that's always ready for the next adventure.
With distinctive aviator's watch influences, the Spirit is immediately recognisable for the row of five applied stars on the dial. Traditional features of old pilot's instruments also lend it a sober aesthetic—oversized crown, extra-large numerals, black dial on light-coloured numerals and large luminous baton hands, an operating indicator fulfilled by the central seconds hand.
Three-hand model with matte black dial and dark brown calf leather strap.
Three-hand model with sunday blue and steel bracelet.
Three-hand model with grained silver and light brown leather NATO strap.
The Prestige edition comes as a set with two additional interchangeable straps.
Chronograph with sunday blue dial and blue calf leather strap.
Chronograph with grained silver dial and light brown calf leather strap.
Available in 40 and 42mm three-hand with date models, as well as a 42mm chronograph, the Longines Spirit is dressed in a range of neutral contemporary colours: matte black, grained silver, and sunray blue. On the inside, they're powered by self-winding movements Calibre L888.4 and L688.4 which come with state-of-the-art silicon hairsprings and are chronometer certified.
Either way, you can wear the watch on a steel bracelet or a calf leather strap in either dark brown, light brown, or blue. But if you're feeling fancy (or just undecided) the Longines Spirit "Prestige" edition is delivered with a spread of three interchangeable straps: steel bracelet, calf leather, and brown leather NATO.
Browse the full Longines Spirit collection online and find your nearest retailer here.