It may be dismissive to say this but sometimes, just sometimes, when it comes to Kaiseki and Omakase, having one feels like you've had them all. It's given that different tiers would emulate different proffers, but given how tradition remains the shrine at which most esteemed chefs worship, style differences perceivable by common folk like us isn't much, to say the least.
So when one chef decides to "reconceptualise washoku" (Japanese traditional dining concept), we naturally pay attention. Especially if that one chef is one of the expatriated chefs in the association of the 143 world goodwill ambassadors of Japanese cuisine recognised by the Ministry of Agriculture of Japan. Besides his Michelin-starred prestige in Tokyo and Osaka, he was once appointed VIP's Head Chef to represent Singapore's F1 Grand Prix. Since 2019, Maetomo has been creating state-of-the-art dishes made with a modern twist.
Edomae Sushi VS Osaka sushi
To better appreciate one significant standout here is to understand the background of the sushi types. While Edomae (Tokyo-style) sushi is typically served with fresh fish, Osaka sushi is often a takeaway for a long journey or presented as a souvenir. Hence, the latter is only served with cooked or preserved produce to this day. The greater difference however, is that while Edomae's sushi rice is formed by hand as you may have seen the chef do, Osaka sushi rice is pressed into a square box, which also means more amount of rice compressed into the shape and a concentrated taste compared to its airier counterpart.
Favourites
Edomae sushi.
Osaka sushi.
It's how well the seemingly simplest dishes are executed that set the tone personally, which would be the humble tamago from Oita and hearty grilled eggplant soup with squid fish ball from Nagasaki and Okayama. A favourite of the man himself is the female snow crab from Hyogo, which shows creativity and high attention to detail in it clever presentation (no spoilers).
The star for most would undoubtedly be the modern sashimi of Flounder and Ochetra caviar airflown from Russia in a capaccio with vinegar jelly. THE BEST. Chef Maetomo also points out how he differentiates white and red rice vinegar for the sushi rice, where the former is utilised for fishes that are lighter on the palate, while the stronger red goes for the heavier types; tuna belly being a classic example.
The space
According to your selected course, you'll be seated at either the sushi or kaiseki counter. Should you prefer an intimate group setting with friends or family, there are four private rooms (each themed after a season) available with no room charge or minimum spend.
How we feel about it in a gif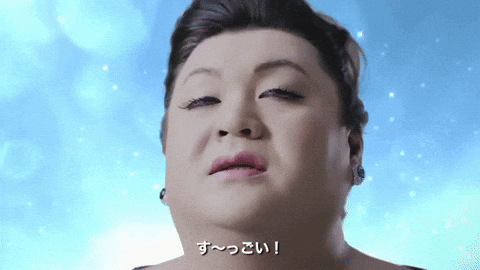 Maetomo Japanese cuisine Kaiseki & Sushi is located at Sheraton Towers Hotel Singapore #01-01, Singapore 228230. Dinner reservations (6 –  10:30 pm) can be made online for Kaiseki (from SGD200++) and Sushi (from SGD300++).