Maison Francis Kurkdjian has come a long way from being an in-the-know name of the beauty cognoscenti. Perfumers in the past used to be almost entirely invisible. Save for journalists and seriously devoted fans, the noses (the industry term for a perfumer who composes and creates a scent) were secondary to the brand name on a bottle's label. When the hugely talented perfumer Francis Kurkdjian started his own label in 2009, his business partner and CEO Marc Chaya had plans to change things. A perfumer, he believed, ought rightly to be celebrated as front-facing talents in their own right.
A little over a decade later, thanks in large part to the viral fame its Baccarat Rouge 540 scent found, the brand is red hot. The prices it charges—the figures vary from scent to scent and for eau de parfum or toilette concentrations, but average at a bit above S$300 for a 70ml format—are steep by most standards. In fact, it's easy to remember a scant few years ago when fragrance brands at this price point operated in a niche and selective segment of the market. That, however, has changed. Consumers are willing to spend more on fragrances, and online communities have made brands like Kurkdjian's more popular and desirable than ever.
So successful and influential is Kurkdjian's name that the perfumer was tapped in October 2021 for the role of in-house perfumer at Christian Dior. The role was previously held by François Demachy, a perfumery stalwart in his 70s who held the top nose job at Dior since 2006. Industry observers would no doubt find Kurkdjian a no-brainer for the job. At a young age, the perfumer created Jean Paul Gaultier's Le Male to enduring commercial success, created a number of scents for Dior Homme during the Hedi Slimane era, and crafted hits for too many brands to count. At his own label, the cynical expectation might've been that free creative rein might hinder commercial success. That is clearly not the case, and Kurkdjian seems to have found a sweet spot of creatively interesting work that sells.
Proof in the pudding may perhaps be that Maison Francis Kurkdjian is opening not one but two standalone boutiques in Singapore. The second, still under construction, is slated to debut in 2023 at Raffles City—part of a slate of glossy new cosmetics boutiques that may just mark that mall as a go-to spot. The other, in Takashimaya, was recently inaugurated. The brand's CEO Marc Chaya was in town to mark the occasion and take interviews. Here, a conversation with Chaya on the perfume business, space for young independent brands, the acquisition by LVMH, and how Kurkdjian will take on the challenge of both Dior and his own label.
First of all, congratulations on the new boutique! Things are obviously changing for Maison Francis Kurkdjian, with a new focus on standalone boutiques. Can you tell us about that shift?
My vision is to balance [wholesale locations] like department store counters or multi-brand high-end stores with a selection of boutiques where customers can really have an immersive experience. Customers are ubiquitous, they will shop wherever they want. We're totally agnostic to the channel, it's about the journey and what we like in a boutique. We're able to give you more attention than in a multi-brand environment, and dedicate more time to give you a very different yet complementary experience. In five years, I would love for my sales to be 70 percent wholesale and 30 percent retail in our own boutiques.
You talk about a journey a boutique can offer. Tell me more about that.
Our brand DNA is all about Paris. I would say we're in a very contemporary design [space]; very simple, yet the aesthetics are very high. In our boutiques, you would find a lot of direct or indirect links to Paris. For example, the storefront is Parisian stone, the stone that you find on Haussmann-style buildings. Inside, you'll find materials such as marble, which you would find inside a Paris apartment; elements such as the light oak of fireplaces and parquet [flooring]. You'll also find brass, which is a link to the gold domes of the monuments in Paris.
It's a whole immersive environment, then?
The collection is thought of as a perfumed life 24/7, where you can buy perfume for yourself and for the home, accessories such as laundry detergent, and also get access to services that you cannot get access to in wholesale locations like personalising your flaçon with engraving.
Laundry detergents! Those are the kinds of accessories that we see online but that don't ship here. Are we getting those here?
They will be available! They are already available in Europe and will be here as early as January.
When did the brand diversify into these different categories?
Since day one when we started the maison back in 2009. We started our boutique in Paris on Rue d'Alger with the philosophy of a perfumed life 24/7. Since day one, we've had perfumes to layer on your skin like eau de parfum, toilette, as well as cologne; but we also had scented bubbles for kids. We had laundry detergents, we had scented leather bracelets, we had incense paper candles.
That's quite ahead of the curve! Based on industry sales figures, perfumes seem to have continued to thrive during the pandemic. I've spoken with perfumers who talk about the romance of it all. I'm curious about your perspective.
What the pandemic brought to us—from my own, my friends' and my family's experiences—is a deeper connection to oneself. Perfume is intimately linked to well-being, it's something that you use to nurture yourself to feel better. I was wearing perfume every day, not as a CEO of a fragrance brand, but as a human being. It was lovely for me to shower, to wear my perfume, to feel good.
What's your take on it as a businessman?
Being a mature channel at that time, people went from buying in stores to ordering online. During the pandemic we've seen for our brand, at some stage, online channels took over 100 percent of the previous year's business—which was online plus stores.
I've always imagined it a huge challenge to sell fragrance online.
Actually, 36 percent of our sales today are online.
What did that figure use to be?
Pre-pandemic, it was maybe between 10 and 15 percent. And now it's between 25 and 35. But I think the pandemic just acted as an accelerator. The trend was there. We were already shopping online. The whole ecosystem blossomed: the whole supply chain has matured, the systems are better and the UX on the website is very pleasant.
When you think about the journey of Maison Francis Kurkdjian, what are some significant milestones?
I feel like I've been running a new company every year, because the company has been doubling in size every year since its inception. It grew by 200 percent in the past two years. We accelerated from 50 percent average growth to 100 percent, and now we are stabilising because we cannot grow that fast forever.
What's it been like this year, then?
My obsession now is all about the customer journey. How we can build an extraordinary, uplifting journey through fragrance.
In the last few years, there seems to have been a flattening of this segment of the perfume industry that used to be called "niche" and was set apart from designer fragrances. In fact, consumers these days seem willing to spend more. Can you comment on that?
I've always said we are not a niche brand. But you are right. At some stage, there was a 'niche' category that formed because when you look at it—you mentioned designer fragrances. Designers have a high desirability aura, and basically what those brands did is they used the aura of fashion and ultra-selective fashion to sell perfume in the mass market. They left this void. If you were an ultra-luxury fashion customer, you couldn't find an equivalent fragrance. You couldn't have an experiential, qualitative and creative scent that would set you apart because you wanted to treat yourself with something more sophisticated. So niche players entered, but mainly with marketing and concepts like beautiful bottles… some event put diamonds into it.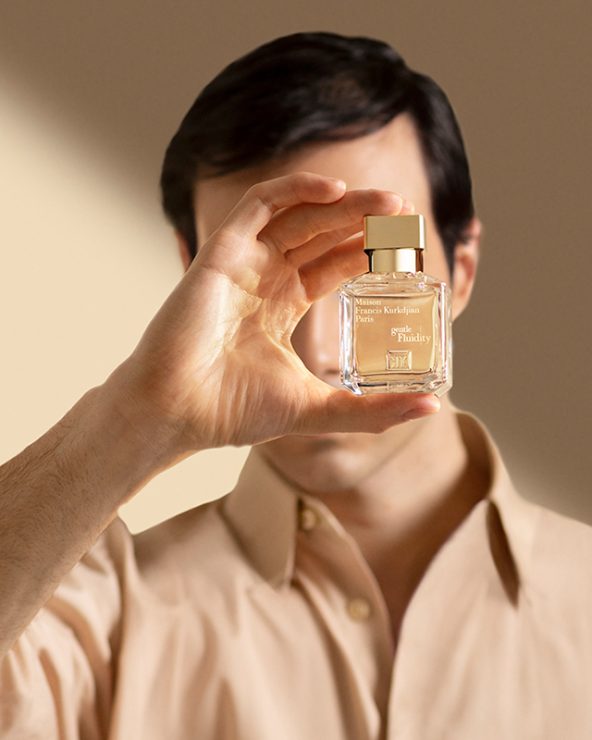 Is that similar to how luxury has changed?
I had to define luxury because luxury doesn't mean anything anymore. You could buy a luxury soap for $5. You can rent a luxury condominium for $500. To me, luxury stands for the extraordinary. You cannot sell something expensively, put it on the shelf, and tell a story just because you have a name. Okay, once you buy it, the name is there. But if the scent is not going to be extraordinary on your skin, you will not come back to it.
How has that changed the landscape for the luxury fragrance industry?
A lot of newcomers in the so-called niche disappeared. Most of the key players which became ultra high-end fragrances, you could count them on one hand. You have independents like us and some of our competitors that have survived and grown. But you also now have the luxury offering of designer brands. For example: Armani Prive, Tom Ford, the private blend; Dior, the private collection; Chanel, Les Exclusifs; Hermes, Hermessence. So this has formed an ecosystem that is equivalent to high-end fashion.
I recall sensing this shift when the Estée Lauder group acquired Le Labo.
It's a very classical phenomenon in business and strategy. When something happens, it's rarely triggered by the incumbents. You have newcomers. The newcomers create a new industry segment and incumbents tend to acquire those incumbents to enter these new industry segments.
Maison Francis Kurkdjian also became part of the LVMH Group.
What sets LVMH apart from some of the competitors is that it is not an integrated group. You don't enter LVMH and become an entity or a business unit, you remain a maison. The group is made up of 77 houses where the freedom to create and the freedom of entrepreneurship are celebrated and protected. This was, for us, a very beautiful place to be.
What's changed since joining the group?
Our size has multiplied by 14 since we joined LVMH. It's a very strong environment. Strong as in excellence—they foster extraordinary knowledge and they really push you to become the best of the best. There is a culture of excellence, you are surrounded by people who think out of the box, who are visionary and who are very talented in what they do.
What is the oversight like?
They let you manage your own company. They could challenge you, ask you questions and coach you; but no one's going to manage your business. But we do get access to training, access to infrastructure. Starting up our subsidiary in China was seamless, super easy. We're now starting a subsidiary in the UK.
Were there fears before you signed?
A lot.
Naturally! I'm guessing, because this is a maison you and Francis founded together, that there's always a fear you'd lose control of it. What contributed to the decision?
We didn't just jump the cliff and decide: let's go wherever we go. We were not in need to sell. Our company was growing and profitable. So, we discussed a lot with LVMH and realised that it was really the right environment for us. The more you discuss and the more you learn, the more fears of the unknown disappear.
You talked about niche brands washing out. In this industry today, do you think if a brand wants to have fourteen-fold growth that they can no longer operate independently?
I think scale is important. For us, transmission was important. Having the brand be part of a big group like LVMH is, in a way, a guarantee that it will be there for a very long time. The group has maisons that were founded in the 1700s. So for me, it's the guarantee that Maison Francis Kurkdjian will be here in 200 years. As an independent brand, I think it's harder today to thrive, but you can try.
You're saying that it's still possible to thrive?
It's no longer a growing industry segment where you can come with any story and make it happen. A lot of people did that. A lot of them disappeared. The market today is harder, which makes it much more selective. You need to have something unique, something truly meaningful to succeed. And if you have that then you can succeed.
Now—and this will pass soon, I hope, so you can talk about something else—but I must ask you about Baccarat Rouge. We've seen the phenomenon online, and reactions from people everywhere. I'm curious about what the view was like from your side?
My lesson is that our vision since day one, when I decided to leave everything and join Francis, is that the genius of creativity is a powerhouse. The Rouge 540 story is a legendary story because it was not meant to be. The scent was created back in 2015 in celebration of Baccarat's 250th anniversary. It was supposed to be a limited edition of 250 crystal bottles, designed by Georges Chevalier, housed in a beautiful box, available for the happy few. It was intoxicating. People would stop you on the street and ask you "what is your scent? It's the most beautiful scent that I have ever smelled." It was very mathematical: one person led to two. It's exponential. I think what happened on social media is a reflection of what happened in real life. Francis created one of the most desirable scents in the world without any marketing spend, any campaign, any KOLs, or any celebrity embodying the scent. It's unheard of.
That's got to be something brands dream of.
It's something that you can only attain when you create, like we did, an ecosystem where creativity can blossom freely. In the past 12 years, I've already pushed launches four times. Our teams come to us from big groups with processes, and I always tell them: "We will learn from you because you're smart, and you've done it before. But you have to learn one thing from us: where you've worked before, you've never worked at the service of creativity, you've always worked at the service of marketing. In our company, creativity is king."
The other big question. Francis Kurkdjian was announced as the in-house perfumer for Dior, replacing François Demachy. How is this going to work out, with Francis designing perfumes for two houses?
I love that you asked the question, and I will use the parallel with high-end fashion. As an editor, you're never surprised to learn that Kim Jones is doing Dior Men and Fendi. We're all used to seeing Karl Lagerfeld do Chloé, Chanel and Fendi, but also collaborations with Coca Cola and H&M. A creative talent is free. Francis, while designing scents under his own label and with his own vision and emotion, worked with Christopher Bailey at Burberry for five years. He did My Burberry, Mr Burberry and the private collection at Burberry while designing the most beautiful scents for Maison Francis Kurkdjian. So working with Dior is very beautiful because it challenges his creativity in a different territory. People are used to that in fashion, not in fragrance. But once you acknowledge and agree that perfumers are full-fledged designers and creators, it's no longer a surprise and people can understand it.
The perfume industry is quite secretive, and prominent perfumers often work for a multitude of brands. Might things be changing?
Many houses have in-house perfumers now. It's becoming the pattern and it's a good thing. What we've seen over the last 10 years is acknowledgment that perfumers are creative directors and artists. Do you know that you cannot patent a scent?
What?!
Not even a scent as beautiful as Baccarat Rouge, because the legislative environment does not recognise perfume as something that you can protect. It's an insult to the creative field, it is totally unbelievable. We are not able to patent our scents, so anyone can copy. I'm fighting for perfume to be recognised as a work of creativity that you can protect. But today, the legislative global environment does not allow that which is crazy. You see, you're surprised no one knows that!
I really am! I had an inkling that perfume formulas were closely-guarded secrets, but this…
They are closely guarded secrets. But today, everyone copies everyone. And I feel big brands, fast fashion brands, have copied our perfumes and this is unethical.
Has anyone gotten close?
Yes, they get very close. But I still don't think it removes desirability. You can walk down the streets of Rome and you can find fake Vuitton and fake Hermès, but it's not going to keep me from wanting to buy a real Vuitton bag. It doesn't remove the desirability, but it shows that there is a problem in our industry: everyone has forgotten that behind a great scent there is great talent.
---
Maison Francis Kurkdjian is available at Takashimaya Shopping Centre, 391 Orchard Road #B1-35, Singapore 238872; and Escentials boutiques at Paragon Shopping Centre, Ion Orchard, and Tangs at Tang Plaza.