No matter how much you already know about watches and watchmaking, your first response to the new MB&F Legacy Machine is and can only be "WOW." Followed by a brief period of pure silence as you try to take in everything. From the mind-blowing mechanical sculpture to the flawless hand-finishing all over the movement, the Legacy Machine Thunderdome is simply awe-inspiring.
And the dazzling three-dimensionality of its entire physical form just creates more room for beauty at every angle.
The Concept
Why Thunderdome? Because it represents the dynamic clash and dramatic tension between two highly polarised watchmaking styles. All that sits under a magnificent sapphire crystal dome presented earlier this year via the Legacy Machine FlyingT.
Here, the unorthodox and experimental approach of Eric Coudray meets the pure and traditionalist philosophy of Kari Voutilainen. Both critically acclaimed watchmakers who have become Friends of MB&F.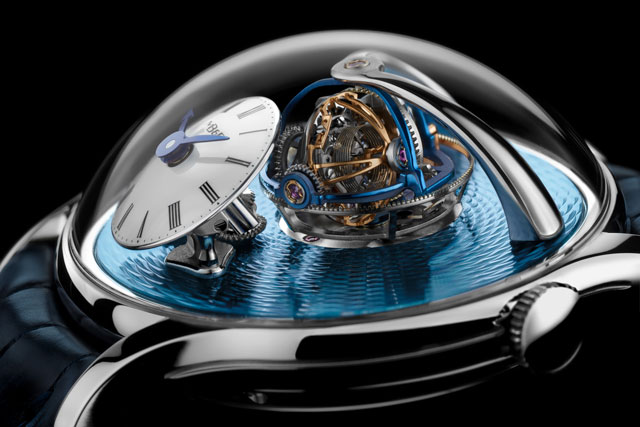 Coudray focused on the regulating mechanism while Voutilainen made all the plates, bridges, assembling, and finishing.
If his name sounds familiar, Coudray was the technical mastermind behind the Jaeger-LeCoultre Gyrotourbillon. Voutilainen as we all know and love is a frequent collaborator with MB&F, having handcrafted and finished numerous Horological Machines and Legacy Machines. Together, they have completely rethought and reimagined how multiple axis tourbillons can be made.
Indeed, Büsser's only directive was to "make the craziest, most cinematic three-axis tourbillon ever."
Horological Multiverse
Well, Max, they heard you loud and clear. Presenting the proprietary MB&F TriAx, a triple-axis rotating escapement that is traditional in some ways yet unconventional in others. Unlike typical multi-axis tourbillons with one cage per axis, TriAx has a stripped-down construction that uses a three-axis, two-cage configuration.
The point of having this is to allow unprecedented visibility of its beating heart.
Watching it spin and whirl, you'll notice that the regulating mechanism moves very quickly. Each of the axes revolve at different speeds. The innermost one takes 8 seconds to make one revolution, the middle one takes 12 seconds, while the outermost one takes 20 seconds. Each axis is positioned at right angles to each other. Not only is it more exciting to watch, it has also never been attempted before.
Technical Features
Coudray went with several interesting choices for the TriAx. First, instead of the standard Swiss lever escapement, he chose to use the little known Potter escapement. It was offered by the American watchmaker Albert H Potter as an alternative to the tourbillon. Thanks to the Potter escapement and some modifications introduced by Coudray, MB&F was able to achieve fast rotation on the TriAx.
Also, in place of a typical balance spring, Coudray used a cylindrical hairspring which provides better timekeeping performance.
Surrounding the cylindrical hairspring, a hemispherical balance provides inertia to the regulating organ, oscillating at 21,600vph (3Hz).
Final Finish
Then there's the immaculate finishing of the Thunderdome. Lavished all over the movement are sharp internal angles lovingly bevelled and polished, soft yet luminous Geneva stripes or Côtes de Genève, frosting and engraving all by hand.
Most notably, for the first time in an MB&F timepiece, he applies his proprietary finishing technique on the ratchet wheels. Clients of Voutilainen recognise it immediately for the deeply curved sigmoid waves which remain a closely guarded secret at his workshop.
Voutilainen also made the guilloché dial plate that's covered in light blue lacquer. Hovering high above, the TriAx mechanism is like a mesmerising whirlwind brewing above a crystal blue ocean.
Legacy Machine Thunderdome is a 33-piece limited edition in platinum 950.
But for a very special occasion, MB&F made 10 more Thunderdomes. Celebrating the 40thanniversary of The Hour Glass—of which MB&F has been a partner since 2004—are five models with a tantalum case and dark blue dial, and five more with an aventurine dial. The latter will only be unveiled and available in 2020.