Feeling nostalgic? Want to look back on the year in memes? Then welcome to the best page you will ever see on Esquire Singapore. Endless scrolling of quality memes! Snarky comments sandwiched in between! What more could you ask for? Now, sit back and enjoy the ride.
---
1. The Miss Universe Singapore dress
Where do we begin? Where. Do. We. Begin? At this point, context just seems futile, because this considerably unbelievable design will be worn and representing us as a nation. While you continue to boggle your mind over how this was allowed to happen, why not enjoy some creative, and possibly more sensible renditions from our own local talent across the Internet?
YES THIS IS THE ORIGINAL
WHY NOT THE GUYS WHO KEEP US SAFE INSTEAD?
ACCURATE REACTION WERE HE STILL AROUND, I'D SAY
CURRY PUFFS ARE SHAPED THIS WAY FOR A REASON, YES?
NEVER SKIP LEG DAY, BRO
IS IT STRANGE I ACTUALLY LIKE THIS DESIGN MUCH BETTER
WELL, SINCE WE'RE ALREADY HERE
MEME GIRL APPROVES THIS MESSAGE
---
2. Surprised Pikachu
You might have seen this surprised face of the pokemon floating around the Internet. Timely, seeing the recent release of the controversial live-action Detective Pikachu trailer. But more than spotlighting our little yellow friend, it's otherwise the perfect way to say "What did you expect?".
CLASSIC
ASTROLOGY MY ASS
How'd they know!? pic.twitter.com/AZh4EOrgmc

— Elon Musk (@elonmusk) October 25, 2018
ONE FOR THE GAMERS
Me: wonder if this game has fall damage
Me: jumps
Me: dies
Me: pic.twitter.com/jdLbgQBm9d

— Surprised Pikachu (@SurprisedPika) November 3, 2018
WELL NOW
THERE'S SOMETHING FOR EVERYONE
Me: Check out this picture of Pikachu, it's a popular reaction image right now.

Her: I don't like cartoons, I'm more of a traditional art person.

Me: pic.twitter.com/z1kK0cLcct

— The Crimson King (@ZephyrSSB) November 8, 2018
THESE DUMB FELINES
why are you me#surprisedpikachu #catmemes pic.twitter.com/EYGA0GeAfL

— 2cupsofdepresso (@2cupsofdepresso) November 6, 2018
THE ONE PLACE IT MAKES THE MOST SENSE
---
3. Hurt Me
Everyone has a kink in the bedroom, but are we actually ready to deal with the real pain that is hard honesty?? Yes, the truth always hurts.
WHAT IS LIFE
[during sex]

me: i want you to hurt me

him:you spend too much time fantasizing about the ideal version of yourself instead of working to become that person

me: wait

him: you don't work hard enough to achieve your goals and your standards for life are way too high

me: stop

— ??????? (@VOGUENART) August 20, 2018
THE DEVIL WEARS PAIN
Me during sex: hurt me

Them: you have no style or sense of fashion

Me: I think that depends on—

Them: no, no— that wasn't a question

— Tom Zohar (@TomZohar) August 20, 2018
RIGHT IN THE CHILDHOOD
me during sex: hurt me

them: you were never that smart you just were good at reading as a child so you were given special attention and it gave you a complex

me: wait-

them: you don't try at school because youre convinced ur natural intellect will save you but u don't have it

— Minna (@minnascule) August 19, 2018
THE AGONY
[during sex]

Me: Hurt me

Her: In 1992, scientists discovered the loneliest creature on Earth.

Me: what

Her: Its a whale that has been calling for a mate for two decades. He communicates at a frequency not used by any other whales, and hasnt received a response.

Me: stop

— Jay (@highonthighs) August 18, 2018
DAMNIT, KAREN
Me during sex: hurt me

Her: it's over

Me: not that much

Her: I'm taking the kids

Me: aw jeeze

— Chris Ray Gun (@ChrisRGun) August 19, 2018
EVEN FUTURE SEX HURTS
Me During sex: hurt me

sex robot: i cannot violate Asimov's first law of robotics

— rhaast (@Chainbody) August 18, 2018
WELL, SHIT
[during sex]

me: hurt me

her: you only find this meme funny because you've been tricked into believing that making fun of your own pain makes you endearing

me: wait

her: true earnestness encased in protective irony is still irony and toxic to your soul

me: harder

— ? Amy「妹紅」Star ? (@AmyZenunim) August 17, 2018
ONLY IF YOU WANT IT FAST
[during sex]

me: hurt me

her: sir this is a McDonald's

me: McHurt me

— Tim Young (@shindags) August 20, 2018
---
4. Solidarity and Epic Handshakes
In this age of great cultural unrest and abject political correctness, it's hard to find common ground. But the Internet is our constant, our hope, and our light. Here are some areas we can all agree on:
21st CENTURY MUSIC
— Julia Holter – Aviary Fan Account (@marasvinicus) August 10, 2018
ETHICALLY…
View this post on Instagram
CHOICE OF ACCESSORIES
i'm getting the hang of this solidarity meme pic.twitter.com/oEiLtL5Asr

— IAN – BAN ALL NAZIS YOU COWARDS (@ianaIexander) August 14, 2018
HATERS UNITE
View this post on Instagram
THE MOST VERSATILE VEGETABLE
We came up with this last night pic.twitter.com/xfDGYAq9jp

— Local Witch Pola✨ (@bitterpola) August 17, 2018
PERSONAL FAVOURITE
---
5. Workplace etiquette and useful office hacks
Wouldn't you know it. It has been International Week of Happiness at Work, so we thought it apt to introduce some office hacks from CONUS Battle Drill, an integration guide for combat veterans, but you don't need to outlive a war to find these pro tips relatable and highly useful.
PRO TIP #1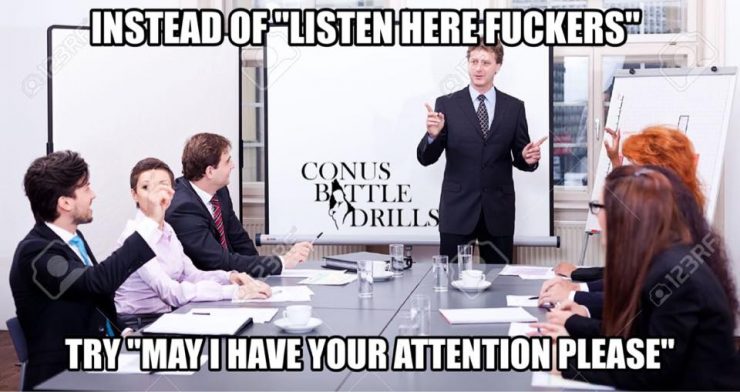 PRO TIP #2
PRO TIP #3
PRO TIP #4
PRO TIP #5
PRO TIP #6
---
6. iPhone XS/XS Max/XR and Apple Watch 4
Good for you if you've kept up with the latest Apple Keynote. But if you haven't, we're here to save you some time by letting you find out all you need to know by what people have said about it.
THERE'S THIS COOL NEW FEATURE
Drinking with an Apple Watch on just got INTERESTING #AppleEvent pic.twitter.com/u366HTfbeo

— Barstool Sports (@barstoolsports) September 12, 2018
Using state-of-the-art sensors, the new Apple Watch will notify your contacts that you haven't moved in several hours despite being "in a cab" on the way to meet them

— Patrick Monahan (@pattymo) September 12, 2018
The new Apple Watch will detect low heart rate and make ECGs. ?

The next iPhone will also perform the surgery required to sell your kidneys to pay for it. #AppleEvent ?

— The Viral Fever (@TheViralFever) September 12, 2018
PRICES ARE ONLY ASPIRATIONAL
#AppleEvent now that the new Iphone is out..i can now finally afford a second hand iPhone 4 pic.twitter.com/hQBte3sojR

— warren Mduduzi (@Smanga87Warren) September 13, 2018
me @ my iPhone ? after seeing the new prices #AppleEvent pic.twitter.com/xPJW1iB4vV

— S.khattak (@Nayapakistan_55) September 12, 2018

SIZES ARE NOT SMALL, TO SAY THE LEAST
The iPhone Xs Max will also come in a smaller model, known as an iPad mini

— Ina Fried (@inafried) September 12, 2018
THE MODELS ARE SIGNIFICANTLY DIFFERENT
#AppleEvent
Me: What's the difference between the iPhone Xs and the iPhone Xs Max?

Apple Employee: pic.twitter.com/L4BNJ48AQW

— Mr Umair???? (@Mr_Umiii) September 12, 2018
BUT THERE ARE WAYS AROUND  THE SYSTEM
Don't buy the new iPhone. Impress your friends and save money by simply writing "Sent from my iPhone XS Max" at the end of each email. #AppleEvent

— David Schneider (@davidschneider) September 12, 2018
---
7. The 'real' names of rappers
Ever wondered how rappers got their names, and more curiosly, what their real names are? Look no further. Meme girl is here to put your pressing queries to rest, and we gurantee this information is 100% acccurate.
CARDI B
cancelled for the rest of the day pic.twitter.com/uaKJJ0dGfJ

— randall (@_randaII) August 28, 2018
ICE CUBE
i'm losing my FUCKING mind pic.twitter.com/3QEKh8DcwI

— ????? (@RidersOvRohan) August 29, 2018
P.DIDDY
MACHINE GUN KELLY
— michiko malandro? (@_kianablack) August 29, 2018
OFFSET
didn't know offsets real name until now pic.twitter.com/80ulcNlfns

— cole heykoop (@heyy_koop) August 29, 2018
QUAVO
— CheeseyChris (@CheeseyChris) August 31, 2018

POST MALONE
Stoney's full name really hittin home for a lot of us? pic.twitter.com/O1sOPiLzCI

— ℜ͓ィ̽c͠н (@Too_Asian9) September 1, 2018
THE WEEKND
— ?? ??? ???????? ? (@mikeyromo4) September 1, 2018
PERSONAL BEST:
This had me dead pic.twitter.com/jYd8pbB2zI

— Carlitta Howie (@Cxrlittx) August 31, 2018
---
8. FIFA World Cup
FIFA 2018 has been full of surprises, but we're here to make sure you're updated on the most important things. More than scores and who will win the final, these are our pick of the funniest World Cup memes thus far.
HOW TO PICK UP GIRLS WITH HARRY MAGUIRE
"What else d'you wanna talk about? You name a subject, and I'll tell you a fact about it."

Cows

"Cows have got four stomachs." pic.twitter.com/wBGcVzihrR

— GeorgeWeahsCousin (@WeahsCousin) July 5, 2018
DAD OF THE YEAR MOMENT
Watching Peter Schmeichel's reaction to Kasper's penalty save #CRODEN pic.twitter.com/eog3M1drfT

— Scott Innes (@Flying_Inside) July 1, 2018
THAT LAST GOAL BY KROOS
mfw Kroos shot that beautiful goal and redeemed himself pic.twitter.com/m9Qf1sCb0O

— Merm — Nastassja. ???‍♀️ (@mermaidere) June 23, 2018
SAMPAOLI'S QUESTIONABLE ATTIRE CHOICE
Argentina manager Jorge Sampaoli takes his jacket off and goes from looking like a digital marketing exec to a thrash metal roadie #ARGCRO pic.twitter.com/bShUITP9Nm

— Joseff Morgan (@joseffmorgan) June 21, 2018
GERMANY'S LESS THAN STELLAR PERFORMANCE
Team Germany please pass by my desk, for the certificate of participation. pic.twitter.com/1n3AkTUAly

— Samuel Kunta ™ (@Kenyan_Jui) June 28, 2018
THE ICONIC IRANIAN THROW-IN
Me typing out a paragraph about why my girlfriend is wrong, deleting it and sending "okay x" instead. pic.twitter.com/kmPzZereA0

— Tom Todhunter (@tdhntr) June 20, 2018
PEPE'S MAJOR INJURY
[NSFW, Graphic content, discretion required] World Cup ending injury for Portugals Pepe

Source: https://t.co/gKOTwMnf8s pic.twitter.com/yzeJ6rc2GN

— Anupam Gupta (@mapuna) June 21, 2018
THE CHARISMATIC SENEGAL COACH
Aliou Cissé just added to Black Panther 2 cast pic.twitter.com/IjVSYeKsEV

— GoldenMole (@GoldenMole) June 20, 2018
PERSONAL BEST—NEYMAR'S FAVOURITE WAY TO MOVE
Since this is here, might aswell put this here pic.twitter.com/07kxMR4tVZ

— Kyle?RAKTIC?? (@KyleWebber22) June 29, 2018
MEANWHILE, THE REST OF US
Watching World Cup in the middle of the night be like… pic.twitter.com/yFVS2zWuEq

— SGAG (@SGAG_SG) June 21, 2018
---
9. Trump-Kim
You must be mistaken if this you weren't expecting the historic meeting to be featured on this Meme Friday. From recommended outfits for Trump to likely N-pop playlist for Kim, the possibilities are endless.
THE TROUSERS HOMAGE
It's 2018 and Trump & Kim out here still dressing like they got scooped up in the '03 draft. #TrumpKimSummit pic.twitter.com/s0agEDiKHb

— Roy Wood Jr- Ex Jedi (@roywoodjr) June 12, 2018
THE INNER VOICE OF REASON
THE GRAND FINALE
World's Worst Hair 2018 draws to a thrilling climax as finalists meet pic.twitter.com/zJ6Feh1rZq

— chris savidge (@ohchrissavidge) June 12, 2018
THE REALITY BEHIND EVERYTHING
---
10. The Laurel/Yanny debate
One fine day, Flowery Branch High School's Katie Hetzel looked up the word 'laurel' from her world literature class on Vocabulary.com, played the audio, and to her surprise, heard 'yanny'. And so, history's finest debate was presented. Meme history, that is. Listen to this and tell me it's not black magic.
What do you hear?! Yanny or Laurel pic.twitter.com/jvHhCbMc8I

— Cloe Feldman (@CloeCouture) May 15, 2018
Here's what it's already doing to us.
BRINGING UP TRAUMATIC MEMORIES
guys help me out, does this dress say yanny or laurel pic.twitter.com/Tl2lfZKYBS

— Alex Zalben (@azalben) May 15, 2018
TURNING FRIENDSHIPS INTO MARVEL WARS
GIVING US MORE REASON TO SELF-DOUBT
Alright, truth is, the recording has both high and low frequency. Depending on what you (or your brain) are inclined to, higher let's you hear 'yanny', while lower gets you to swear by 'laurel'. It might be an age thing, or it might not. We're just saying you're not entirely crazy. (Technically, the sound file is 'laurel'.)
---
BONUS: Best Singaporean memes
Of course we have to do a collection of top Singaporean memes. It's almost as mandatory as CPF, ERP and other acronyms of patriotism. So here's what it means to be Singaporean, or as we say here, MAJULAH SINGAPURA b*tch.
OUR STANDARD NDP PROCEDURE
AVERAGE WEEKDAY TINGS
OUR FAVOURITE ONLINE MARKET, CAROUHELL
WHEN WE REALISE THAT
OTHER COMMON STRUGGLES
BUT ULTIMATELY