You've probably seen these floating around, and been guilty of being either the mansplainer or the receiving victim of the rant. I call it The Circle of Life. You see it a lot here: Like snacks? Here's an extended reason why you should like locally flavoured Pocky. Like sneakers? Here's a breakdown of which you should best invest in. Like movies? Here's a review of Hobbs & Shaw purely in upper case. Wait, why are you looking at me with that blank stare?
UGH MOM 
me explaining to
my mom that
another one of my
favourite characters
died and listing the
reasons as to why
they deserved better my mom pic.twitter.com/Bhd2XZ1H8c

— gigi (@dariaspenn) May 23, 2019
THE ONE THAT GOES 'DUN DUN DUN DUH DUN'
me explaining
a song I heard
years ago only
knowing the melody google pic.twitter.com/pCXHHH8e3i

— Elizabeth Zaks (@ElizabethZaks) May 29, 2019
WHAT D'YOU MEAN HOROSCOPES AREN'T REAL?
me explaining that
i'm a gemini and it was
my other personality
that committed the
crime the police pic.twitter.com/FMhcrQpPen

— Ky🌚 (@kexlyy) May 31, 2019
OKAY, WHICH PART DID YOU NOT UNDERSTAND?
Me explaining how the
X-Men will be introduced
into the Marvel Cinematic
Universe My wife pic.twitter.com/0uldzV5m5i

— Benjamin A. Vorwerk (@bvorwerk) May 30, 2019
YOU KNOW WHO YOU ARE, COLLEAGUE
me explaining
to my friends
why drinking
water
is important my friends pic.twitter.com/PlJnZMObuB

— reminding you to drink water (@drinkH2Oslut) August 7, 2019
FELINE FANS RELATE
me explaining
my love for my
cat and how i
would die for him my cat pic.twitter.com/VoklIxcdDD

— ♡ʾʾ (@shybunni) May 27, 2019
NO WORRIES DOG PEOPLE, WE GOT YOU TOO
Me explaining to
my dog why eating
shit is gross and bad
for him. My dog pic.twitter.com/dw7B0oQyWx

— T H E B R O N C O (@HeavyDirtbag) May 28, 2019
NEVER WORKS THO
me explaining to myself why i should stop procrastinating vs me procrastinating pic.twitter.com/LAbVdORmBP

— piulia (@kalopsiha) May 24, 2019
---
What you may have missed: What do we do when we feel like this?
Life is hard, and sometimes you just need a therapist. Someone to listen, and even guide you through the vicissitudes of this world; disappointments and all. And when we're asked how to react, it doesn't always mean we give the right answer.
NO SURPRISES
Therapist: "And what do we say when life disappoints us"

Me: "Called it"

Therapist: "no"

— 🇺🇸⭐⭐⭐⭐🇺🇸 (@smithkm217) 9 July 2019
SOME DAYS ARE JUST HARDER
Therapist: and what do we say when we feel like this?
Me: time to die
Therapist: no

— "just lauren" (@breakingthelaur) 4 July 2019
IT DO
Therapist: And what do we say when we feel like this?

Me: It be like that sometimes

Therapist: No

— Sabrina (@stfu_sabs) 8 July 2019
SOMETIMES WE DON'T EVEN NEED WORDS
Therapist: "And what do we say when life disappoints us"

Me: "Oof"

Therapist: "no"

— LoAnne (@TheLoAnne) 7 July 2019
AT ALL
therapist: and what do we say when we feel like this

me: ¯\_(ツ)_/¯

therapist: how did you just say that out loud

— peppa thee pig (@ratdad666) 13 July 2019
MAKING THE MOST
therapist: and what do we do when our hands are shaking?

me: turn them into jazz hands 🙂

therapist: no

— abbie (@abbiergnbm) 18 July 2019
TAKING CUES FROM OUR CHIEF EDITOR 
therapist: and what do we do when we are sad?

me: add to cart

therapist: no

— katelynn (@katelynn_rae01) 18 July 2019
HEY, DON'T ATTACK MY THERAPY
my therapist: and what do we do when a new meme format is sweeping across twitter?

me: I do the meme

my therapist: no

— Priyanka Aribindi (@priaribi) 22 July 2019
GOOD TO FINALLY BE ON THE SAME PAGE
therapist: and what do we do when we feel sad

me: we get our nails did

therapist: [nods] we get our nails did

— Matt. (@MattTheBrand) 15 July 2019
MIGHT EVEN TEACH A LITTLE
therapist: and what do we say when we feel this way?

me: don't be sad. because sad backwards is das. And das not good.

Therapist: *taking notes* can I use that

— John (@Jphilippides_) 19 July 2019
YUHHH
Therapist: And what do we say when we feel like this?

Me: ayyy

Therapist: lmao

— Lindsey Ritchie (@lindsritch) 15 July 2019
---
Cats movie trailer
Do I call this live-action? CGI? A terrifying mash up of the two? At this point, I'm not sure if the trailer is a nightmare or we're living in a nightmare where it is a. real. movie. God help us all. But at least we know we're together in this. Let's just do as we have before and use humour to cope with the trauma.
NOW THAT WE SAW THE TRAILER
The #CatsMovie is going to look like this pic.twitter.com/HM9glKVkAv

— Quinton Reviews 🎬 (@Q_Review) 17 July 2019
SO TRUE IT HURTS
why do the cats in the new Cats movie look like bad Medieval cat paintings lmao pic.twitter.com/mIHbJbrIhi

— rae paoletta (in 🇨🇱) (@PAYOLETTER) 18 July 2019
AT LEAST YOU CAN TELL COSTUME AND MAN APART HERE
Cats (2019) pic.twitter.com/zLLG962bWh

— 𝚝𝚑𝚎 𝚘𝚏𝚏𝚒𝚌𝚎 (@theofficenbc) 18 July 2019
IT'S HOW THEY SHOT IT
Bruh the CGI is so tragic it's just the Snapchat cat filter #CatsMovie pic.twitter.com/zvCVdKkTI7

— Booth (@honourablecrush) 19 July 2019
OR FACESWAP
Cats (2019) pic.twitter.com/HHCvXn8BQr

— Ray ✨🧚🏻‍♂️ (@spacedog17) 19 July 2019
I WOULD CRY
i misread a tweet about Cats (2019) as a tweet about Cars (2006) which brings me to my most important take yet: REMAKE CARS (2006) IN THE STYLE OF CATS (2019) WHERE HUMAN ACTORS PLAY LIVE-ACTION THICC CARS

— jonny sun (@jonnysun) 18 July 2019
CAN'T WATCH LATE LATE ANYMORE
the James Corden cat is what I see in the corner of my room when I have sleep paralysis pic.twitter.com/l9I9CBh9VG

— georgia 🦁 (@brightroars_) 18 July 2019
EQUIVALENT TO US WEARING HUMAN SKIN
the judy dench cat wears a fur coat. but is her coat made of cats? or is her flesh made of coat? she screams, for she does not know pic.twitter.com/SDTMfe434p

— erin chack (@ErinChack) 18 July 2019
YEAH SERIOUSLY
I don't know why you're all freaking out over miniature yet huge cats with human celebrity faces and sexy breasts performing a demented dream ballet for kids.

— Louis Virtel (@louisvirtel) 18 July 2019
THE QUESTION IS
Why do the cats have boobs

— Dana Schwartz (@DanaSchwartzzz) 18 July 2019
NOT JUST CATS
me watching the CATS trailer pic.twitter.com/MhEQKuXsJo

— David Sims (@davidlsims) 18 July 2019
Y'KNOW WHAT? THIS IS PROBABLY IT
The Cats movie is the best prank that anyone ever played on celebrities and I respect it so much.

— Wendy Molyneux (@WendyMolyneux) 19 July 2019
---
#Area51
You know the world is in a great place when people start facebook groups to trespass government property in hopes of finding extra-terrestrial life. Yeah, now public event 'Storm Area 51, They Can't Stop All of Us' has amassed more than a million and a half RSVPs. The sheer absurdity of it ("If we naruto run, we can move faster than their bullets.") led to some well-deserved memes. Here are the favourites:
RIGHT SINCE 1989
The Simpsons haven't lied yet pic.twitter.com/1SB5HLZ459

— 24/7 HipHop News (@BenjaminEnfield) 13 July 2019
ME, LITERALLY, JUST NOW, RIGHT UP THERE
me explaining the Area 51 memes to my friends #Area51 pic.twitter.com/YhEJJti0Cn

— martha (@marthastelllaaa) July 14, 2019
THEY READY
The aliens at Area 51 waiting on that "we outside" text 💀 pic.twitter.com/HJECAOdgp6

— Juan Jose (@juanjose7_) 12 July 2019
C'MON NOW
Area 51 guards when they hear the anime music outside getting louder pic.twitter.com/4JxB1RJWpf

— anime. (@TokyoSage) 16 July 2019
DIPLO GETS IT
this crowd is crazy pic.twitter.com/0ss5eVmYFT

— wes (@diplo) 14 July 2019
AW IT'S MINI KEANU AGAIN
NEVER FORGET
CAN YOU IMAGINE
one second after the #Area51's door will be open! pic.twitter.com/2Tgu5rMx57

— #Area51 Memes 👽 (@AreaMemes51) July 14, 2019
AKA THE START OF A BEAUTIFUL FRIENDSHIP
Me explaining to my alien that I have thousands upon thousands of student loan debt and need 5 years of experience for a entry level job after I bust him out of Area 51 pic.twitter.com/JVRLqOE2Jf

— College Student (@ColIegeStudent) July 15, 2019
YES
YOU KNOW IT
The most accurate of all the Area 51 memes pic.twitter.com/nZKw2fp6hN

— Caleb B. Gwaltney (@Caleb_Brentley) 12 July 2019
OH MY GOD
*Time Traveler arrives from 2029*

Me: so did those people actually storm Area 51?

Time Traveler: you mean the great Area 51 massacre?

Me: pic.twitter.com/Tw0BuoRiKI

— Epi (@MisterEninja04) 12 July 2019
And if our local rendition 'Storm ST Kinetics, They Can't Stop All of Us' or 'Storm The Bermuda Triangle, It Can't Swallow All Of Us' isn't enough, here's the most meta meme of them all.
---
Bottle cap challenge
Fine, this is technically not a meme. But it's another viral internet trend, so it's basically the same thing. This is my page, I make the rules. You've probably seen it by now—using roundhouse kicks to remove caps from their bottles. We have Kazakh taekwondo fighter Farabi Davletchin to thank for spreading this to the celebrity world and now here we are with these gems.
ONE OF THE PIONEERS
View this post on Instagram
OUR LOVELY DECEMBER COVER STAR
View this post on Instagram
THAT FORM THO
View this post on Instagram
NOT BAD, NOT BAD AT ALL
View this post on Instagram
OH SHAQ
View this post on Instagram
RYAN NEVER FAILS TO DELIVER
#BottleCapChallenge #Glass @AviationGin pic.twitter.com/joM20RhUid

— Ryan Reynolds (@VancityReynolds) 3 July 2019
OF COURSE HE'S USING A CARD
View this post on Instagram
USING THAT IP MAN POWER
View this post on Instagram
NOT A CELEBRITY BUT UH, GO SINGAPORE
Behind-the-scene look at our lifesavers' forcible entry training 👀

jk jk 🤣 don't worry, our #bottlecapchallenge was done in good fun and with safety consideration (seriously don't try this at home).

Have a great weekend!

📹: Sentosa Fire Station pic.twitter.com/LQ5bpmEiRf

— TheLifeSavingForce (@SCDF) 6 July 2019
PERSONAL WINNER
View this post on Instagram
---
Leonardo DiCaprio vs Volleyball
No, it doesn't matter that the actor is creating a lot of buzz in Tarantino's 'Once Upon A Time In Hollywood' alongside Brad Pitt and Margot Robbie. It doesn't matter that he is all about environmental activism and acknowledging the water crisis in Chennai. What really matters is he took a ball to the face and it makes a great meme template.
100% RELATABLE
Hits me hard! #LeonardoDiCaprio pic.twitter.com/Ww4Lxdd1KU

— Yash Saboo (@YashSaboo7) 26 June 2019
GUESS IT WAS WORTH THE TRY
— Anna Rose Iovine (@annaroseiovine) 25 June 2019
INFALLIBLE CAPTION
*Freeze frame*

Yup, that's me. You're probably wondering how I ended up in this situation. https://t.co/V0Do5IXRtN

— Kevin Lim (@KevinLimOnAir) 26 June 2019
U FEEL ME?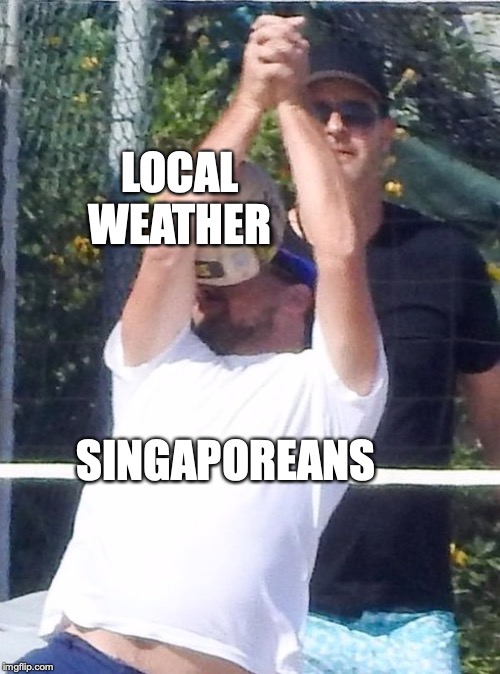 ONE FOR THE NON ATHLETICALLY INCLINE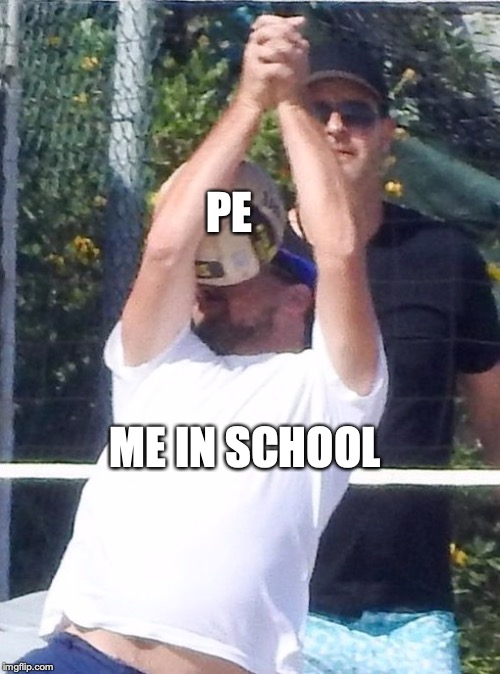 CAN I GET AN AMEN?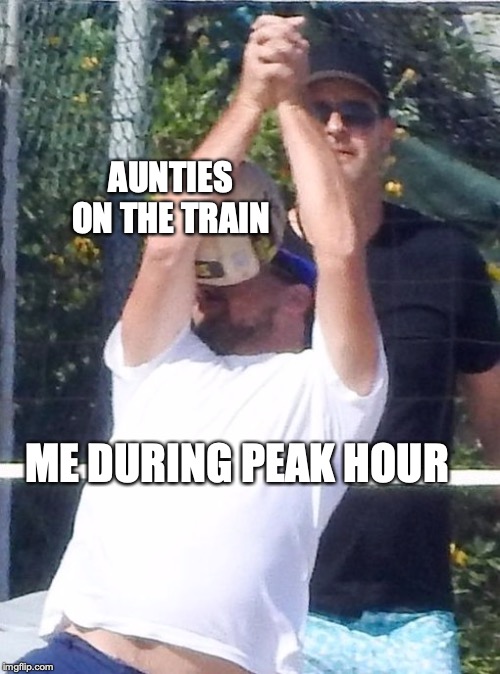 BUT IF YOU'RE WORRIED ABOUT LEO HIMSELF
He took on a bear, I'm sure he's fine.

— Kyle Henson (@IgotKyle) 26 June 2019
---
Mini Keanu Reeves
Alright, fine. I'm as biased as the next person on the Keanussance. It's here now and we should embrace it. From the actor appearing everywhere to petitions to get him to be TIME Person of the Year, this meme is just a small, beautiful part of this current age. Taken from his appearance at the Cyberpunk 2077 presentation and edited for no apparent reason, it became popular because well, it's Keanu Reeves. You don't need a reason.
IT'S EXPECTATION VS REALITY
View this post on Instagram
CHILDHOOD 
View this post on Instagram
MORE KID MEMORIES
View this post on Instagram
EVEN ODDLY SPECIFIC ONES
View this post on Instagram
APPLIES TO NON-HUMANS AS WELL
View this post on Instagram
AND IF ONE IS NOT ENOUGH
mini keanu reeves makes me laugh so hard https://t.co/WMLv8V3giB pic.twitter.com/uuND5Gotzu

— JJBA_irl (@jjba_irl) 22 June 2019
---
The Justin Bieber Tom Cruise showdown
In another less than strange episode of Justin Bieber doing Justin Bieber things, the 25-year old singer challenged Tom Cruise to a fight, in a tweet, no less. He has since said "lol jk" [rephrased], acknowledging that the veteran actor would whoop his ass. That didn't stop the memes. No, in fact it became a trending challenge to call out celebrities exactly 31 years your senior into the ring.
IN OTHER WORDS
nobody:

absolutely nobody in the world:

certainly no 25-year-old singers to 56-year-old actors who never really seemed to claim to do this in real life, just pretends in movies, nice and fun for us and for him too:

Justin Bieber to Tom Cruise: ᶠᶦᵍʰᵗ ᵐᵉ ʸᵒᵘ ᶜᵒʷᵃʳᵈ

— Jeremy Woodcock (@jwPencilAndPad) June 10, 2019
TOO GOOD A BEEF FOR A FELLOW BEEF-STARTER TO IGNORE
If Tom Cruise is man enough to accept this challenge,
McGregor Sports and Entertainment will host the bout.
Does Cruise have the sprouts to fight, like he does in the movies?
Stay tuned to find out! https://t.co/TxsH9KUyFg

— Conor McGregor (@TheNotoriousMMA) June 10, 2019
WHO ALSO JOINED IN
I challenge Mark Walhberg on the very same card.
Back when mark wahlberg was marky mark, I'd've still slapped the ears off him and took my ufc shares back.#Shares #Streams #Dazn #Espn
McGregor Sports and Entertainment

— Conor McGregor (@TheNotoriousMMA) June 10, 2019
THE CHALLENGE
Justin Bieber is 25, Tom Cruise is 56.

Challenge an actor 31 years older than you to a fight. I'll go first…

Sam Waterston, you're a punk, and due for an ass beating. Name the place. pic.twitter.com/DZGjmzPvUD

— Misnomer (@Misnomer) June 10, 2019
ANYONE
Tony Bennett, are you eyeballing me? How 'bout we take this outside? pic.twitter.com/XFxs3QwWpR

— Jim O'Shaughnessy (@jposhaughnessy) June 11, 2019
AND EVERYONE
I'm 35.
You're 66.

Jeff Goldblum come catch these hands.

I'm calling you out. https://t.co/2RrittkXtG

— Chad Ryan (@ChadwikoRCC) June 11, 2019
AUTHORS INCLUDED
in honor of Justin Bieber challenging someone 31 years older than him to a fight, I'd like to formally ask George RR Martin to face me in the Octagon and if I win, he has to finish the goddamn books

— Brandon Stroud (@MrBrandonStroud) June 11, 2019
JACKPOT
I looked and a significant number of actors 31 years older than me would probably kick my ass. Sean Penn? Absolutely. Jean Claude Vann Damme? Without question. Dennis Rodman? Jokes. Christopher Merloni? Most likely

Basically taking my chances with George Clooney or Stanley Tucci https://t.co/p0C8Jre040

— Grookey Gang Pelka (@PelkaSupaFresh) June 11, 2019
COULD BE A DIFFERENT KIND OF FIGHT THOUGH…
I wanna challenge Justin Bieber to fight in thumb wrestling. Justin if you dont take this fight you're scared and you will never live it down. Who is willing to put on the fight? @danawhite? @TheNotoriousMMA? @reba? @Oprah?

— Robby Starbuck (@robbystarbuck) June 10, 2019
BUT SOME FIGHTS
I regret to inform you that Keanu Reeves is 31 years older than me, and is now going to kick my ass https://t.co/UjKP0patdU

— Olive Rae Brinker (@olivebrinker) June 11, 2019
YOU JUST CAN'T WIN
I ain't scared of you Jackie Chan

Editor's Note: Raymond is very scared. https://t.co/QH4BPLDkb6

— Raymond Summerlin (@RMSummerlin) June 11, 2019
---
Keanu Reeves slow-mo entrance
Seems like Keanu Reeves is the man of the hour. Not only for John Wick 3 but for being the star of yet another meme. We've seen his best work in the Conspiracy memes, the Sad Keanu memes, and even the Running Away With A Camera He Stole From The Paparazzi memes. Now, in Netflix's latest rom-com 'Always Be My Maybe', [spoiler alert! Or is it too late?] Reeves makes the perfect cameo. So perfect, it goes with any background music you can possibly think of. That's just how good he is.
CLASSICS
take my breath away – berlin pic.twitter.com/Op8inL7qH2

— keanu reeves walking to music (@keanuwtm) May 31, 2019
SLOW ROCK
heaven – bryan adams pic.twitter.com/KmMtwGznc5

— keanu reeves walking to music (@keanuwtm) May 31, 2019
INDIE JAMS
the less i know the better – tame impala (request by @IzaMuniz1998) pic.twitter.com/tfXjT8pqIZ

— keanu reeves walking to music (@keanuwtm) May 31, 2019
SHAKIRA
whenever wherever – shakira (request by @Alinnnex) pic.twitter.com/ZI6K7J9YQQ

— keanu reeves walking to music (@keanuwtm) May 31, 2019
SO FITTING IT HURTS
whatta man – salt n pepa (request by @villeneuve2049) pic.twitter.com/G8qtcLz2ZA

— keanu reeves walking to music (@keanuwtm) May 31, 2019
SERIOUSLY, ANYTHING
kokomo – the beach boys pic.twitter.com/246GpDhLTv

— keanu reeves walking to music (@keanuwtm) May 31, 2019
PERSONAL FAVOURITE
roman holiday – nicki minaj (request by @fiqhtclubb) pic.twitter.com/I2pDhmEKb8

— keanu reeves walking to music (@keanuwtm) May 31, 2019
---
First ever black hole image
So scientists have acquired an image of a black hole for the first time in history. From the centre of the galaxy M87, the Event Horizon Telescope observed a bright orange ring formed as light bends around the intense gravity of a black hole 6.5 billion times larger than the Sun. Using an algorithm, 29 year old Katie Bouman led the development that made the breakthrough possible. But does the Internet care? Of course not. All we want are memes.
NEVER GETS OLD
NASA: *releases first ever photo of a black hole*

Photo: *looks like a black hole*

Me: pic.twitter.com/QgCfZ0EZb6

— JΛKE BUCKLEY ?? (@TheMasterBucks) 10 April 2019
OR BETTER YET
My face when I saw the black hole pic.twitter.com/yIbCpQkbUW

— Jacob Aron (@jjaron) 10 April 2019
A HIGHER RESOLUTION MAYBE?
used Photoshop's shake reduction filter on the Black Hole photo and was amazed by the result#EHTBlackHole pic.twitter.com/RLBPyuIx3T

— Paul Scott Canavan (@abigbat) 10 April 2019
OR JUST A ZOOM OUT
Cat scan of black hole #EHTBlackHole pic.twitter.com/n4Y8QDMaZl

— angus cooney (@GUSINUS) 11 April 2019
WAIT A MINUTE
THE UNIVERSE HAS ALIGNED
The Black Hole pic.twitter.com/2fVVGXtxZi

— Game of Thrones Memes (@Thrones_Memes) 11 April 2019
IT'S NO DIFFERENT FROM US REALLY
Profile pic vs tagged pic pic.twitter.com/QG3bwCk7q1

— Ben Machell (@ben_machell) 10 April 2019
BUT WE KNOW WHAT THE TRUE BLACK HOLE IS
---
Posh Winnie the Pooh
Everyone knows Winnie the Pooh; the slightly dull but pure-hearted yellow bear. It turns out that all it takes is putting on a suit to elevate everything. It's not pretentious, just a higher way to do the regular things.
QUESTIONS
— bani ?? (@shiinsuke) 31 March 2019
APOLOGIES
— ? yung fuel pump ? (@Albin1199) 1 April 2019
JOB DESCRIPTIONS
EMAILS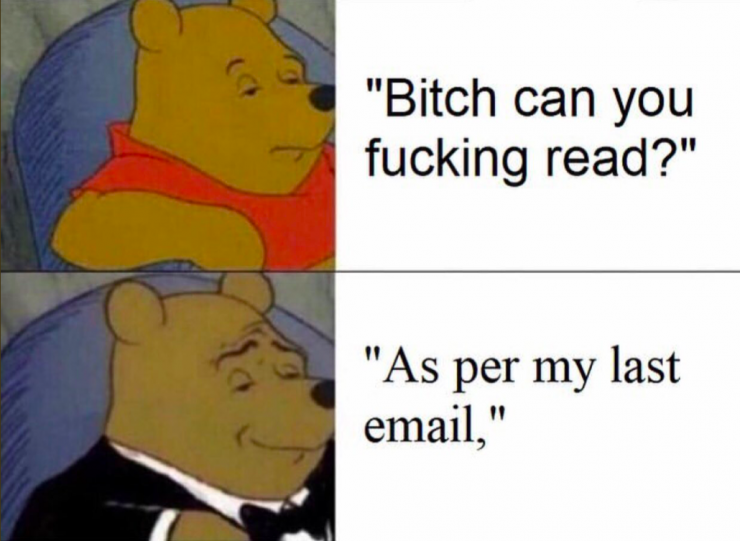 FOOD
— memeois (@memeois) 2 April 2019
NUMBERS
— Plathanos ??? (@SavinTheBees) 1 April 2019
CRIME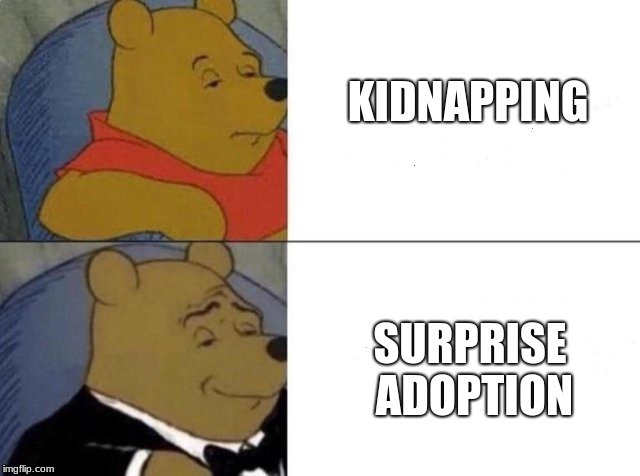 QUALITY CONTENT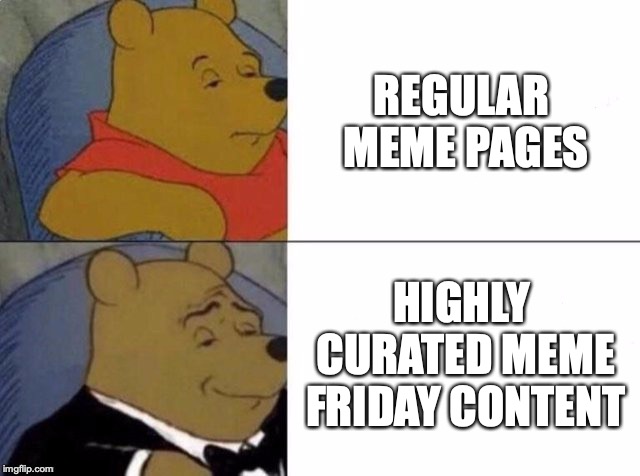 AND EVEN, MINOR INCONVENIENCES
---
Avengers Endgame Ant-Man Theory
The wait for the latest Avengers instalment is drawing to a close. Marvel releases a series of posters. Fans are dying in anticipation. Yet, somewhere in the corner of Reddit, a speculation rises from the dust: Ant-Man could be the hero we've all been waiting for. Butt, the supposed method of delivery is not the neatest.
The Internet is convinced that the tiny Avenger would enter Thanos' body in his microscopic form, and bring the Titan to his demise by expanding in size while within him. And for strange reasons unknown to us, users believe it would be through …a backdoor entrance. Not to be anal, but that is nasty. The memes, though, hilarious.
Yooooo these have to stop ??? #Thanos #ANTMAN pic.twitter.com/1lhydrX3Oa

— Mike LeMaster (@MLeMaster13) March 28, 2019
THIS NEVER LEAVES US
Thanos's bootyhole: *exists*

Ant-Man: pic.twitter.com/5CGA4n7ZVs

— Cam IN LA (@planetcameron) 22 March 2019
ESSENTIALLY
THAT'S ONE WAY TO CALL IT
Thanos when Ant-Man crawls up his ass. https://t.co/Qt4c3uhw9m pic.twitter.com/jJImD5QoFu

— Prequel Memes Droid (@PrequelMemesBot) 19 March 2019
WE CAN ONLY IMAGINE
WELL, NOW
literally almost every mcu fan: haha what if Nick Fury's eye was scratched out by the cat

Captain Marvel: Nick Fury's eye was scratched out by the cat

literally almost every mcu fan: haha what if ant-man went into thanos's ass then grew to defeat him

Avengers Endgame:

— Jennifer (@sapphic_tracer) 25 March 2019
TOO SOON?
stan lee watching everyone talk about how ant-man gonna defeat thanos by crawling into his asshole pic.twitter.com/aJBBLbccDB

— ʟᴏᴋɪ's ʟᴀᴡʏᴇʀ (@poemsloki) 22 March 2019
---
Cheese Challenge
Just when we thought we've hit the pinnacle of humanity, another viral but pointless challenge shows itself. I'm not one to complain though; it's stuff like this that stands as the sole reason for my entire existence here. Where would I be if the Internet did not find joy in throwing Kraft singles at their pets and babies?
IT'S PRETTY HARMLESS
It gets better every time I watch it pic.twitter.com/QPRN42x8Xo

— AC? (@annaclairerusso) 1 March 2019
MOSTLY
30th Anniversary of the World Wide Web and the viral challenge right now is throwing cheese at babies ? This is not good #CheeseChallenge #WorldWideWeb pic.twitter.com/ATHAyaJolK

— SM1 Print Studio (@SM1PrintStudio) 12 March 2019
SOME DON'T GO AS PLANNED
SuperDog say No to #CheeseChallenge pic.twitter.com/4U1eyIWjG1

— i Love Gifs (@AyLoveGifs) 17 March 2019
SOME TRY THEIR BEST
Say Cheese: Bulldog Edition #CheeseChallenge pic.twitter.com/dTacYJcsxe

— Matt Horowitz (@goisles94) 16 March 2019
IT WORKS REALLY WELL WITH FELINES
View this post on Instagram
LIKE REALLY WELL
Mine are fire ? #cheesechallenge pic.twitter.com/3erfO4m0cH

— iamalfr3do? (@Iamalfr3do) 18 March 2019
LIKE REALLY, REALLY WELL
I did the #cheesechallenge on my cat ???? my good sis was not having it pic.twitter.com/84M7AbKYVf

— lil sis (@lilboobear8) 20 March 2019
DID WE ALREADY MENTION CATS?
? ? pic.twitter.com/9tnblgdJxZ

— topher. (@Varietis) 12 March 2019
BUT NOTHING BEATS DOING IT ON A PARENT
Trying the #cheesechallenge on my dad pic.twitter.com/HfJJMw9Vcc

— Skye (@Valedictwhorian) 13 March 2019
---
#InstagramDown/#FacebookDown
Guys, #omg when IG and FB were down, I thought I was literally, like, gonna die #dead. I had to actually look at my surroundings on my way to work, pay attention to an entire episode of TV, and resort to physically stalking hot people. The world was so bleak without social media, I just couldn't even. And I know you feel me.
ALL OF US A DAY AGO
Apparently Facebook and Instagram have been down all day. #FacebookDown pic.twitter.com/DSQyT4R3dM

— Andrew Nietor (@anietor) 13 March 2019
SOMEONE HAD TO DO IT
Me calling Mark Zuckerberg to tell him Instagram is down pic.twitter.com/PSQUFBCdNu

— Myth Whore ? IG: Vintagexpast (@vintage0threads) 13 March 2019
PRETTY SURE THIS WAS WHAT WAS HAPPENING
Instagram: "We are working hard to resolve the issue"

Instagram developers:#instagramdown pic.twitter.com/LyPVXPlX3n

— Paskali? (@Arsen_Seni) 14 March 2019
THE SOLE SURVIVOR
Twitter while Instagram and Facebook are down#facebookdown #instagramdown pic.twitter.com/FscF8Q46eF

— mariana chacon (@JJKfocuss) 14 March 2019
THE ULTIMATE VICTIMS
All Instagram models realizing they have to look for new jobs since they are now unemployed. #instagramdown #facebookdown pic.twitter.com/ccGcm8AK81

— Amir ☽ (@__amvr) 14 March 2019
DESPERATE TIMES CALL FOR DESPERATE MEASURES
Time to fire this back up. #FacebookDown pic.twitter.com/Q3x9BQEin8

— Lawrence Champness (@champy) 13 March 2019
WE'VE COME FULL CIRCLE TO LAST WEEK'S MEME
Me trying to log back into Instagram after redownloading the app #instagramdown pic.twitter.com/MVyGcEiVru

— 6urberry (@Chxmpage) 14 March 2019
THANK HEAVENS IT'S BACK TODAY
Me thinking about all the fire memes that i was not able to repost today #FacebookDown pic.twitter.com/PFXAJc1KcY

— Jorge (@JAF90) 14 March 2019
IF ALL ELSE FAILS
Facebook???? Instagram???? Atleast the Soulja App isn't down ??‍♂️

— Soulja Boy (@souljaboy) 13 March 2019
But am I the only one who thinks that all our personal data has been duplicated and downloaded during the shutdown because even Gmail was failing so it's only a matter of time before every secret we've ever had will be leaked online? Guess we'll just have to wait and see…
---
Let me in
Memes have a strange way of revisiting the internet and leaving behind a trail of pointless gags. Take The Eric Andre Show from 2016 for instance. The episode where he attempts to get into the Democratic National Convention without his "press pass", and ends up desperately clinging from the outside, has now circled back to us almost three years later.
IT'S THE WAY OF THE WEB LORDS
THE STUFF OF MYTHS AND LEGENDS
A FAIRYTALE BACKSTORY
ALSO A CAT THING
my cat 5 seconds after i let her out of my room pic.twitter.com/g6T7boHUrh

— aksel (@aksually) 7 February 2019
THE PINS AND NEEDLES
View this post on Instagram
I MEAN I WOULDN'T CALL IT DEPRESSION BUT
me trying to access the part of my brain that makes me happy pic.twitter.com/w1MiHDOT8s

— •katherine•❀*❁✲゚ (@cuddletimekitty) 20 February 2019
---
Lady Gaga and Bradley Cooper at the Oscars
Enough happened at the 91st Academy Awards to be meme material, from Rami Malek's unfixable bowtie to Chris Evans gentleman moment, but nothing, not even the heartwarming friendship of Spike Lee and Samuel L. Jackson, can compare to the undeniable off-screen chemistry of the duo performing 'Shallow'.
SHE ALREADY MADE SURE SHE MENTIONED HIM 99 TIMES
Lady Gaga has 99 nonbelievers but Bradley Cooper ain't one (2018) pic.twitter.com/xDnmcIyGuP

— Gaga Doing Things (@LGDoingThings) October 6, 2018
AND OF COURSE, WE'RE ALL FANS OF THE SONG ITSELF
When you sing both Gaga and Bradley's parts in Shallow: pic.twitter.com/fs9BpLnJ0O

— ♔ (@KingLadyGaga) February 26, 2019
THEN THE INEVITABLE HAPPENED
The Oscar for convincing me they're having a real life affair goes too…. #oscars pic.twitter.com/Rr2dzJv70f

— Ashley Clements (@TheAshleyClem) February 25, 2019
SO CONVINCING,
i think i finally understand heterosexuality pic.twitter.com/txsOxWOSr2

— E. Alex Jung (@e_alexjung) February 25, 2019
IT DESERVES ITS OWN AWARD
And the Oscar for "Best Intercourse, Sung" goes to pic.twitter.com/5QTK4Bd3Qx

— Ben Boskovich (@benbosk) February 25, 2019
WE SEE ZERO DIFFERENCE
Great performance by Lady Gaga and Bradley Cooper, shown here if you missed it.#Oscars pic.twitter.com/mTUSX1dYvG

— Jake Vig (@Jake_Vig) February 25, 2019
LIVE look at Lady Gaga's lips and Bradley Cooper's lips #Oscars pic.twitter.com/ArFiM2ZWVL

— Kennedy Blake (@K3nnyandtheJets) February 25, 2019
NOT SURE WHAT THE REPERCUSSIONS WOULD BE
Bradley Cooper 100% sleeping on the sofa tonight. #Oscars pic.twitter.com/umVWJp53Wb

— Alec Flood (@AlecFlood) February 25, 2019
Irina looking at tweets saying brad & gaga are soulmates pic.twitter.com/hIFQvTFMGk

— niki (@swiftlyfe) February 25, 2019
BECAUSE WE ALL KNOW
LADY GAGA WILL EGOT

EMMY
GRAMMY
OSCAR
TFUCK BRADLEY COOPER

— Aaron Eisenberg (@Eisentweet) February 25, 2019
ONLY TIME WILL TELL
---
AirPods
AirPods have been around for quite a while now, but who knew the real purpose they served? Wireless convenience? Ease and comfort of use? Poppycock. The perfect statement of affluence are clearly these buds. Here's what happens when you get a pair:
YOU AUTOMATICALLY GET ON FORBES
"Top 10 richest people

1. Airpod users
2. Amazon CEO
3. Bill Gates
4. People who refuse to shop at Walmart
5. Mark Zuckerburg
6. Jay-Z
7. People who say "let's get this bread"
8. Floyd Mayweather
9. Oprah
10. People with either "?" or "?" in their bio"

— Flacko (@khaleed_id) December 18, 2018
YOUR LIFE CHANGES
This is how all my meals have looked since getting AirPods pic.twitter.com/sJTtUjWYx9

— slatt lord dick drizzle, lll ?☄️?® (@slapmydicnballs) December 26, 2018
INITIATION IS SIMPLE
In the first page of the AirPod instructions it says you're aloud to spit on anyone who doesn't have AirPods

— EMMY (@emmymhartman) December 26, 2018
YOU LEARN THE RIGHT WAY TO SIGN OFF
love my new airpods

Sent from Apple AirPods

— YaLocalWhiteBoy (@NoHoesGeorge) December 26, 2018
PRODUCT CARE
Putting my AirPods to bed pic.twitter.com/VY6u3A6vOa

— ???? (@Slac_XV) December 26, 2018
HOW TO FLEX IN GENERAL
sometimes i wear my airpods without playing music in them just so people know i'm superior to them

— Antonio Garza (@antoniiogarza21) December 23, 2018
EVERYTHING WILL LOOK SUBPAR
People who have AirPods looking at regular earphones: pic.twitter.com/HFndBUOzSW

— Adora_a (@adora_adeyemi) December 23, 2018
AS KENDRICK LAMAR SAID, THERE'S LEVELS TO THIS
I don't even charge my airpods. Quicker to just buy a new set every time.

— Steven ? (@SstevenHa) December 25, 2018
HE DID ALSO SAY
Gotta stay humble ??? pic.twitter.com/pHUk3nmSXk

— Noob (@Datcasey) January 21, 2019
BUT YOU DO YOU MAN
*wears AirPods once* pic.twitter.com/KrgO5XTNLm

— Trevor Wallace (@TrevWall) December 18, 2018
---
Fyre Festival Andy King
By now you would have already watched or at least heard of the freakshow that is Fyre Festival (if you haven't, you can quickly catch up here on our 10-word review). Out of The Greatest Party That Never Happened, it wasn't 'CEO' Billy McFarland or rapper Ja Rule that got the spotlight. It was event producer Andy King. His Evian story caused such shock and sympathy that the Internet responded in the only way it knew how… meme it.
Content is unsuitable for the young.
SOME CONTEXT
In case you missed it, here's the gay plot twist of Andy King in the Netflix Fyre Festival doc: pic.twitter.com/2pG9MkddYp

— Mario (@mtehuitz) January 20, 2019
WHICH CAN BE SUMMED UP IN ANOTHER MEME
View this post on Instagram
IT'S ONE WAY TO GET HIRED
Job Interviewer:
Explain a time where you encountered a problem, and describe how you solved it.
Andy King: pic.twitter.com/tItvZKUIKv

— Hadley DeQuillettes (@hadley_riann) January 27, 2019
OR POTENTIAL AD CAMPAIGN
He's running. pic.twitter.com/VlLoauyfSW

— Bowen Yang 杨伯文 (@bowenyang) January 21, 2019
MAYBE EVEN A PAYMENT METHOD
Just when you thought the Fyre memes were done… pic.twitter.com/pQFFrq9M6k

— Anthony Borthwick (@dirtypawsNJ) January 28, 2019
MAKES A GREAT V-DAY CARD
View this post on Instagram
THE USES ARE ENDLESS
View this post on Instagram
BUT DON'T WORRY, ANDY IS COOL WITH IT
Andy King has seen all of your FYRE Fest memes — and he loves them! pic.twitter.com/mCNgDoHpjW

— Netflix US (@netflix) January 29, 2019
---
Is it because I'm Chinese?
It's crazy that this incident happened right before Chinese New Year. Really, what are the odds? For the uninitiated, here's a summary: one fine day on a Go-Jek trip, a passenger decides to avoid ERP, but is unable to suggest another road to take. She then proceeds to accuse the driver of trying to cheat, and later, kidnap her, before uttering one of the most iconic lines to go down in local history.
Quite predictably, articles have since surfaced to criticise the schadenfreude responses, but welcome to the real world, kiddos. Life is one big meme.
WE KNEW SOMETHING LOOKED FAMILIAR
AS WE'VE SAID, TIMELY
BUT IT MIGHT ACTUALLY BE USEFUL INFORMATION
MORE TIPS
REALLY, STAY SAFE OUT THERE
ALWAYS UP FOR A DOUBLE MEME
EVERY SINGAPOREAN SON RELATE
TBH, WE ALL RELATE
When you go to the US and everybody starts saying nihao to you pic.twitter.com/Spraxzv4To

— Mothership.sg (@MothershipSG) February 1, 2019
WE'LL NEVER KNOW
---
KonMari
You know what? Let's milk the most of Tidying Up with Marie Kondo before it fades into irrelevance. There are already plenty of articles about the life-changing housekeeping phenomenon, and we've even had a poem about it, but know what really sparks joy? Memes.
THE SHOW HAS BEEN A LOT OF THINGS FOR PEOPLE
Marie Kondo: It's time to de-clutter your life. What are those?

Me: Old books.

Marie Kondo: Get rid of them. What's that?

Me: My son.

Marie Kondo: Put it in the trash. And this mess?

Me: You're pointing at me.

Marie Kondo: Gotta go.

— Keaton Patti (@KeatonPatti) January 4, 2019
IT GOT A LITTLE EXTREME FOR SOME
how did you decide which one sparks joy

— ev o'driscoll (@nomunnynohunny) January 9, 2019
THE BOOK COMMUNITY IN PARTICULAR FELT ATTACKED
I cant believe Marie Kondo said to destroy all books and then broke into peoples' houses individually and made them eat all their books and then when they tried to protest she said "don't talk with your mouth full of books, bookmouth" and all the cool kids laughed at them.

— Sam Sykes (@SamSykesSwears) January 5, 2019
IT'S ALSO ME EVERY FRIDAY
Me going through my meme folder with the Marie Kondo method pic.twitter.com/Rl1YW1kO1X

— shit_is_yaeji (@etherealaph) January 7, 2019
BUT HER METHODS ARE POTENTIALLY USEFUL FOR OTHER AREAS
Detective Marie Kondo: Hold this box and see if it sparks joy
Suspect: wow, it does
Detective Marie Kondo: That box was full of the victim's blood. Book him, boys.

— Chase Burke (@ChaseBurke8) January 3, 2019
MAYBE IT REALLY IS GETTING EXTREME
DOES IT SPARK JOY MOTHERFUCKER??

— christine teigen (@chrissyteigen) January 21, 2019
POSSIBLE SPINOFF?
.@netflix send Marie Kondo to Hill House you cowards

— Stephen Dowling (@SRD_08) January 8, 2019
IF YOU EVER NEED TO EXPLAIN THE SHOW IN A SONG
MY MARIE KONDO DON'T
MY MARIE KONDO DON'T
MY MARIE KONDO DON'T

want none unless it sparks joy, hun

— Jerm (@jermracela) January 18, 2019
THE REAL QUESTION IS
how do I KonMari my feelings

— Ariel Francisco ???? (@AriCisco) January 11, 2019
---
Marvel's #10YearChallenge
If you think the 10 year challenge is something new, boy do we have news for you. It's been circulating just two years ago, but didn't take off like it did this year. Which is strange if you ask me. Wouldn't a ten year challenge have a nicer ring to it if it were next year? 2010 v 2020? No? Just me? In any case, no one does it better than Marvel. Or rather, their fans.
MARVEL STARTED
#10YearChallenge pic.twitter.com/RackXg6VLi

— Marvel Studios (@MarvelStudios) January 17, 2019
THE FANS FOLLOWED
— ShadowChan The Depression Gurl (@ShadowchanThe) January 17, 2019
#10YearCallenge pic.twitter.com/UBDlZFbslg

— Marvelous Realm (@MarvelousRealm) January 17, 2019
SOME WERE SAD
#10YearCallenge pic.twitter.com/uYZS92xqkC

— k. (@19aircrafts) January 17, 2019
— ???? ??????? (@SoraShepard) January 17, 2019
BUT THEY WERE MOSTLY FUNNY
#20yearschallenge pic.twitter.com/VfGsfMSpgs

— ValenciaNews? (@cheschesche) January 17, 2019
#10YearChallenge pic.twitter.com/fUuGh7ml8P

— k. (@19aircrafts) January 17, 2019
THE EGG, ANYONE?
— ıoq ʎ oɹoq (@ayobobun) January 17, 2019
OR OLD MEME REFERENCE?
— Cristian ❤️?? (@Kaiiryu) January 17, 2019
BUT CLEARLY, NO ONE WINS THE CHALLENGE LIKE AUNT MAY
aunt may joining the 10 year challenge pic.twitter.com/dIUwbJqJuo

— captain* (@iamgeekingout) January 17, 2019
---
Ryan Reynolds sweater party prank
Ah, when there's a glitch in the Matrix and all your favourite celebrities are BFFs, birthing forth another golden meme opportunity. You may have seen this prank floating around just last Christmas, where Ryan Reynolds shared Jake Gyllenhaal and Hugh Jackman's collaborative glee at his own expense on social media. Turns out, the world related. Here are some where we feel it the most.
WHEN YOU CAN ONLY AFFORD ECONOMY
While travelling.. pic.twitter.com/DhnObYqcLh

— Pakchikpak Raja Babu (@HaramiParindey) December 24, 2018
ANY EVENT, REALLY
Totally relatable. pic.twitter.com/GbmnySo465

— Whats for dessert? (@enjoythelaughs) December 21, 2018
A TIME WE ALL REMEMBER
Relatable?? pic.twitter.com/8WaxTnhBTB

— Lone Wolf (@Idiotic_Fellow) December 23, 2018
A TIME WE MIGHT NOT REMEMBER…
View this post on Instagram
THINK WE CAN ALL AGREE ON THIS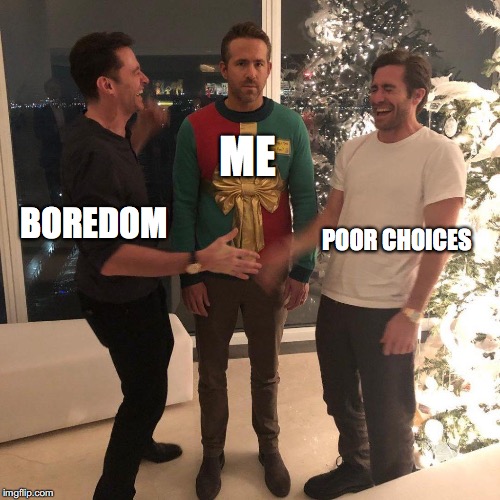 LASTLY, A PROSPECT THAT LOOMS IN JUST TWO DAYS
— ashishoooo (@AshishoooD) December 23, 2018
---
Fiji Water Girl
If we ever needed a benchmark on hogging the spotlight, this girl would be it. Possibly the first major meme of the year, the Fiji Water Girl from Golden Globe quite literally stole the show by subtly posing behind almost every celebrity in attendance. This sparked some displeasure from Jamie Lee Curtis, who spoke out against the blatant PR stunt, but the rest of the Internet has been more than supportive. Considering the fact that the 31 year old Canadian model was but one of the four Fiji girls serving at the event, yet was the only one to go viral, we say kudos.
IT'S NOT PHOTOSHOP
The Fiji water girl is literally living her best life #GoldenGlobes pic.twitter.com/DxsdNgQCas

— ENDGAME (@wingardiumbrad) January 7, 2019
JAMIE LEE CURTIS
THE REST OF THE INTERNET
View this post on Instagram
START OF THE YEAR IN A NUTSHELL
tired: spilling tea
wired: serving fiji water #GoldenGlobes pic.twitter.com/TTou8mz8Cs

— Alp Ozcelik (@alplicable) January 7, 2019
#1 CAMEO CANDIDATE
View this post on Instagram
A ROLE MODEL
The FIJI Water woman is the epitome of dress for the job you want, not the job you have. @FIJIWater #fijiwatergirl https://t.co/ODE1UbteD3

— Shelby L. (@ShelBB8) January 7, 2019
SHE IS
She's just that good. #FijiWaterGirl pic.twitter.com/kSh4DPxvIq

— Doug Bloch (@Dbloch5800) January 8, 2019
---
Bird Box
You must have SEEN it right? Sandra Bullock dragging two kids and everyone's in blindfolds. It has gathered direct comparisons to A Quiet Place, and critics have not been too kind either. But whatever your views on the movie and its ending may be, you can't deny it's big meme bait. Fret not if you've not watched it, this list is spoiler-free. If anything, here is some indication on what Bird Box is.
IT'S A WAY TO GO ABOUT THE YEAR AHEAD
This is how I'm facing my problems in 2019. #BirdBox pic.twitter.com/mo77tFWtTw

— Bird Box Memes (@birdboxmemes) January 2, 2019
AND THE CRIME WE'VE ALL COMMITTED
"did you see my text"

me: pic.twitter.com/ITtD3Z9a9M

— b (@boujeesIut) December 25, 2018
A THIRD OF THE THREE EVILS
Bird box, Hush, and a Quiet Place be like pic.twitter.com/M64Pr09yS7

— tmtm (@he_tmtm) December 27, 2018
NOT TO BE CONFUSED WITH FETISH
can someone help me i just watched the wrong birdbox pic.twitter.com/PoqBk4kHfr

— ً (@chemyukhei) December 30, 2018
SPEAKING OF FETISH
SANDRA AND HER DAMN BLINDFOLDS #BirdBox pic.twitter.com/lj79NYM44V

— B Í G B Ø I ™® (@davontae25) December 31, 2018
PRETTY MUCH GOT THE ENTIRE WORLD
Tell a friend to tell a friend #BirdBox #BirdBoxNetflix pic.twitter.com/Mjx55F2yz3

— Aye Lemme Tell You Sum'in ?? (@WitDaShiitz) December 25, 2018
AND LEAVING THE ONES LATE TO THE GAME
Related stories:
The best memes of 2018
Best memes: Game of Thrones Season 8
Celebrities that best trolled the 10-year challenge
Do you really want to read about the egg that beat out Kylie Jenner on Instagram?