We've been keeping track of memes every single week for the whole year. It's not an easy job but someone's gotta do it. Someone's gotta deliver the funnies and add joy to the world in controlled, ironic doses. As with all retrospective round up as we wrap up the year, we pick our favourite memes that marked 2019 in descending chronological order.
---
1. Kombucha Girl
Trying kombucha for the first time can be conflicting, considering that it's tea, but fermented. So it's understandable that @Brittanyt445 had this glorious reaction that can be used in various meme formats—both video and image.
YOU KNOW YOURSELVES
Looking at myself naked in the mirror pic.twitter.com/qtAJympbBi

— lil adam ? (@MaxxAtom) August 11, 2019
OR
Ser-

vice industry ial Killer pic.twitter.com/5bt32qck2t

— Zach Nading (@ZachNading_) September 20, 2019
WHY GET HITCHED WHEN YOU CAN GET LIT
View this post on Instagram
WHY HAVE KIDS WHEN YOU CAN HAVE CHIPS
View this post on Instagram
ME EVERY FRIDAY
View this post on Instagram
---
2. Tekashi Snitch9ine
It's problematic. Racketeering, drug trafficking, sexual misconduct, misdemeanour assault, the list goes on. And hey, all that gang activity for 'aesthetics', according to Soundcloud rapper Tekashi 6ix9ine. But that's not really what we're here for today. Thanks to his testimony during trial, where he names Cardi B and other rappers as fellow Nine Trey Gangsta Bloods members, pretty much everyone is calling him a snitch. Via memes, no less, and that's what we live for.
HE KNOWS EVERYTHING
Judge: you done talking son?#6ix9ine: I know who killed 2Pac, Biggie & Nipsey pic.twitter.com/Xa6YfK3CR3

— Rethabile Kekana?? (@RethaKayy) September 20, 2019
EVERYTHING
Judge: You're facing life in prison. #6ix9ine : Y'all ever heard of this place called Wakanda… pic.twitter.com/Pz7i1ABRgM

— TjT (@TJTrevenen) September 20, 2019
EVERYTHING
Breaking news : #6ix9ine just told the court he knows when jesus will be back pic.twitter.com/qEXvlcDSGU

— Mr Khule??? (@nqawuzela_mf2) September 20, 2019
EVEN THE QUESTIONS NO ONE HAS ANSWERS TO
Judge: Is that all?? #6ix9ine : No, I know who let the dogs out pic.twitter.com/7GiI6Nab5r

— KOT WAVE (@kot_wave) September 21, 2019
DON'T YOU DARE
WE ARE SHOOK
BREAKING NEWS: Tekashi 6ix9ine reveals that the identity of Childish Gambino is none other than the actor/comedian Donald Glover. More at 10. pic.twitter.com/fFSD2DqcHO

— awake mane (@DarianMyles) September 20, 2019
THAT HOW IT BE
Tekashi 69 is on that stand like:
You're a Nine Trey Gangster Blood
You're a Nine Trey Gangster Blood ??‍♂️??? #Tekashi69 #6ix9ine #Snitch pic.twitter.com/3KmE6xB6Mw

— Scooby (@TheRealistDom) September 19, 2019
BUT NOT EVERYONE
BREAKING: 6ix9ine claims @FloydMayweather didn't make it into the Nine Trey Bloods because he failed the reading test. pic.twitter.com/D0hx9kmtpN

— Academy Music Business (@BenjaminEnfield) September 20, 2019
MIGHT AS WELL
Might as well ask Tekashi 69 for the audio with Beyoncé, Solange and Jay Z in the elevator cuz we still wanna know.

— ⛄️tripp FROST ❄️ (@tripp_so1o) September 20, 2019
SPOT THE SNITCH
Jesus: One of you will betray me pic.twitter.com/YrI0nCvDoZ

— GiGi Morgan ?⚡️ (@ItsOnlyGi) September 20, 2019
BUT NOBODY CAN BEAT SNOOP
CARLOS!!!!!!
---
3. Woman yelling at cat
Here you have Taylor Armstrong of The Real Housewives of Beverly Hills and an Instagram cat that twitter user @MISSINGEGIRL randomly put together, resulting in a visual that is as powerful as it is silly. God bless the Internet.
THOSE GOOD OLD DAYS
AAAAAND I'M AWAKE
KID'S PROBABLY A BALLIN' CEO NOW
DOES THAT SAY I HEART NY
NOBODY WILL KNOW OUR LITTLE SECRET
GODDAMNIT, CATS!
HEHE
WHOOPS
---
4. Cats movie trailer
Do I call this live-action? CGI? A terrifying mash up of the two? At this point, I'm not sure if the trailer is a nightmare or we're living in a nightmare where it is a. real. movie. God help us all. But at least we know we're together in this. Let's just do as we have before and use humour to cope with the trauma.
NOW THAT WE SAW THE TRAILER
The #CatsMovie is going to look like this pic.twitter.com/HM9glKVkAv

— Quinton Reviews ? (@Q_Review) 17 July 2019
SO TRUE IT HURTS
why do the cats in the new Cats movie look like bad Medieval cat paintings lmao pic.twitter.com/mIHbJbrIhi

— rae paoletta (in ??) (@PAYOLETTER) 18 July 2019
AT LEAST YOU CAN TELL COSTUME AND MAN APART HERE
Cats (2019) pic.twitter.com/zLLG962bWh

— ??? ?????? (@theofficenbc) 18 July 2019
IT'S HOW THEY SHOT IT
Bruh the CGI is so tragic it's just the Snapchat cat filter #CatsMovie pic.twitter.com/zvCVdKkTI7

— Booth (@honourablecrush) 19 July 2019
OR FACESWAP
Cats (2019) pic.twitter.com/HHCvXn8BQr

— Ray ✨??‍♂️ (@spacedog17) 19 July 2019
I WOULD CRY
i misread a tweet about Cats (2019) as a tweet about Cars (2006) which brings me to my most important take yet: REMAKE CARS (2006) IN THE STYLE OF CATS (2019) WHERE HUMAN ACTORS PLAY LIVE-ACTION THICC CARS

— jonny sun (@jonnysun) 18 July 2019
CAN'T WATCH LATE LATE ANYMORE
the James Corden cat is what I see in the corner of my room when I have sleep paralysis pic.twitter.com/l9I9CBh9VG

— georgia ? (@brightroars_) 18 July 2019
EQUIVALENT TO US WEARING HUMAN SKIN
the judy dench cat wears a fur coat. but is her coat made of cats? or is her flesh made of coat? she screams, for she does not know pic.twitter.com/SDTMfe434p

— erin chack (@ErinChack) 18 July 2019
YEAH SERIOUSLY
I don't know why you're all freaking out over miniature yet huge cats with human celebrity faces and sexy breasts performing a demented dream ballet for kids.

— Louis Virtel (@louisvirtel) 18 July 2019
THE QUESTION IS
Why do the cats have boobs

— Dana Schwartz (@DanaSchwartzzz) 18 July 2019
NOT JUST CATS
me watching the CATS trailer pic.twitter.com/MhEQKuXsJo

— David Sims (@davidlsims) 18 July 2019
Y'KNOW WHAT? THIS IS PROBABLY IT
The Cats movie is the best prank that anyone ever played on celebrities and I respect it so much.

— Wendy Molyneux (@WendyMolyneux) 19 July 2019
---
5. #Area51
You know the world is in a great place when people start facebook groups to trespass government property in hopes of finding extra-terrestrial life. Yeah, now public event 'Storm Area 51, They Can't Stop All of Us' has amassed more than a million and a half RSVPs. The sheer absurdity of it ("If we naruto run, we can move faster than their bullets.") led to some well-deserved memes. Here are the favourites:
RIGHT SINCE 1989
The Simpsons haven't lied yet pic.twitter.com/1SB5HLZ459

— 24/7 HipHop News (@BenjaminEnfield) 13 July 2019
ME, LITERALLY, JUST NOW, RIGHT UP THERE
me explaining the Area 51 memes to my friends #Area51 pic.twitter.com/YhEJJti0Cn

— martha (@marthastelllaaa) July 14, 2019
C'MON NOW
Area 51 guards when they hear the anime music outside getting louder pic.twitter.com/4JxB1RJWpf

— anime. (@TokyoSage) 16 July 2019
DIPLO GETS IT
this crowd is crazy pic.twitter.com/0ss5eVmYFT

— wes (@diplo) 14 July 2019
AW IT'S MINI KEANU AGAIN
NEVER FORGET
AKA THE START OF A BEAUTIFUL FRIENDSHIP
Me explaining to my alien that I have thousands upon thousands of student loan debt and need 5 years of experience for a entry level job after I bust him out of Area 51 pic.twitter.com/JVRLqOE2Jf

— College Student (@ColIegeStudent) July 15, 2019
YES
OH MY GOD
*Time Traveler arrives from 2029*

Me: so did those people actually storm Area 51?

Time Traveler: you mean the great Area 51 massacre?

Me: pic.twitter.com/Tw0BuoRiKI

— Epi (@MisterEninja04) 12 July 2019
And if our local rendition 'Storm ST Kinetics, They Can't Stop All of Us' or 'Storm The Bermuda Triangle, It Can't Swallow All Of Us' isn't enough, here's the most meta meme of them all.
---
6. Mini Keanu Reeves
Alright, fine. I'm as biased as the next person on the Keanussance. It's here now and we should embrace it. From the actor appearing everywhere to petitions to get him to be TIME Person of the Year, this meme is just a small, beautiful part of this current age. Taken from his appearance at the Cyberpunk 2077 presentation and edited for no apparent reason, it became popular because well, it's Keanu Reeves. You don't need a reason.
IT'S EXPECTATION VS REALITY
View this post on Instagram
CHILDHOOD 
View this post on Instagram
MORE KID MEMORIES
View this post on Instagram
EVEN ODDLY SPECIFIC ONES
View this post on Instagram
APPLIES TO NON-HUMANS AS WELL
https://www.instagram.com/p/By-0T0qn2LQ/
AND IF ONE IS NOT ENOUGH
mini keanu reeves makes me laugh so hard https://t.co/WMLv8V3giB pic.twitter.com/uuND5Gotzu

— JJBA_irl (@jjba_irl) 22 June 2019
---
7. Posh Winnie the Pooh
Everyone knows Winnie the Pooh; the slightly dull but pure-hearted yellow bear. It turns out that all it takes is putting on a suit to elevate everything. It's not pretentious, just a higher way to do the regular things.
QUESTIONS
— bani ?? (@shiinsuke) 31 March 2019
APOLOGIES
— ? yung fuel pump ? (@Albin1199) 1 April 2019
JOB DESCRIPTIONS
EMAILS
FOOD
— memeois (@memeois) 2 April 2019
NUMBERS
— Plathanos ??? (@SavinTheBees) 1 April 2019
CRIME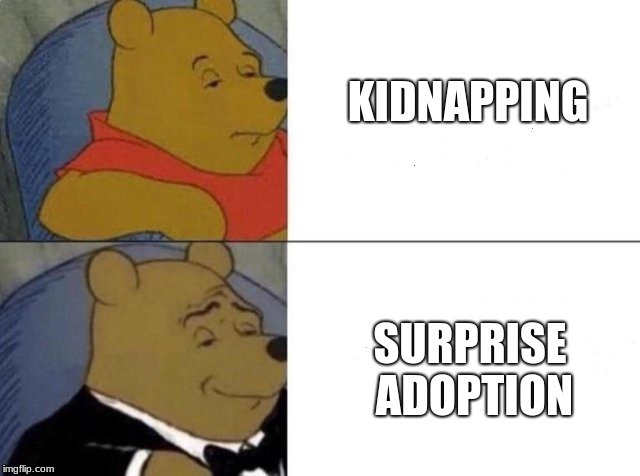 QUALITY CONTENT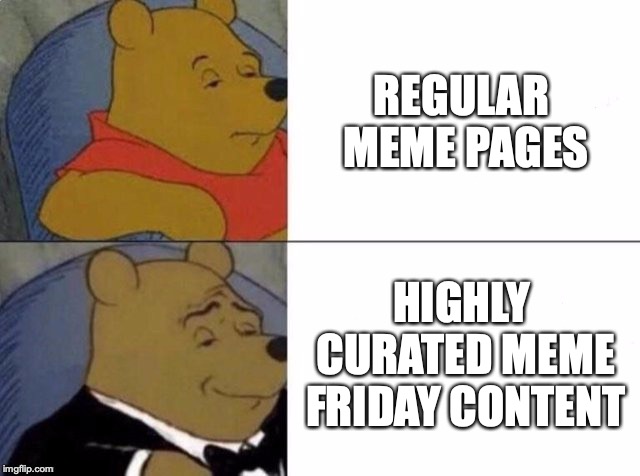 AND EVEN, MINOR INCONVENIENCES
---
8. Lady Gaga and Bradley Cooper at the Oscars
Enough happened at the 91st Academy Awards to be meme material, from Rami Malek's unfixable bowtie to Chris Evans gentleman moment, but nothing, not even the heartwarming friendship of Spike Lee and Samuel L. Jackson, can compare to the undeniable off-screen chemistry of the duo performing 'Shallow'.
SHE ALREADY MADE SURE SHE MENTIONED HIM 99 TIMES
Lady Gaga has 99 nonbelievers but Bradley Cooper ain't one (2018) pic.twitter.com/xDnmcIyGuP

— Gaga Doing Things (@LGDoingThings) October 6, 2018
THEN THE INEVITABLE HAPPENED
The Oscar for convincing me they're having a real life affair goes too…. #oscars pic.twitter.com/Rr2dzJv70f

— Ashley Clements (@TheAshleyClem) February 25, 2019
WE SEE ZERO DIFFERENCE
Great performance by Lady Gaga and Bradley Cooper, shown here if you missed it.#Oscars pic.twitter.com/mTUSX1dYvG

— Jake Vig (@Jake_Vig) February 25, 2019
NOT SURE WHAT THE REPERCUSSIONS WOULD BE
Bradley Cooper 100% sleeping on the sofa tonight. #Oscars pic.twitter.com/umVWJp53Wb

— Alec Flood (@AlecFlood) February 25, 2019
Irina looking at tweets saying brad & gaga are soulmates pic.twitter.com/hIFQvTFMGk

— niki (@swiftlyfe) February 25, 2019
BECAUSE WE ALL KNOW
LADY GAGA WILL EGOT

EMMY
GRAMMY
OSCAR
TFUCK BRADLEY COOPER

— Aaron Eisenberg (@Eisentweet) February 25, 2019
ONLY TIME WILL TELL
---
9. AirPods
AirPods have been around for quite a while now, but who knew the real purpose they served? Wireless convenience? Ease and comfort of use? Poppycock. The perfect statement of affluence are clearly these buds. Here's what happens when you get a pair:
YOU AUTOMATICALLY GET ON FORBES
"Top 10 richest people

1. Airpod users
2. Amazon CEO
3. Bill Gates
4. People who refuse to shop at Walmart
5. Mark Zuckerburg
6. Jay-Z
7. People who say "let's get this bread"
8. Floyd Mayweather
9. Oprah
10. People with either "?" or "?" in their bio"

— Flacko (@khaleed_id) December 18, 2018
YOUR LIFE CHANGES
This is how all my meals have looked since getting AirPods pic.twitter.com/sJTtUjWYx9

— slatt lord dick drizzle, lll ?☄️?® (@slapmydicnballs) December 26, 2018
INITIATION IS SIMPLE
In the first page of the AirPod instructions it says you're aloud to spit on anyone who doesn't have AirPods

— EMMY (@emmymhartman) December 26, 2018
HOW TO FLEX IN GENERAL
sometimes i wear my airpods without playing music in them just so people know i'm superior to them

— Antonio Garza (@antoniiogarza21) December 23, 2018
EVERYTHING WILL LOOK SUBPAR
People who have AirPods looking at regular earphones: pic.twitter.com/HFndBUOzSW

— Adora_a (@adora_adeyemi) December 23, 2018
AS KENDRICK LAMAR SAID, THERE'S LEVELS TO THIS
I don't even charge my airpods. Quicker to just buy a new set every time.

— Steven ? (@SstevenHa) December 25, 2018
HE DID ALSO SAY
Gotta stay humble ??? pic.twitter.com/pHUk3nmSXk

— Noob (@Datcasey) January 21, 2019
BUT YOU DO YOU MAN
*wears AirPods once* pic.twitter.com/KrgO5XTNLm

— Trevor Wallace (@TrevWall) December 18, 2018
---
10. KonMari
Ah, our first encounter with the organising guru when Tidying Up with Marie Kondo appeared on Netflix. We've even had a poem about it, but know what really sparks joy? Memes.
THE SHOW HAS BEEN A LOT OF THINGS FOR PEOPLE
Marie Kondo: It's time to de-clutter your life. What are those?

Me: Old books.

Marie Kondo: Get rid of them. What's that?

Me: My son.

Marie Kondo: Put it in the trash. And this mess?

Me: You're pointing at me.

Marie Kondo: Gotta go.

— Keaton Patti (@KeatonPatti) January 4, 2019
IT GOT A LITTLE EXTREME FOR SOME
how did you decide which one sparks joy

— ev o'driscoll (@nomunnynohunny) January 9, 2019
THE BOOK COMMUNITY IN PARTICULAR FELT ATTACKED
I cant believe Marie Kondo said to destroy all books and then broke into peoples' houses individually and made them eat all their books and then when they tried to protest she said "don't talk with your mouth full of books, bookmouth" and all the cool kids laughed at them.

— Sam Sykes (@SamSykesSwears) January 5, 2019
IT'S ALSO ME EVERY FRIDAY
Me going through my meme folder with the Marie Kondo method pic.twitter.com/Rl1YW1kO1X

— shit_is_yaeji (@etherealaph) January 7, 2019
BUT HER METHODS ARE POTENTIALLY USEFUL FOR OTHER AREAS
Detective Marie Kondo: Hold this box and see if it sparks joy
Suspect: wow, it does
Detective Marie Kondo: That box was full of the victim's blood. Book him, boys.

— Chase Burke (@ChaseBurke8) January 3, 2019
MAYBE IT REALLY IS GETTING EXTREME
DOES IT SPARK JOY MOTHERFUCKER??

— christine teigen (@chrissyteigen) January 21, 2019
POSSIBLE SPINOFF?
.@netflix send Marie Kondo to Hill House you cowards

— Stephen Dowling (@SRD_08) January 8, 2019
IF YOU EVER NEED TO EXPLAIN THE SHOW IN A SONG
MY MARIE KONDO DON'T
MY MARIE KONDO DON'T
MY MARIE KONDO DON'T

want none unless it sparks joy, hun

— Jerm (@jermracela) January 18, 2019
THE REAL QUESTION IS
how do I KonMari my feelings

— Ariel Francisco ???? (@AriCisco) January 11, 2019
---
BONUS: Is it because I'm Chinese?
What are the odds that this incident happened right before Chinese New Year? To recap: one fine day on a Go-Jek trip, a passenger decides to avoid ERP, but is unable to suggest another road to take. She then proceeds to accuse the driver of trying to cheat, and later, kidnap her, before uttering one of the most iconic lines to go down in local history.
Quite predictably, articles have since surfaced to criticise the schadenfreude responses, but welcome to the real world, kiddos. Life is one big meme.
WE KNEW SOMETHING LOOKED FAMILIAR
AS WE'VE SAID, TIMELY
BUT IT MIGHT ACTUALLY BE USEFUL INFORMATION
MORE TIPS
REALLY, STAY SAFE OUT THERE
ALWAYS UP FOR A DOUBLE MEME
EVERY SINGAPOREAN SON RELATE
TBH, WE ALL RELATE
When you go to the US and everybody starts saying nihao to you pic.twitter.com/Spraxzv4To

— Mothership.sg (@MothershipSG) February 1, 2019
WE'LL NEVER KNOW