Automotive writers (us included) don't often get it right when predicting trends. Case in point: the explosion in crossovers of every imaginable variety or indeed, the whole four-door coupe thing, like the Mercedes-Benz CLS here.
We thought the idea almost unspeakably daft when the first-generation CLS made its debut 15 years ago. The reasoning behind our thinking being that if people wanted to buy a sporty car, they'd get one, and not this bizarre halfway house of a car, with neither the sleekness of a two-door coupe, nor the roominess of a full-sized saloon.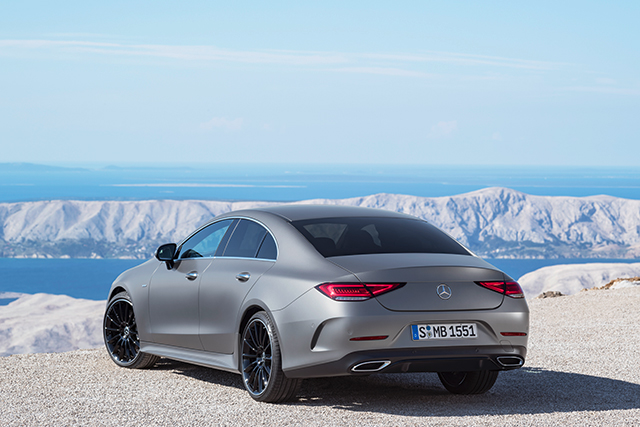 Regardless of what we thought, it took the world by storm, and the CLS spawned countless imitators from other premium (and non-premium) brands, keen to capitalise on the newest, shiniest auto trend.
But the progenitor of the breed always did it best, if not in the handling aspect, then at least in the way it looked. You see, while the CLS had a slinky silhouette and racy styling, it handled like a run-of-the-mill E-Class, which it was based on.
That is to say, rather geriatrically. Even if it did have a keen engine, its gearbox couldn't keep up, with slurring, ponderous shifts. It also had vague steering, not helped by the awful four-spoke wheel that was equipped even on the hot AMG models.
But two generations on, Mercedes-Benz has finally seen fit to endow the CLS with the handling it deserves. It's still no mid-engined supercar, but at least it now handles like a proper grand tourer, which was supposed to be its original remit anyway.
You could sling it around, what with the surefootedness afforded by its all-wheel-drive system, but be forewarned: thrash a five-metre, two-tonne car at your own peril
What the CLS lives for is long, open highways. The nine-speed automatic and creamy 367hp inline-six engine has the sort of long-leggedness that makes it feel that it could sustain a pace of 200km/h or so all day long.
Granted, there's very little need for a trans-continental cruise missile in a country that's barely 50km from end to end, but you'll be glad to know the CLS does slow pretty good too. Except in smaller carparks, because a car nearly two metres wide is bound to be a little awkward.
Anyway, the aforementioned nine-speed auto 'box is impressively smooth at a crawl, and should the need arise when you want to exploit gaps in traffic, it's direct, without the sort of split-second delay between throttle inputs and the transmission hooking up.
Oh, and before we forget, its interior is stunning as well. Two-tone red/black leather seats (that have more red than black), matte-finish open-pore wood trim and more brushed aluminium accents than you can shake a stick at.
Oh, and for the first time ever in the CLS' history, the rear bench will now seat three passengers. For the most part, it's a proper centre seat, aside from the high squabs of the two main seats, so it's best reserved for the narrow of build.
It's still not the roomiest nor the most comfortable for long journeys, but at least they won't be straddling the centre tunnel like on the outgoing BMW 6 Series Gran Coupe.
And did we already mention the new CLS is a looker? All long of nose and short of rump. Yes, it's taken the three-pointed star 15 years to get the design of its bootlid right, and now its roofline flows harmoniously into its shoulderline, without the awkward dung beetle caboose of its two predecessors.
It looks like an E-Class in a proverbial slinky black dress, which was the idea all along, though the execution has always stuttered up until now.
So, a lot to love about the new CLS, then. But we can't help but think that, brilliant though the new CLS may be, its bodystyle is perhaps a relic of the early 2000s.
And priced at $386,888, it's a tough sell in this day and age. Not that it's an unreasonable amount of money that Mercedes-Benz is asking, and it is arguably the best four-door coupe on the market today. But you have to also remember a top-rung GLE Coupe could be had for some $12,000 less. To say nothing of how the GLE Coupe's SUV-crossover-coupe-thing bodystyle is very much more on-trend at the moment.
It's so on-trend that at the recent Detroit Auto Show, Cadillac, Infiniti and Nissan pretty much all unveiled the same concept car—a full-sized-ish SUV with angry headlights and a tiny glasshouse area.
But even if the world has moved on somewhat, does that make the CLS any less good?
Thankfully, no.
But does it make it less relevant than it once was?
Unfortunately, yes.
SPECIFICATIONS
ENGINE 2,999cc, 24-valves, inline-six, turbocharged
POWER  367hp at 5,500rpm
TORQUE 500Nm at 1,600rpm
0-100KM/HR 4.8 seconds
TOP SPEED 250km/hr (electronically limited)
TRANSMISSION Nine-speed automatic
FUEL CONSUMPTION 7.5L/100km
VES BAND C1 ($10,000 surcharge)
PRICE $386,888