Milan Fashion Week is proving to be the start of the end of the streetwear bubble. Luxury fashion houses the likes of Prada, Ermenegildo Zegna and Versace seem to decidedly move away from streetwear tropes and focus on formulating new menswear codes based on tailoring and modern sartorial dressing. On day three of Milan Fashion Week, this becomes more apparent.
Missoni
The Italian fashion house Missoni has a deep history of working with art and artists (case in point: their autumn/winter 2017 collection drew styling inspirations from American artist Jean-Michel Basquiat). For the autumn/winter 2019 collection, Angela Missoni looked at the in-between—the exploration of the space between the various art disciplines.
With that thought in mind, Angela looked to Missoni's vibrant, maximalist expressions of colour and beautiful, slouchy knitwear as the starting point, sought out its counterpoint and met in the middle, all while keeping with the ethos of the house.
Suit jackets made of woven fabrics, gave them the stretch of a pullover, without losing the silhouette, and worn with matching high waisted trousers. Monochromatic pullovers were given the plissé treatment for a touch of texture. The design team also worked with complementary colours—for example, a lightweight felted peacoat started at the bottom in a navy jacquard and gradually turned into a lovely Bordeaux.
Functionality and longevity were also key focuses of the collection, for example, a felted wool jacket that was backed with leather, and completely reversible.
Angela Missoni also collaborated with Swedish-Chilean artist, Anton Alvarez for a series of knitwear. The artist's use of electric colours and materials were translated into series of sweaters. The first rendition gave the illusion of a cable-knit weave from afar, but were actually tubes of different coloured fabrics that were sew on. The second interpretation was a dégradé pullover that was speckled with mohair, giving rise to abstract patterns.
Etro
At a quick glance, Etro seems like one of the luxury brands that are untouched by time and trends. While analysts might label that as a mistake to not suit the fancy of the fickle spenders of the world, we see it as Kean Etro's complete mastery and understanding of the brand that his father, Gimmo Etro founded in 1968.
Etro will always be synonymous with the paisley print, but there is more to the brand than the decorative symbol born in Mesopotamia and the tree of life it represents. To Kean Etro, the brand is a celebration of Italian craftsmanship, storytelling and the exploration of fabrication, as well as sustainability.
Etro's autumn/winter 2019 collection is deep-dive into all the different core aspects of the brand, and Kean's personal love of folklore and anthropology. With a fantastical forest as the setting of this season's tale, the collection saw a rich tapestry of flora and fauna, both real and made-believe, interpreted in the spectrum of jacquards, embroidery and prints.
To illustrate his point, the collection featured forest suit jackets, with cutouts revealing a metallic foil underneath, and a laser etched wood print velvet jacket. But more than just a wonderful balance of prints of colours, the pieces were relaxed and cosy, but never slouchy.
More than just creation without consideration, the house also partnered with local craftsmen to further refine their sustainable processes. From creating coats out of recycled knitwear to completely natural dyes, as well as the innovative use of hemp and eucalyptus to create cotton for the shirts. The house is also able to make denim that saves up to 30 percent energy, 50 percent water and 70 percent polluting chemicals during the washing and dying process. But the crème de la crème of their sustainable fabrication process is the collaboration with a local textile manufacturer that turns recycled PET bottles into down jackets. If you're keen to know, for every 120 PET bottles, the factory is able to produce enough materials to create one down jacket.
As the brand celebrated 50 years in business, this autumn/winter 2019 collection is Kean Etro's way of planting his roots for the next 50 years.
Prada
Look 1.
Look 2.
Look 3.
Look 4.
Look 5.
Look 6.
Look 7.
Look 8.
Look 9.
Look 10.
Look 11.
Look 12.
Look 13.
Look 14.
Look 15.
Look 16.
Look 17.
Look 18.
Look 19.
Look 20.
Look 21.
Look 22.
Look 23.
Look 24.
Look 25.
Look 26.
Look 27.
Look 28.
Look 29.
Look 30.
Look 31.
Look 32.
Look 33.
Look 34.
Look 35.
Look 36.
Look 37.
Look 38.
Look 39.
Look 40.
Look 41.
Look 42.
Look 43.
Look 44.
Look 45.
Look 46.
Look 47.
Look 48.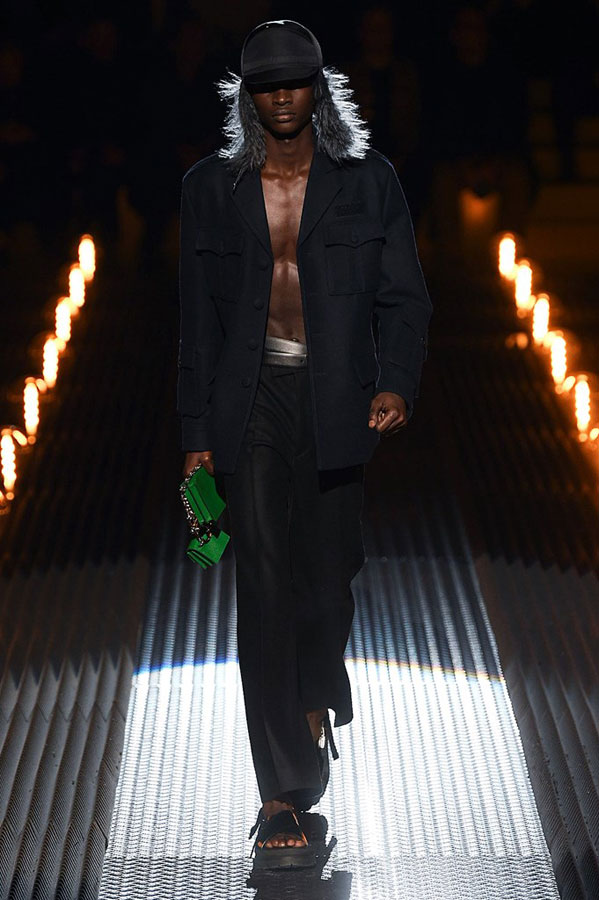 Look 49.
Look 50.
Look 51.
Look 52.
Look 53.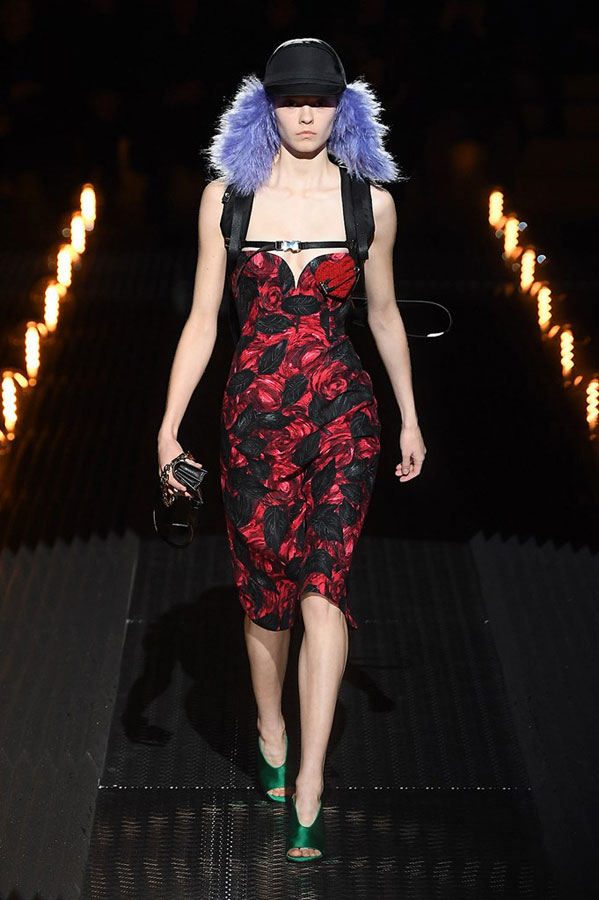 Look 54.
Look 55.
Look 56.
Look 57.
Look 58.
Look 59.
There are always layers upon layers to a Prada show. Mrs Prada's futuristic take on fashion and the use of it as a medium to comment on the state of the world and the zeitgeist of our times, makes her one of the most revered figures in our industry.
For her autumn/winter 2019 collection, she wanted to explore the fragile and exposed parts of the human condition, with a dark and romantic twist. Which is why the trials and tribulations of the Frankenstein monster, resonated with her and became a big part of the inspiration of the collection. The story of not fitting in, hoping for acceptance, and the things we do in search for meaning, is a condition that is familiar to us, especially during troubled times like now.
But more than just an activist and storyteller, Mrs Prada is really, really, really good at making clothes. The collection sees the return of Prada's signature tailoring—cut slightly boxy with a lot of clean lines—tucked into high waisted trousers and triple belted to create an imposing silhouette. The banger from Prada's autumn/winter 2018 show also makes an appearance, updated with prints of lightning, and other symbols from trashy horror films like Frankenstein and The Rocky Horror Show.
But where the show really shone was the use of mismatched fabrics into the creation of a singular piece of garment, echoing the mad creation process that Victor Frankenstein applied in creating The Monster. Cable knits with feathered shoulder patches, complete with nylon bomber sleeves, would be the most extreme example (but no less stunning), but there were more subtle options like nylon and leather coats with shearling collars, knitted pullovers with contrast feathered shoulder patches.
This season saw Prada return to form in the accessories department. The leather oxfords with a chunky front and sole were a perfect hybrid of the classic silhouette and the chunky sneaker trend, while the nylon backpacks were struck down, and worn high and tight; a genius parody of the current fad of wearing harnesses made popular by Alyx.
Related stories:
Milan Fashion Week Men's AW19: Ermenegildo Zegna Couture
Milan Fashion Week Men's AW19: Dolce&Gabbana, Versace and Marni