Mothers are always the hardest to impress. We all know they are good at comparing things, and the last thing you want them to do is to go around hearing from their peers about how much more or better they were pampered by their sons and daughters on their special day. So to save on unnecessary competition and conversations, consider this list of fun activities you can do together with your mother even after Mother's Day to grant her bragging rights for her next get-together. Or maybe just make it fun because you are celebrating the one-of-a-kind bond you have with your real day one.
Take her out on a picnic
Gather all of her favourite foods, snacks and fruits and pack it all in a basket to bring for a picnic-day out together. If there's an occasion for you to try some recipes, there is no better time to try them out than when you're out on a picnic with the one who saw you through babyhood and the angsty teens (plus get some unsolicited advice on how to improve on them). Alternatively, order some takeout from her favourite restaurant. If you are heading to the Singapore Botanic Gardens, we recommend the Picnic Buzz-ket from Bee's Knees at The Garage, which comes fully equipped with food, a picnic mat, table, battery-operated candle light and cushions. Make sure to place your reservations at least three days in advance.
Place your reservations at Bee's Knees at The Garage.
Bottle a custom fragrance
Get creative and in touch with your olfactory senses with a perfume workshop to make a scent unique and only to the liking of both you and your mother. Maison 21G's perfume workshops are a classy way to pay homage to familiar scents and memories, and here you can even customise the picture to print on the bottle of your bespoke perfumes to get extra personal. If either of you cannot make it to the workshop, consider spicing things up at home instead with some decorated and thoughtful scented objects that can help her relax, focus, or energise her mind and body.
Find out more about Maison 21G's perfume workshops here. 
Get sneaker jamming
If your mom is someone who is artsy and likes to do morning or evening walks, a sneaker jamming session might just be the activity she'd love. In the cosy, minimalist space of Artistra Studio, both of you can whip up and manifest designs of your dream sneakers with some paint, stencils, and a little bit of imagination. Artistra Studio has their own self-manufactured sneakers, so you won't have to purchase a new pair of sneakers beforehand. But if there is an existing pair that you would like to decorate in your own style, you can opt for the package that comes without the shoes. Or better yet, you can beautify each other's shoes but with no guarantee of it actually being worn out, depending on both of your art skills and tastes.
The All Inclusive package retails at SGD55 for 2 hours and SGD65 for 3 hours, while the Bring Your Own Sneakers Package is SGD35 for 2 hours and SGD45 for 3 hours, all available for booking via Artistra Studio. 
Bring her on a photoshoot
Self-photo studios might seem like a couple date idea, but there's also nothing wrong with treating your mom like a date for once. Plan outfits, coordinate poses, be candid and just enjoy this bonding activity with an automatic souvenir. You can visit Fotomat for the simple remote-controlled portrait format, or opt for the more hip and retro photobooth style at The Projector's Fotoautomat, the strips a perfect piece of memorabilia to bring around in wallets or planners. Otherwise, go analog with Hip Xiong Photo Studio, Singapore's first and only wet plate photography studio since independence. This one will be a photograph or photo series both of you will look back at fondly with time.
For prices and more information, visit Hip Xiong Photo Studio.
Go for a floral arrangement workshop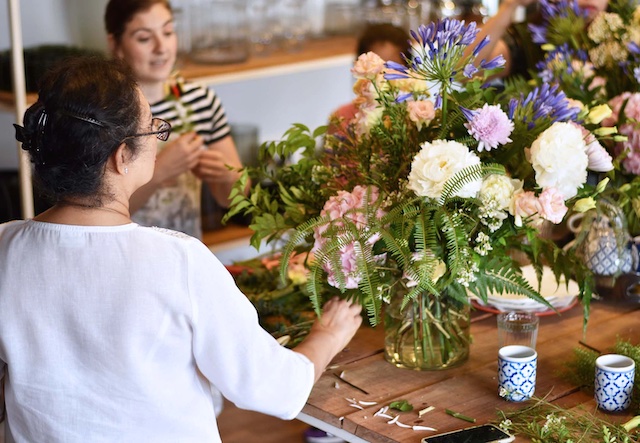 Flowers are a failsafe way to bring a smile to anyone's face, with or without an occasion. If you don't want to be predictable and buy a bouquet of them, why not get mom to participate in some flower arrangement? Charlotte Puxley's workshops for vase arrangements don't ever miss, boasting a diverse selection of wild premium blooms and lush foliage to choose from. You will take home the vase with the flowers, have some nice new home decor and also the skill to recreate the arrangement if so desired—value for money, no?
Prices and more workshop details can be found at Charlotte Puxley.
Become silversmiths for a day
It's one thing to get personalised jewellery ordered, but it's another to get crafty and make the actual pieces yourself. Even if your mom is not one to wear stacks of rings or bangles, Artisan 8's 925 silver rings are subtle and contemporary friendship-bracelet-equivalents that she can don casually. In this workshop, you will get to personalise an open or closed ring with wording, textures and patterns, placed either inside or outside of the ring. You can even add patina, which adds black accents onto the silver, atop a matte or shiny finish.
Book your slot at a group or private workshop at Artisan 8.
Sweat it out at a yoga class
Class Pass has made it super easy to try out different fitness classes or studios so you can commit to one that really works for you. If your mother has not tried yoga yet, this low intensity, mind-balancing movement practice is a new experience that you can sign her up for, especially with their free one-month trial package. It would be good to attend those classes together with her too, so the both of you get to focus the mind and energy on relaxation and healing together. For all you know, it will become your next weekly bonding activity.
Find out more about Class Pass here.